By Christopher Trela and Catherine Del Casale | NB Indy
"Just a small town story about a guy and a girl trying to save the world one vegetable at a time – with juicers, not capes."
That simple statement on the Nekter Juice Bar website offers a clue into the business concept of Nekter founders Steve and Alexis Schulze, a Newport Beach couple who several years ago embraced the juice revolution and began drinking their fruits and vegetables by juicing them at home.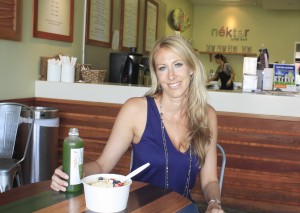 In their evangelistic pursuit of sharing how good they felt by juicing, the Schulze's devised a plan to open a juice bar based on recipes they created at home.
The first Nekter location opened in 2010 at the old Diedrich's Coffee location on 17th Street in Costa Mesa.
"We had no idea what would happen," admitted Alexis during an interview at the Nekter Juice Bar in Corona del Mar. "We thought people might meet for juice instead of coffee."
They did, and soon a second Nekter opened in Corona del Mar. Now, there are 11 locations in Orange and Los Angeles counties, including a "grab and go" cart in Fashion Island.
So what's next for Nekter? How about world domination.
"I would love to see juice bars on every corner and take over the coffee aspect where people can meet for a drink–not coffee, but juice," said Alexis. "It's been really rewarding. People tell me they drink our juices every day, they lose weight, and have never felt better. It helps them make  changes in their lives. You don't have to eat perfectly all the time. I like my French fries. But after you juice, you feel so good."
In addition to the basic juices, smoothies, and acai bowls, Nekter also offers a cleanse, which is essentially a method to help the body eliminate toxins and reset the body. A daily cleanse consists of six, 16 oz. bottles of specific juiced blends of fruits and vegetables, designed to provide proper nutrition throughout the day.
"Cleansing is popular and trendy, but some people think it's just a fad, but the concept has been around for years," explained Alexis. "Our diets have become full of processed foods–most of what we eat is not recognizable as food, so your body still feels hungry for nutrients. The cleanse is a reset button and allows your body to rest."
Indy columnist Catherine Del Casale tried a three-day Nekter cleanse to see how it worked.
"I had a mix of emotions before starting the juice cleanse," noted Catherine. "I was excited because I had heard so many great things about Nektar and what a juice cleanse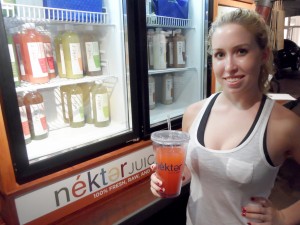 can do for your energy and health. But I was also hesitant since I suffer from migraines, and limiting my food intake can result in me being incapacitated."
Catherine's cleanse included six bottles of juices a day, each with 15 pounds of fruits and vegetables.
" The juices kept me satisfied all three days," she said. "Being on the juice cleanse decreased my cravings for other foods, and I think it was because my body was getting all the nutrition it needed, more so then usual. It wasn't difficult to time the drinks. I started at 8 a.m. and paced the drinks for every two hours with water or tea in-between. The drinks tasted a lot better than I was expecting, and each one tasted different so I didn't get bored throughout the day."
"Overall, I felt refreshed and energetic, and even worked out on day two of the cleanse," she added. "Another great benefit was feeling my clothes start to fit better. It was a great experience."
Juices and smoothies are $5 to $10. Cleanses are $65 per day. For more information on Nekter, visit NekterJuiceBar.com.