The family's the thing at South Coast Repertory these days, at least for twelve year old Newport Beach resident Mitchell Huntley, who makes his debut with SCR's Junior Players this weekend in "The Nightingale."
"I'm getting so excited– the experience has been thrilling!" says the articulate tween, speaking by phone from home one evening after returning from rehearsal.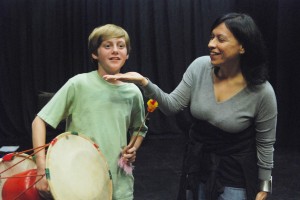 Mitchell, who attends Mariner's Elementary School, is one of four Huntley brothers to have attended SCR's Theatre Conservatory program: older brother Christopher is now with the Teen Players, Nicholas has branched out into musical theater classes, and Mitchell's fraternal twin, Blake, is in his second year of acting classes. We hear there's also a younger sister waiting in the wings.
"My parents aren't actors, but they help a lot with memorizing lines and stuff behind the scenes," he shares. "I'd say it was Christopher who really energized me about acting, about the adrenaline of getting up on stage in front of everybody."
It's a feeling that he clearly loves, and that enthusiasm carries over into the prep work for his roles (all the actors will play more than one) as a spirit and a clockmaker in "The Nightingale,"his first play with the Junior Players.
"'The Nightingale' is more of a fairytale, something people might not expect to see. But it doesn't get any better," he opines. "There are mood changes, it's out there! It's not just staying to one upbeat emotion; there's a lot of variety. For me, different emotions at different times are what make it an interesting play."
Based on one of Hans Christian Andersen's most endearing stories "The Nightingale"tells the tale of a an emperor in ancient China who captures a plain-jane nightingale with the most exquisite of songs and brings her back to enchant his palace- forever. He later replaces her with a beautiful be-jeweled mechanized bird. Heartbroken, the little nightingale wings her way home. The new toy breaks, and the emperor lives to regret his decision. In yearning for his real nightingale's return he uncovers a valuable lesson.
"The Nightingale"has been adapted for the stage by Marisha Chamberlain and will be directed at SCR by Mercy Vasquez, who also teaches the Junior Players. The 14-member ensemble is comprised of 6th to 8th graders with at least two years experience at SCR's Theatre Conservatory; the students then audition to be accepted.
"Before I started acting I was a little bit shy and timid, but now I go out there and show myself," Mitchell reveals, explaining that he's learned many life skills as well through his training at SCR.
"It's all about putting yourself out there. Whether you make it or not, you'll definitely enjoy it!"
"The Nightingale" is presented at South Coast Repertory's Nicholas Studio on Saturday, April 13, and Sunday, April 14, at 1 and 4 p.m. Tickets are $10. For more information call the SCR Box Office at (714) 708-5555 or go to www.scr.org.