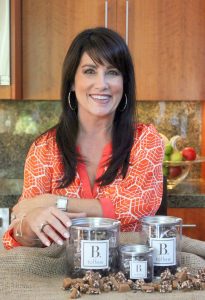 I've been a fan of B. toffee since the luxury toffee brand was launched several years ago (and have even used B. toffee in my homemade toffee cookies), so I'm thrilled with the news that – after being chosen by several national retailers to be sold in select Whole Foods, Dean & Deluca and Bristol Farms stores and growing an impressive roster of corporate clients – B. toffee is expanding its production and manufacturing facilities.
In the next few days, B. toffee will reportedly take over a larger facility in Newport Beach near John Wayne Airport, which features a commercial kitchen more than twice the size of the brand's previous space.
According to information from B. toffee, this means that B. toffee will be hiring more chefs and staff, purchasing supplementary production equipment, and expanding the packaging area to fulfill the growing corporate and wedding gift orders.
Congratulations are in order for B. toffee founder Betsy Thagard, who turned a passion for making toffee into a profitable business.
Thagard began making toffee in her home kitchen as a treat for friends and family, using premium ingredients. It's impressive to see how much B. toffee has grown, but I'm not surprised – it's really, really good toffee.
"Sharing my B. toffee product with the world has been a dream come true, and I am so proud and honored by the partnerships developed over the past year," said Thagard.  "The move to the new facility will allow B. toffee to continue to grow, and, in turn, dedicate more resources to a project close to my heart, the 'B. Giving Initiative,' which, in conjunction with local charities, allows for B. toffee to impact the community in a positive way."
For more information, visit BToffee.com.