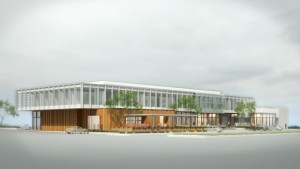 Burnham-Ward Properties, the Newport Beach-based commercial real estate investment and development firm, has signed Ra Yoga as one of its tenants at the new Castaways Commons on Westcliff Drive this fall.
Ra Yoga is one of the many hand-curated tenants selected by the Burnham-Ward team to make up the culinary, wellness and retail tenancy of the property, which the developer purchased earlier this year and is taking through a reinvention.
"We wanted to add a premier fitness studio to Castaways Commons – one that our local community will love – and that is Ra Yoga," said Bryon Ward, Partner in Burnham-Ward Properties. "We have been following Ra Yoga's growth and popularity over the years at their Costa Mesa location and are thrilled to have them open their first Newport Beach location at Castaways Commons."
The owners of Ra Yoga, Robert Kittleman and Jenny Vande Hei, will expand Ra Yoga's Orange County presence with the new 2,400-square-foot studio at Castaways Commons (the company will continue to operate its Costa Mesa studio).
Founded in the belief that yoga should be "by the people, for the people," the new Ra Yoga location will extend the mantra and core values that have made them such a success in Costa Mesa.
Guests can expect to experience a state-of-the-art yoga facility with two large studio rooms offering heated and non-heated yoga classes, workshops and healthy lifestyle events.
There will be showers, lockers, and a roster of more than 45 expert teachers that have given Ra Yoga Studio its dedicated following.
Opening this September, Ra Yoga Studios will have over 100 classes a week at its Castaways Commons location.
Joining Ra Yoga Studio at Castaways Commons is plastic surgeon, Dr. Terry Dubrow, and dermatologist Dr. Kristen Forman, both of whom are expanding their practices into larger, state-of-the-art facilities within the project.
They join previously announced tenant Café Gratitude, an organic and plant-based restaurant concept that Ward called "the anchor for the reinvented Castaways Commons."
Additional tenant announcements are expected to be made soon.
For more information on Ra Yoga, please visit rayoga.com.
For more information about Burnham-Ward Properties, please visit burnham-ward.com.