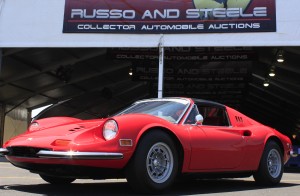 Last June, the Russo and Steele Newport Beach Collector Automobile Auction rolled into Newport Dunes Waterfront Resort and became an instant success, with 300 cars up for bid over two days and generating over $6 million in sales (including a 2008 Bugatti Veyron for $1,078,000, and a 1968 Aston Martin DB6 for $456,500).
This year, Russo and Steele returns June 19 – 21 with an expanded three-day auction. Company founder and CEO Drew Alcazar (who owns and operates Russo and Steele with his wife, Josephine), lives on Lido Island, and told me that this year they are bringing in more cars than ever, which could mean more than 400 vehicles on the auction block.
"While those in the market to purchase have access to an extraordinary selection and variety of high-quality vehicles, sellers will take comfort knowing that Russo and Steele is able to get them the best price possible thanks to our worldwide marketing efforts and highly experienced and
knowledgeable sales staff," said Alcazar.
"For Enthusiasts, by Enthusiasts" is their slogan, and with that in mind the automotive offerings include everything from "affordable" sports and muscle cars to high-end, high priced exotics.
Some of the highlights: an impressive selection of Lamborghinis including a 2014 Aventador Spyder, and for James Bond fans a 1982 Aston Martin V8 Vantage Coupe. Let's not leave out the boomers, who will recall the Muscle Cars from the 60s. Among the offerings at Russo and Steele is a 1969 Oldsmobile 442 W-30, one of less than 30,000 produced in 1969. Of those few, only 1,389 were ordered with the W-30 option, and just 1,063 were W-30, 4 speeds, based on historical records provided by the Oldsmobile Heritage Foundation.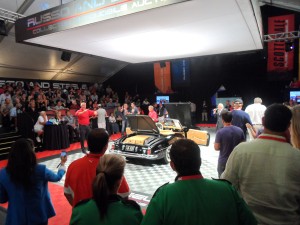 As you can see, car aficionados do their research!
For those wishing to attend, tickets are again moderately priced at $20 each.
Russo and Steele is partnering with CHOC (Children's Hospital of Orange County) for a pre-auction fundraiser on Wednesday night, June 18. Tickets for that event are $150 per person and includes dinner, dancing, and a live auction.
For more information, visit russoandsteele.com.