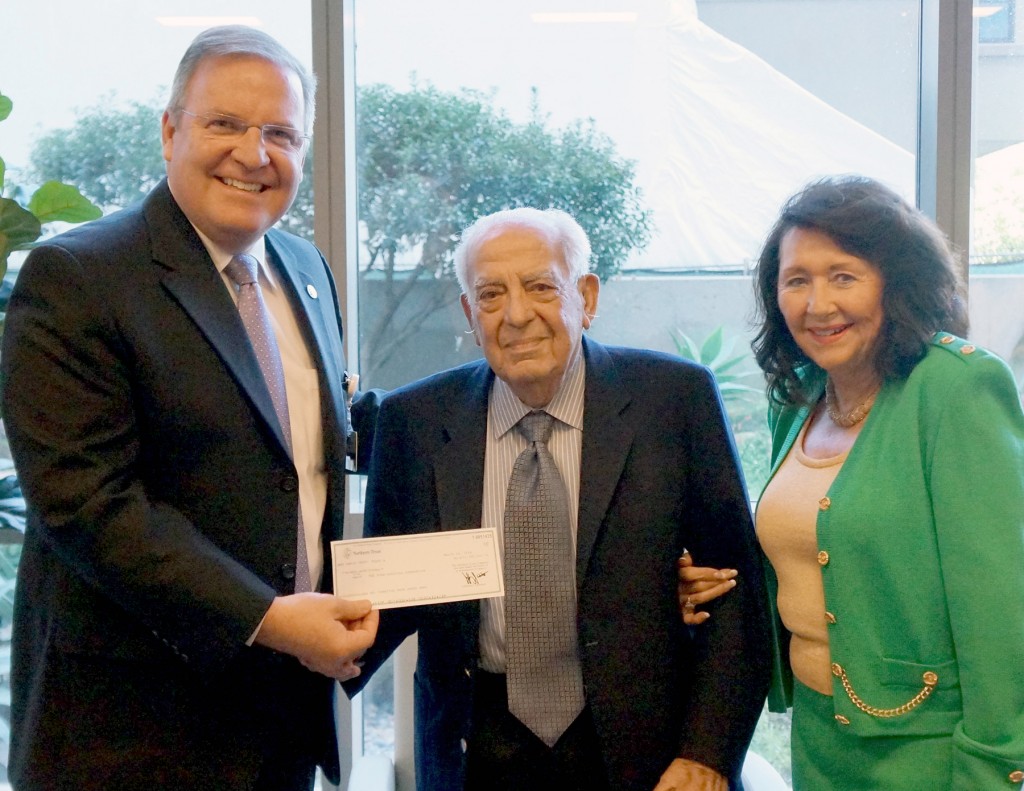 "Twenty-five years of teaching kindergarten tugs at my heart and makes me want to give back," said Catherine Emmi.
This week, Catherine and her husband James gave back in a big way when they donated $1 million to Hoag Hospital Foundation.
"Jimmy and I have a deep affection for Hoag and feel it is important to support the community we call home," said Catherine Emmi.
Robert T. Braithwaite, president and CEO of Hoag along with Michael N. Brant-Zawadzki, M.D., F.A.C.R., who holds the Ron and Sandi Simon Executive Medical Director Endowed Chair at Hoag Neurosciences Institute, were present to accept the $1 million check from the Emmis that will go to support the Hoag Neurosciences Institute.
"The Emmis have made a true commitment to advancing health in Orange County and beyond," Braithwaite said. "Their incredible history of support for Hoag for the past 38 years is exemplary and we are forever grateful for this most generous gift that will allow Hoag to continue to be the leader in innovative and advanced neurological care."
Nationally recognized, Hoag Neurosciences Institute is an integrated, multidisciplinary team approach to disorders of the brain, nerves and spine using the best evidence-based clinical care, state-of-the-art technology, and advanced clinical research, all focused on the individual patient need.
The Emmi's gift will help the institute continue to recruit the finest physicians to expand and coordinate neurological patient care in easily accessible and comforting facilities.
James Emmi is the retired president of Kimberly Development Company, and a longtime manager of apartment properties. He has served on numerous boards of trustees, including the Pacific Symphony and Chapman University.
Catherine Emmi is passionate about education and the pursuit of lifelong learning. She earned her B.A. and B.Ed. degrees from the University of Saskatchewan and her M.Ed. from Pepperdine University. She contributes her time to various committees for local nonprofit organizations that include the Pacific Symphony, Segerstrom Center, Women of Chapman, Pacific Chorale, Orange County High School for the Arts, and MIND Research Institute.
The Emmis hope their gift will inspire others to give back.
"Every gift, large or small, stands out and makes a difference," said James Emmi.
For more information on supporting Hoag, visit hoaghospitalfoundation.org.