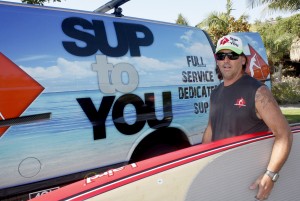 By Norm Bour and Shelly Zavala | NB Indy
Norm Visits SUP to You
You've probably seen people on the water, standing atop a surfboard with a paddle, and wondered, "What are they doing out there?"
They are doing one of the world's fastest growing sports: stand up paddle boarding (shortened to SUP for simplicity). For those that like the water but aren't brave enough to face the surf, this is a great alternative.
The first known reference to SUP was back in 1939, but it didn't get any significant following until about ten years ago.
One of the new places to buy stand up paddle boards is SUP to You, with locations in Newport Beach and Laguna Beach. At the Newport center, they offer the unique opportunity to take a test drive before you buy.
Co-owner Steve Owen offers more than a dozen different brands to choose from.
"We ask them what they intend to do with the board, which will determine where we test it," said Owen. "If they want open ocean, we'll take them to a spot in North Laguna, but if they want to stay on calmer waters or in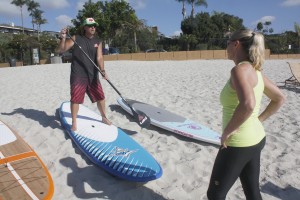 the harbor, we take them to the Newport Aquatic Center."
I learned that there are two basic categories of boards depending upon the buyer. For those with experience or wanting faster speeds, the tour shapes are the way to go since they ride higher off the water. For beginners the All Around is more popular since it can run almost 36 inches wide, which makes it more stable and less likely to tip.
Their local test drive office is at 1648 Newport Blvd., Suite A.
Shelly Takes a SUP to You Test Drive
I have enjoyed paddle boarding over the past couple of years, but I've always rented or borrowed paddleboards.
When it came time to purchase one, I felt like I was lost in a sea of decisions: manufacturer, what size, shape, what does the shape mean, length, price, material it is made of, just to name a few.
I hate to admit this, but being overwhelmed with all the options, I ended up choosing my board by liking the way it looked.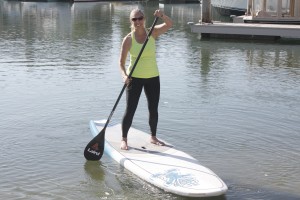 Last week I had a chance to experience SUP to You of Newport Beach. I wish I had known about them when I went to purchase my board, because the experience was vastly different.
First, you visit their website (Sup-To-You.com) and complete a questionnaire about what kind of standup paddle boarding you'll be doing (flat water, ocean, etc.) and what sort of board (fitness, race, cruising, etc.).
Based on your answers, an expert selects several boards and brings them to the Back Bay (or the ocean) so you can take them on a one-hour test drive.
SUP to You co-owner Steve Owen met me near Newport Aquatic Center with six boards. I learned more about paddling in that hour than I had learned over the past few years—what different brands mean, different lengths, shapes and prices.
Not only did I get to try all of the different boards, Steve gave me some great tips on being a better paddler.
Steve was extremely knowledgeable and quick to cater the experience to my needs. Also, while trying the different boards, I got to go out as far as I wanted, and switch boards and learn more about them while out on the board.
After a process of elimination, I settled on my ideal board.
Instead of spending hours researching and looking at the boards on line, I so recommend the hands on experience of trying the boards before you buy. SUP to You has such a wide range of boards from many different makers you can't go wrong. Within an hour you will not only have tried different boards, but gained knowledge on the boards and the experience of trying them.
I now know what board I will purchase when I am ready to buy my next board. SUP to You also stocks paddleboard night lights, dog pads and other fun accessories.
 For more information, call (949) 713-7300 or visit sup-to-you.com.