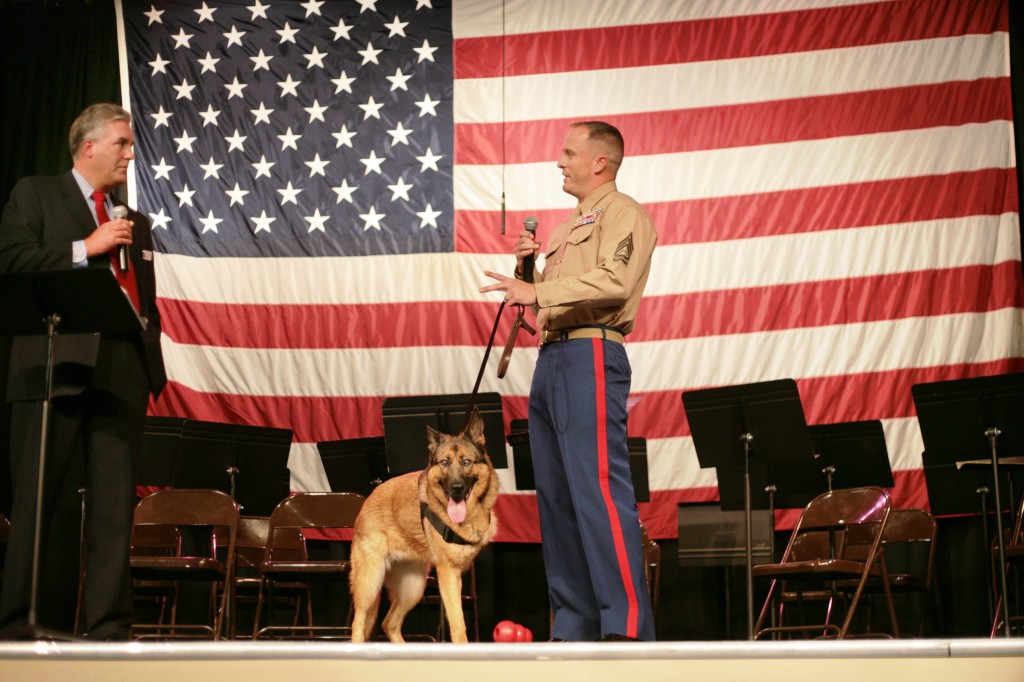 It was a day to talk about patriotism, service, sacrifice and freedom. It was a day to thank God, thank veterans and pray for our country.
It was also a day to talk about dogs, specifically service dogs and the important role they play in the lives of veterans.
More than 200 Mariners Christian School grandparents and veterans enjoyed the school's 12th annual Veterans Day program last week.
Guests began the day by sharing breakfast and stories of their experiences in service to our country. Veterans were there from every branch of the service, representing Vietnam, Korea, Desert Storm and World War II.
There was a special introduction of Cathy Ehlers Metcalf, daughter of the late Walter Ehlers, who was the last surviving medal-of-honor recipient from D-Day.
Walter was a speaker and special guest for Veterans Day at Mariners in the past.
Every year the school chooses a theme and related organization to support for the program. This year's theme was the role of animals in the military and how they support the troops. The school selected Freedom Dogs, an organization that provides service dogs to returning military who may be struggling with Post Traumatic Stress Disorder or who have other challenges.
In partnership with a local private foundation, Mariners Christian School raised $21,500 in donations for Freedom Dogs, enough to fund two dogs. The school named one of them posthumously for Walter Ehlers.
During the all-school program, students were delighted with the appearance of a three-legged surprise guest.
Lucca, a 10 year-old German shepherd mix trained to search for explosives off-leash, saved countless lives during her 400 mssions.
In 2012 she located a booby-trapped IED, suffering serious burns and requiring a leg to be amputated.
Lucca was officially retired and adopted by her handler, Gunnery Sgt. Chris Willingham, and makes special appearances, highlighting the hard work and sacrifices of military service dogs.
"I'm happy our school raised money for Freedom Dogs to help the soldiers when they come home," Kindergartener Isaiah Bahadoor said. "If they're scared, the dogs will help them feel better."
"I love Veterans Day to celebrate the veterans who fought for our land," added Lexi Caamano, also in Kindergarten.
Eighth graders recently returned from the class trip to Washington D.C., which gave them even more appreciation of veterans.
"When our eighth grade class went to Washington D.C., we visited Arlington, and now I have an even greater understanding that 'freedom is never free,'" Gunnar Gehl said. "By honoring veterans, we are exhibiting our faith as an example of how Christians should love and treat one another. As a Christian school, this is important because it not only shows our gratitude, but it humbles us and gives the opportunity to exhibit thankfulness for the blessing of their service."
Eighth grader Sara Chao agreed and added, "As a Christian, honoring the veterans is one day we can sacrifice a little of our time and attention for their huge sacrifice of courage. God would want us to honor them as a way of showing our respect and that we care. He also wants us to remember that because of the veterans, we are blessed with the gift to worship Him freely."
Mariners Christian School parent Dwight Hanson has been involved in the Veterans Day program for nine years.
"The program makes the day truly come alive for the children," he said. "I used to be in the Marine Corps and I think veterans and those who died fighting for us are an earthly representation of Jesus' love for us. Jesus gave up His life for us, and veterans volunteered to defend us so we can be free and live where there are religious and other freedoms."
Cindy can be reached at [email protected]