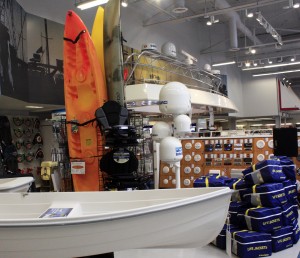 With nearly 9,000 boats, Newport Harbor is one of the largest recreational boat harbors on the west coast.
So, it's not surprising that Newport Beach is also home to one of the largest retail stores for boat owners, or those who love to recreate on or around the water.
The West Marine flagship store opened last weekend in the Via Lido Shopping Center, and it is, in a word, huge. The new store is 27,500 square feet–more than triple the size of most West Marine stores.
The new store was officially christened last week at a ribbon-cutting ceremony prior to a "Cruising for a Cause" charity night that welcomed more than 500 people who explored the new store and donated $18,000 to nine local charities: The Leukemia and Lymphoma Society's Leukemia Cup, Orange Coast College's Professional Mariner Program, Surfrider – Newport Beach Chapter, UC Irvine Sailing Association, Newport Harbor Sailing Foundation, Aloha Kai Research Foundation, Newport Aquatic Center, Balboa Yacht Club Jr. Sailing Program, and Friends of Rollo.
"This store was 45 years in the making," said Matt Hyde, President and CEO of West Marine. "Retail is about changing and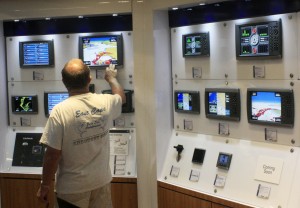 evolving as customers evolve, and this is the latest iteration of where West Marine is going. We're focused on doing the best job possible of taking care of the boat owner, and also the customer who loves to recreate on and around the water."
"In this store you see clothing, standup paddle boards, sunglasses–it's really a different target to make sure we take care of folks who love to recreate," he added. "Boating is a lifestyle. I own boats and ma passionate about being on the water, but sometimes I'm at the beach, so we wanted to have all types of products and serve the total customer and all the things you can do around the water."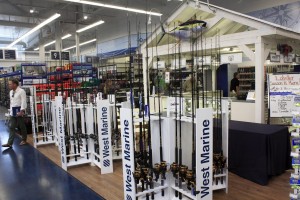 The store does indeed cater to those who enjoy the boating lifestyle. Everything from fishing poles and doggie life vests to fish finders and outboard motors are on display.
According to the press material, West Marine, Inc. is the largest specialty retailer of boating supplies and accessories, with nearly 300 company-operated stores located in 38 states, Puerto Rico, Canada and five franchised stores in Turkey. Founded in 1968, West Marine has grown to become a leading omni-channel retailer for boats and boaters – from power cruisers and sailors to anglers and paddle sports enthusiasts.
For more information on West Marine, visit westmarine.com or call 1-800-BOATING (1-800-262-8464).