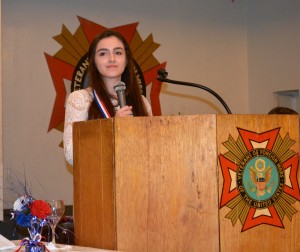 An Eastbluff teen is sharing her passion for honoring veterans by using one the strongest tools she has: Her voice.
Jordan Kessler, 16, recently participated in the Veterans of Foreign Wars, California, Mid-Winter Conference and Voice of Democracy speech competition and scholarship program.
Kessler and the 13 other California finalists met the weekend of Jan. 23-25 in Sacramento for the program. The group toured the capital, the senate floor, the railroad museum, and old town Sacramento.
They also met national commander of the VFW, John Stroud, the state commander of the VFW, Howard Hagen, and senator, Ted Gaines.
"The trip to Sacramento was inspiring," Kessler said.
Although she didn't win the state championship, she said she was honored to be a part of the program.
Since 1947, the Voice of Democracy has been the VFW's premier scholarship program. Each year, almost 40,000 high school students compete for more than $2.1 million in scholarships and incentives, according to the VFW website.
Students compete by writing and recording an audio essay on an annual patriotic theme. The 2014-15 theme was "Why Veterans are Important to our Nation's History and Future."
Her speech, titled "Veterans Building Our Future," compared veterans to architects and America to the buildings they've constructed.
"I talked about how veterans are such an important part of our society, not by just going out and fighting, but when they come home they do a lot for our economy, they do a lot in our politics," Kessler said. "They're very involved."
She did a lot of research and found many important figures in American history were veterans, including the majority of presidents.
"I realized that ever since the beginning, they have been the ones that have been building our society," Kessler said.
"Veterans: They're the proof our nation has a history and the reason our nation has a future," Kessler said in her speech. "Much like when architects design the foundation for a building, American veterans designed the foundation for our nation. Following the floor plan passed down from our founding fathers, the original U.S. veterans created a strong and steady platform which soldiers have continued to build upon through their many military and humanitarian missions."
She was surprised she won the regional competition, Kessler said.
"I was really honored and grateful," she said. "But winning wasn't my primary goal. My main goal was to raise awareness for veterans and give them some more recognition for everything they do."
"I think it's really important that everyone in our community recognize all that they've done," she added.
She was also really excited to meet the other students involved in the competition.
"Meeting new people for all over that have the same values and the same reverence for what the veterans are doing for us (is special)," she said.
Prior to the program held last month in the state's capital city, she submitted her essay to the VFW in November and won for district two, which consisted of students from Orange County and surrounding areas.
The VFW Anaheim Post 3173, the local VFW chapter she submitted her speech through, held a dinner in Kessler's honor after she was selected to compete at the state-wide event.
"I was honored and sort of amazed because all of the veterans… are such a tight-knot community," she said. "It's such a strong community and it was really great to be welcomed as a part of that."
Several people from the Anaheim VFW post attended the event in Sacramento.
Kessler, a junior at Mater Dei Hi School in Santa Ana, has been the class president of her class since she was a freshman.
Kessler heard about the competition from her college counselor, who provided some opportunities to competitions and opportunities, among them was the VFW's Voice of Democracy program.
"I really connected with the prompt," said Kessler, whose father is an Air Force veteran . She also has a lot of family and friends in the military.
Kessler also does a lot of work with Tragedy Assistance Program for Survivors.
As the vice president for the Improv Comedy Club at her school, she arranged for all the proceeds from this year's Christmas performance to benefit TAPS. The group raised about $700.
It's an important cause, she emphasized.
"Military men and women, both active and inactive are role models for future generations," Kessler said in her speech. "They are the architects that establish, enforce and ensure our constitutional ideals will live on long after we have passed."
For more information, visit vfw.org/VOD.