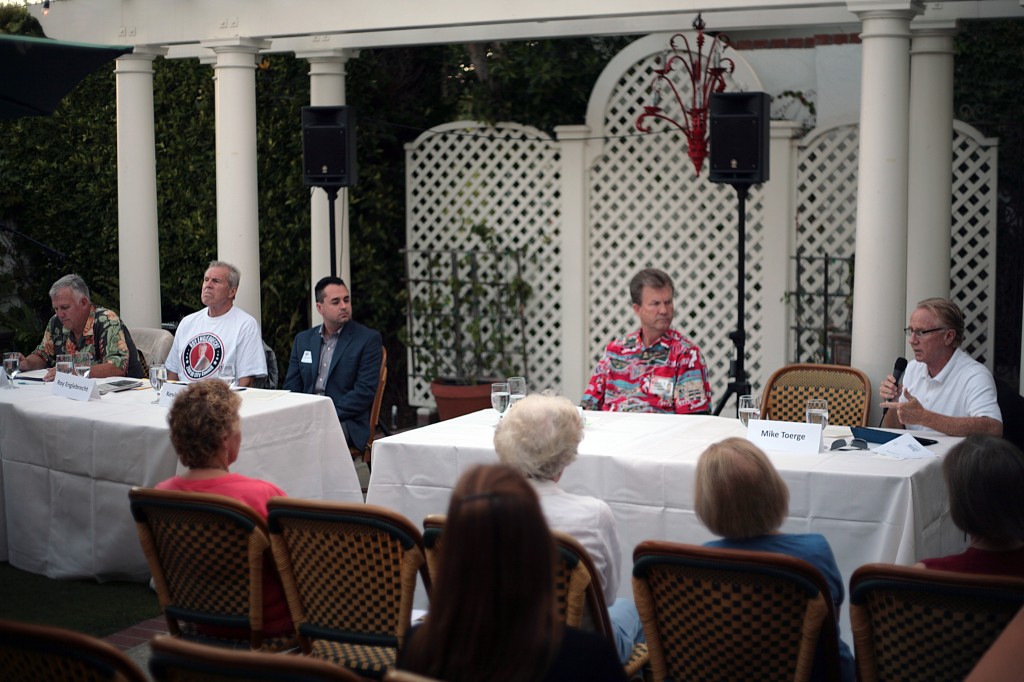 A variety of topics were discussed at yet another city council candidate forums recently.
Newport Beach Women's Democratic Club met Sept. 16 in the garden room at Five Crowns in Corona del Mar for their discussion.
They may differ on public policy and strategies, said club president Jean Hastings Ardell, but they all share a passion for what's best for the city, county, state and country.
Candidates on the panel included Tim Brown, Roy Englebrecht and Kevin Muldoon for district 4, and Scott Peotter and Mike Toerge for district 6.
Diane Dixon, running unopposed for district 1, and Rush Hill and Marshall "Duffy" Duffield, both for district 3, were all absent.
About 30 people listened as the candidates answered questions regarding pension costs, infrastructure, outsourcing, fire rings and more.
The event kicked off with a set of candidate introductions that were a bit different compared to the other forums. Hastings Ardell read the bios, which included playing shopkeeper in Don Giovanni at Orange County Performing Arts Center (Brown), an appearance in a Fantasy Island episode (Englebrecht), birthday meals of shish kabobs, IBC root beer and a M&M cake (Muldoon), the Cardinals winning the World Series and becoming an Angels fan (Peotter), and paddling across the Catalina Channel on a high board surfboard (Toerge).
The evening ended with a question from the audience before the group broke for one-on-one conversations between the candidates and attendees.
Susan Skinner confronted Peotter about some home renovations did on his home while he was a planning commissioner. She questioned whether he received special privileges. Peotter was "most disrespectful" as a neighbor and commissioner, she said.
In between the building phases he lost his financing, Peotter responded, so nothing happened for about two years except for his personal work . The city canceled his permit at one point and he did what he could to keep it alive, he said. He ended up selling the house and finishing it later. There were some neighbors that were not happy and there were also neighbors that were sympathetic. It was an uncomfortable situation, he said, and he's very apologetic to his neighbors.
The most popular scripted question for the group was regarding Measure Y.
Englebrecht, the only candidate opposed to the measure, received the biggest applause of the night.
"This is the developer's measure. This benefit's the developers. It's about them," Englebrecht said.
"Enough is enough," Englebrecht said, eliciting cheers from the audience.
"Please don't tell us, an intelligent community, that if you put 500 apartment units… and a half a million square feet of commercial space in Newport Beach that it's not going to increase traffic," he said. "We have a lot of traffic and we don't need more."
"If it passes and I'm elected, I've got a few things up my sleeve," Englebrecht said. "I'm not going to go down without a fight."
Toerge said he was also initially opposed to the amendment when it was proposed to the Planning Commission. After the many updates, changes and eliminations, he supports it.
"It really comes down to the Irvine Company's right… to build 1,000 units of hotels down in Newport Coast," he said. That's "a million square feet of development."
Newport Center is better at handling that much traffic, Peotter explained.
It the existing versus proposed development, he added.
"It reduces the amount of traffic they're entitled to, based on the 2006 general plan amendment," Muldoon clarified.
The idea that the Irvine Company will never build in Newport Coast is uncertain, he said.
"I'm just not willing to take that risk," Peotter said.
The Newport Coast development is not done, Brown said.
"The Irvine Company has a development agreement with the county that that development will occur… If Measure Y fails, that development will be done," Brown said. "There's no question on this."
Regarding the way it's worded on the ballot, the council want it to pass so they put the best spin on it that they could, Peotter said.
"That's just the way politics work," Peotter said.
They all supported the idea of the CdM Bypass. Englebrecht noted that the actual implementation of the plan is a long way off, regardless if Measure Y passes or not.
The candidates also had some suggestions in response to a question about rising sea levels and the seawall.
The issue should definitely be addressed, all agreed.
"The statistics are clear, it's rising," Toerge said. "We have to do something about it."
The bigger picture should be considered, he said.
"It's going to take a comprehensive survey approach to address (the seawall)," Brown said.
The walls that are worn out need to be replaced and the rest maintained and replaced as needed in subsequent years, Peotter said.
"So we get it where we want it to be, when we want it," he said.
Muldoon also suggested dealing with the issue incrementally.
Several agreed that both the city and residents should share the responsibility.
"I'm thinking about a combined effort, as opposed to one group paying all of it," Brown said.
As a council candidate, it's important not to "bluff your way through the issues," Englebrecht said.
He admitted he doesn't have an extensive knowledge on the issue, but named a fellow council candidate who does: Duffield.
"What makes Newport Beach special is our harbor, our water, our people, our beaches," Englebrecht said
Several candidates also spoke about financial management in the city.
"The city has spent a lot of money on unnecessary projects," Muldoon said.
Financially, the city needs to have their "ducks in a row," Muldoon said. They need to get their priorities straight, he said.
They need to focus on the basics: Law enforcement, infrastructure and capital improvements.
"The financial situation in our city is unsustainable," Englebrecht said.
Peotter suggested that the city sell the old city hall site. They shouldn't be in the hotel business, he commented. It's more important to pay down the debt, he added.
"Personally, I'm a saver. I have no personal debt. I live beneath my means," Toerge said. "I plan to bring those core values to your city council."
Another recent forum was the Central Newport Beach Community Association's on Monday at the American Legion Post on the Balboa Peninsula. All eight candidates attended.