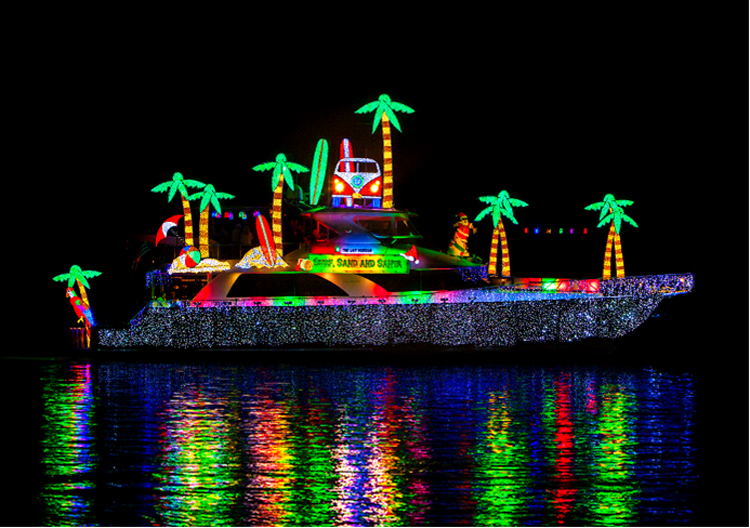 Comedic actress Leslie Mann and actor, songwriter and lead singer for the band Sugar Ray, Mark McGrath, have been named as the first ever Grand Marshals for the 106th Annual Newport Beach Christmas Boat Parade.
Mann and McGrath have both called Newport Beach home since their childhood attending Corona del Mar High School, and are looking forward to coming back to Newport Beach to take part in this historical and fun holiday event.
The Newport Beach Christmas Boat Parade and Ring of Lights home decorating competition is Newport Beach's Christmas card to the world. The boat parade runs for five consecutive nights, between Dec. 17 and 21.
The theme for the 2014 Christmas Boat Parade is "Deck the Hulls with Bows of Jolly."
"We are incredibly honored to have Leslie Mann and Mark McGrath as Grand Marshals for this year's parade," said Newport Beach & Company President and CEO Gary Sherwin. "It has been thrilling to watch both of their successful careers throughout the years, and how wonderful to have them back in their hometown at the holidays."
The Christmas Boat Parade has been hailed as "One of the top ten holiday happenings in the nation" by the New York Times.
Serving, as the backdrop for the hundreds of lighted boats in the parade is the annual "Ring of Lights" contest. A spectacle all its own, beautifully decorated bayside homes and businesses surrounding the harbor go "all out" with their own holiday spirit, featuring everything from roof-top animated scenes to dancing Christmas trees.
With its own judged categories and prizes awarded, the "Ring of Lights" has become as celebrated as the boat parade itself.
The Newport Beach Christmas Boat Parade and Ring of Lights are organized by the Commodores Club of the Newport Beach Chamber of Commerce.
Some boat owners in the past have spent over $50,000 to decorate their vessels for the event.
With a significant positive financial impact on the city, especially to its restaurants, hotels and charters in terms of tourism, marketing and generating business during the holiday season, the Parade continues to be a highlight of the Newport Beach lifestyle.
For more information, visit christmasboatparade.com.