By Andrea Adelson | LB Indy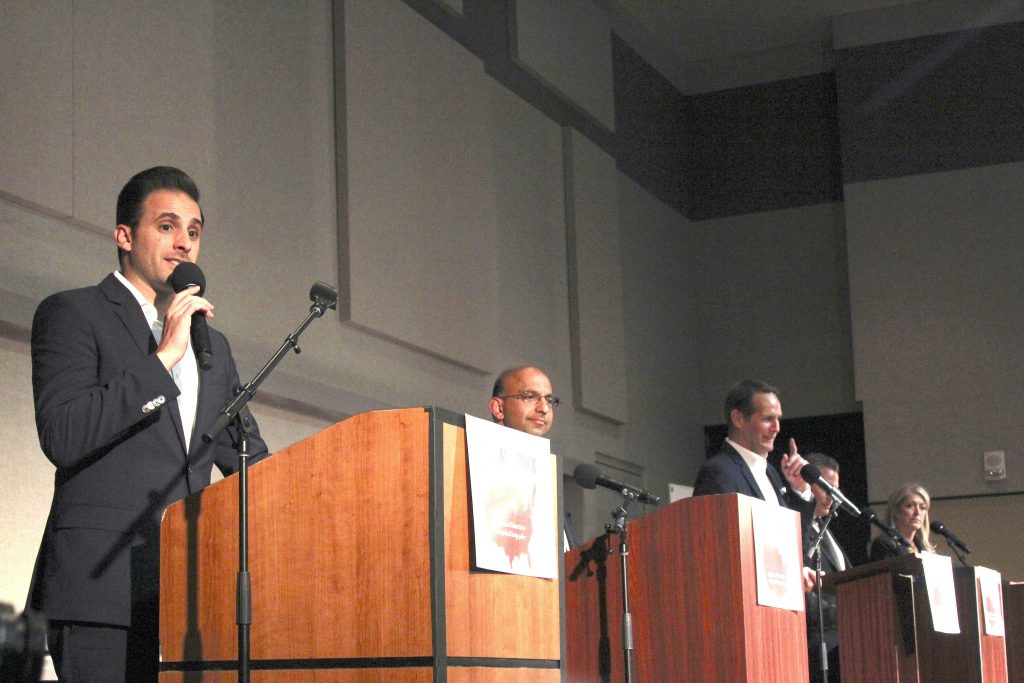 A question about identifying foreign security threats to the United States elicited both half jests and dead serious replies at a candidate forum in Irvine Tuesday.
The five Democrats featured on the panel are bidding to challenge the Republican incumbent in congressional District 48, which includes Newport Beach.
President Donald Trump topped candidate Harley Rouda's threat list.
"Trump," agreed Laura Oatman, of Newport Beach. "He's not foreign, though he is alien," she said.
She also pointed to the threat of a nuclear missile launch from North Korea potentially landing within the district.
Among outside threats, Laguna Beach resident Rouda conceded he sees Russian interference in elections as destabilizing to democracy.
Hans Keirstead, also from Laguna, identified that threatening cyber warfare can cripple commerce and communication.
Omar Siddiqui, of Costa Mesa, fingered incumbent Dana Rohrabacher as the district's greatest threat as well as Russian interference, terrorism and nuclear missiles.
Michael Kotick, the third Laguna candidate in the race, pointed to attacks on digital infrastructure.
Moderator Andrea Bird-Steiner questioned the candidates about foreign policy and immigration for more than two hours. The event was the second of a series of debates organized by Indivisible OC 48 in the run up to California's primary in June.
In keeping with the night's topic, the four men on stage introduced themselves by citing their immigrant lineage.
Oatman instead aimed to deflate vote-splitting concerns voiced on social media about the race's wealth of candidates and the potential that no Democrat would be among the top two vote-getters in June.
"Lose that fear," she urged, noting that no well-known GOP candidate has emerged to challenge the incumbent. "Chose the person that best represents you."
Friday is the ballot-filing deadline.
Kotick's campaign also set out to learn the inclination of voters by conducting an independent poll, whose results are to be released next week.
"Vote splitting isn't a serious concern," Kotick said in an interview afterwards, declining to discuss the poll results in detail. "There are several front runners, more than two."
Keirstead and Rouda each claim that top position, the former by virtue of the endorsement of the state Democratic Party last month, the latter with a richer campaign war chest and endorsements from labor unions that tend to vote for Democrats.
In a non-scientific straw poll among the forum's audience, Rouda also came out ahead, followed by Siddiqui and Kotick, Aaron McCall, chair of OC 48, said in a Facebook post Wednesday. He said 55.8 percent of the 400 people present cast votes.
Among the candidates, the career experiences of Siddiqui and Kotick both informed and sharpened their answers.
Siddiqui, a trial attorney and FBI national security expert, called for a foreign policy that relies more on dialogue "regardless of skin color or gender."
Too many leaders, he said, have been willing to put troops ahead of diplomacy. He described witnessing a trial in Guantanamo Bay Naval Station in Cuba, which he said violates the due process procedures of U.S. criminal courts.
Kotick, a business executive with a master's in global management, pointed out that current immigration policy is structured around economics.
"All they see is dollars and cents, the opportunity cost of jobs," he said.
Policy makers seem to overlook the broader impact of non-citizens as consumers and taxpayers, amounting to $200 million in GDP in the 48th District alone, he said.
Keirstead called the administration's deportation laws "ethnic cleansing." He and Siddiqui both expressed scorn for the nation's immigration policy for failing to provide deportees with public defenders.
When candidates turned to question each other, Rouda's query elicited the night's only zinger. When he asked Keirstead whether he cast a voter for Bernie Sanders or Hillary Clinton in the 2016 primary, Keirstead said over his 18-year residency he "missed" voting in any primary elections. He said his priority had been his medical research.
Environment and climate will be the topics at the next 7 p.m. forum on April 3, also at the UC Irvine Student Center.