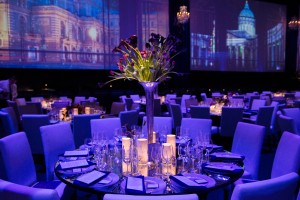 In 1974, several hundred Orange County arts supporters held an event to raise money for a major performing arts center. The inaugural fundraiser, which featured dinner and a concert, was held in a vacant Kresge five-and-dime store that was transformed into an elegant ballroom thanks to the use of candles.
Fast forward more than four decades. The Performing Arts Center (now called the Segerstrom Center for the Performing Arts) has transformed the arts in Orange County and in the process has become one of the most important and respected arts facilities in the country.
And, Segerstrom Center is still holding its annual Candlelight Concert. The latest incarnation (dubbed "All The World's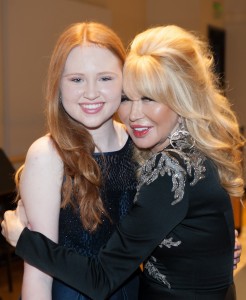 a Stage") was held Dec. 4 in Segerstrom Hall, and featured a spectacular four-course menu from Patina Group, dancing to the sounds of KC and the Sunshine Band, and an intimate concert by Grammy award-winning singer Diana Krall.
The Candlelight Concert raised $2.1 million to support the Center's internationally renowned artistic programming and acclaimed education and community engagement programs.
Nearly 400 people attended Candlelight Concert, this year co-chaired by Marta and Raj Bhathal and Kelly and Jim Mazzo.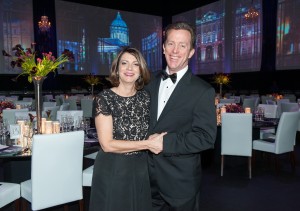 After a champagne reception, guests filed into the orchestra section of Segerstrom Hall, where a stage (complete with piano) was erected in the middle of the seating area.
Jazz great Diana Krall and her five-piece band performed for an hour, including holiday tunes and a touching tribute to the late Henry Segerstrom: The Beatles' "In My Life."
Krall told of how she once drove down with her father from Canada to Costa Mesa to take piano lessons with a jazz pianist, and played piano in the lobby of The Westin.
After Krall's concert came the big dinning coup de theatre "reveal" and dinner on the Segerstrom Hall stage itself with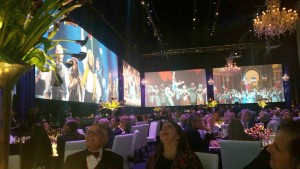 the stage transformed into a candlelit ballroom room with crystal chandeliers and movie theater-sized screens on three sides. The screens transitioned between sequences of images of artists that have graced the Segerstrom stage and famous landmarks of the three cultural capitals of the world: St. Petersburg, New York and Paris.
While dining on stage, guests could see 2,000 tea lights placed on every seat on the Orchestra Terrace, Lodge and Balcony levels.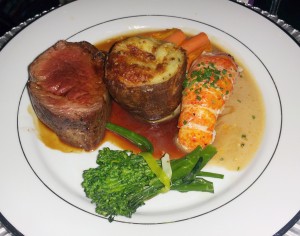 Patina Restaurant Group created individual courses that reflected the culinary traditions of the cities on the whirlwind tour. First course (commemorating St. Petersburg) was deconstructed caviar accompanied by vodka served in a shot glass carved out of ice, followed by vanilla butternut squash soup. The main New York course was a duet of natural beef tenderloin and Atlantic lobster tail. Dessert was a tasting of Parisian sweets.
Wine pairings were provided by Jessup Cellars and Handwritten Wines.
After dinner, KC and the Sunshine Band provided iconic songs and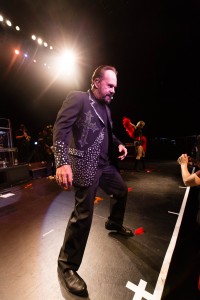 dance music late into the night.