CdM Drugs, a family owned boutique pharmacy that has offered concierge care services to residents of Newport Beach and Corona del Mar for more than two decades, will hold a Grand Opening Celebration and Open House on Thursday, July 25, at its new location at 2865 East Coast Highway in Corona del Mar.
The Open House includes savory nibbles and refreshments plus a raffle.
Pharmacist Chad Kearns runs CdM Drugs with his wife, Linda, a Registered Nurse. He said they relocated the store a month ago because they needed additional space to incorporate their compounding and infusion business, and they wanted a fresh new look and feel.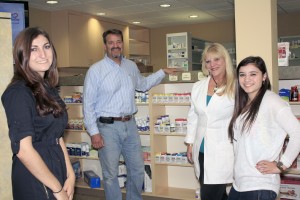 "The owner of the building was more than accommodating with the requests we made to provide a convenient and comfortable care environment for our customers," said Kearns. 
In addition to such standard items as vitamins, skin and hair care products, and sunblock, CdM Drugs offers fast prescription refills, delivery service, vaccinations, compounding, customized hormone replacement therapy, intravenous infusions, and non-invasive cosmetic treatments.
"We offer a level of service that is concierge-oriented," said Kearns. "We council our patients on their needs from medication to insurance to nursing to medical therapy management. And with our home infusion business, we can do chemotherapy, nutritionals, feed patients through IV lines–we're like CVS or Rite-Aid, but a lot more."
Linda worked on the IV team at Hoag, and has been doing home infusion therapy for more than 25 years.
Chad was Director of Children's Hospital LA Home Care and Director of Pharmacy serving the Long Term Care Program at Beverly Manor Senior Centers prior to owning his own business.
CdM Drugs has become a family affair. The Kearns' daughter, Michele, does sales, marketing and PR for the business, while another daughter, Kristina, is one of the sales clerks.
The Kearns are longtime residents of Newport Beach. Their daughters both graduated from Newport Harbor High School, while their 12 year old twin boys currently attend Mariners Elementary.
For more information on CdM Drugs, call (949) 644-7575.