By Christopher Trela and Catherine Del Casale | NB Indy
It's often easy to overlook fun activities when they're in your own backyard, so we made time recently to check off two things on our "To Do" list: a "dock and dine" boat excursion on a pontoon boat, and a guided art walk through Pelican Hill Resort. Both are perfect summertime excursions for a group of friends, out-of-town visitors, or locals who need a reminder as to why we love living here.
 Pontoon Boat Ride
We've got a beautiful harbor, and what better way to enjoy it than cruising in an electric boat while sipping champagne and nibbling cuisine from local waterfront restaurants.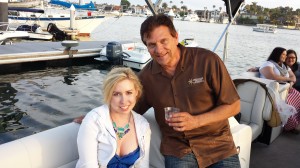 With that concept in mind, Catherine and I invited a handful of fellow foodies to a "dock and dine" cruise. We deliberated on boat rentals, and chose Newport Pontoons because the boats can hold up to a dozen people with plenty of room to stand and walk around, and because we've never piloted a pontoon boat.
Our foodie group met at Newport Pontoons at 6:30 pm on a balmy Wednesday evening, and were escorted to a beautiful boat that had recently been added to the rental fleet. It boasted a wet bar, comfortable seating, cup holders, stereo, and more amenities than we expected to find on a rental boat.
We loaded our beverages (champagne, wine and water) and, after being given a few instructions on boating basics, we shoved off (with me at the helm) and headed to our first of three restaurants: DivBar.
Easily accessible by boat, DivBar has a dockside valet to assist boaters in maneuvering and disembarking.
We ordered  from the extensive menu, and sipped champagne while our order was being prepared. Chef Kris Kirk came out to say hello, followed by a team of wait staff with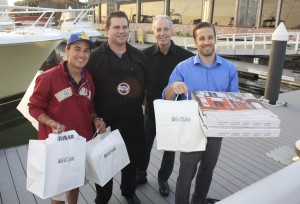 bags of food.
We've had dinner at DivBar, but dining on their fabulous white pizza, duck fat fries, firecracker shrimp and Thai chicken salad while on the water added a different dimension to the cuisine.
Our passengers passed around plates of food, and we continued our journey to our second of three restaurants stops: SOL Cocina, which has a dock and dine program featuring a variety of their  notable south-of-the-border dishes.
Our captain (me) took a wrong turn and had to double back, so we were later than expected arriving at SOL. The restaurant was more than accommodating and soon we were feasting on tacos vampiros, chips and salsa, and other signature SOL dishes.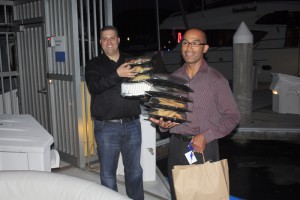 "My favorite was the platter with different proteins and topping so you could build your own taco," said Catherine. "Another great feature about their boat side service is their margaritas to-go, which come in a legal sealed bottle that you can mix it yourself on your boat."
By now it was dark, but the harbor is rimmed with lights from waterfront homes, and the boat has interior and exterior lights, so we had no problem getting to our final destination: Harborside Restaurant at the Balboa Pavilion.
Harborside has docks where boaters can tie up and dine inside the restaurant, but they accommodated our food-to-go request and brought out platters of popular bar items including Ahi nachos, coconut crusted shrimp, lettuce wraps, and crab and avocado wantons.
We reluctantly headed back to Newport Pontoons, our stomachs full and our spirits high.
Once back on dry land, everyone agreed that the pontoon boat was the perfect vessel for a dining cruise, and that we'd all had a perfectly wonderful and relaxing evening.
We also agreed that next time, we'd limit ourselves to one restaurant per excursion, because it takes longer that you think to cruise from one end of the harbor to the other.
Newport Pontoons offers several different boat rental options for $125-$150 per hour, with a two hour minimum–more expensive than renting other smaller boats, but well worth it.
For information on renting a pontoon boat, visit NewportPontoons.com.
 Art Walk at Pelican Hill
Most people are familiar with Pelican Hill Resort and their fabulous accommodations, including their golf course and restaurants.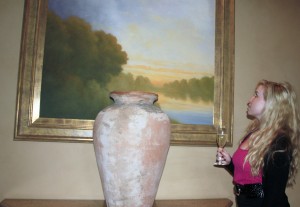 However, they also have an impressive collection of plein air paintings, Renaissance tapestries and antiques, not to mention Palladian architecture and Italian landscaping.
Every other Wednesday evening at 5 p.m., the resort hosts a free Art & Wine Walk. This 45-minute guided walking tour starts in the resort's great room with glasses of prosecco before continuing with a stroll through the property to admire and learn about the resort's art collection.
Having been to Pelican Hill several times for events and for dinner, we were surprised that so many of the tapestries and paintings we've walked by in the past are notable works of art that date back hundreds of years.
"I really enjoyed the insights that the art walk provided into the artwork that surrounds and encompasses Pelican Hill," said Catherine. "It showed me how much thought goes into every decision they make. As always I thought the Pelican Hill service went above and beyond.  The artwork tour guide was engaging and knowledgeable which really kept my attention throughout the presentation."
After the art walk, we enjoyed small bites in Andrea Restaurant's lounge.
For more information, visit PelicanHill.com.