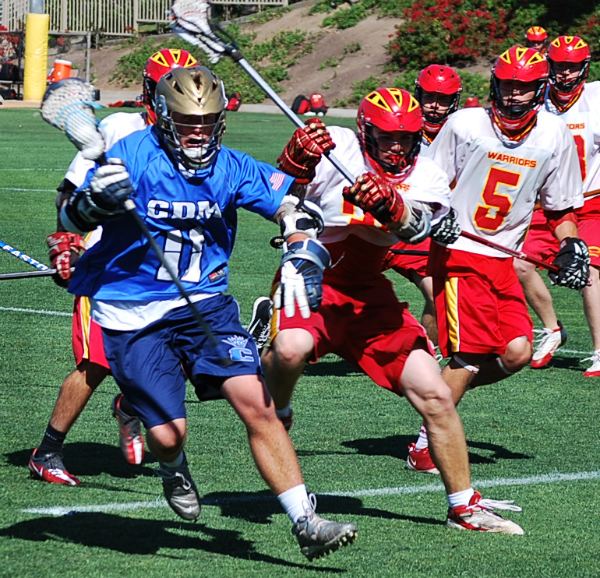 After easily beating the Woodbridge Warriors 16-4 on Wednesday in Irvine, the Sea Kings varsity lacrosse team remains undefeated at 15-0 overall and 8-0 in league.
Head Coach G.W. Mix said, "The kids are playing well. They seem to really enjoy playing the game and competing at a high level.  We are fairly strong in all of the critical places:  face-offs, goalie play, offense and defense."
Mix explained that he has really enjoyed watching some of the less-experienced young men on the team develop into major contributors. Several of them came from the CdMHS football team.
"They have really made a difference," said Mix.
Three CdM players have already decided where they will be playing lacrosse in college. Michael Ortlieb (Division I Patriot League), Michael Keasy (Division I Ivy League) and Taylor Epp (MCLA) have made up their minds. According to Coach Mix, several others will play in college but are undecided at this time as to where they will go.
Junior midfield Chris Von Der Ahe and freshman defense Hugh Crance suggested that their older and more experienced teammates have made them feel very welcome on the team.
"This is a great team to play on," said Von Der Ahe, "because we're 'one team' and we're all unified. Nobody cares about who's going anywhere. We have kids going into Division I schools but nobody really cares. We're all just worried about what we're going to do and how we're going to play the game."
"It's great to be on this team," said Crance, "because as a freshman, all the older kids accept you a lot. It's not like one of those teams where they shut you down."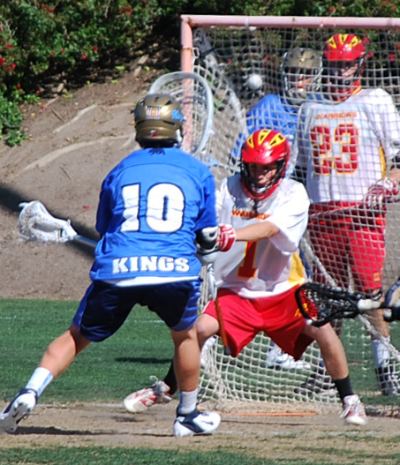 "The coaches are great," said Crance. "They set up a great learning environment. I think we all bond together, which makes us better as a team. Obviously we have skill. But you need that chemistry. And I think we definitely have a lot of it because most of the players have known each other for a while."
To build camaraderie, the team participated in a spring break trip together in San Francisco.
"It's always good to see the kids interact in a different set of circumstances and not just on the lacrosse field," said Mix.
Mix grew up in Baltimore where "most kids grabbed a lacrosse stick before they grabbed a baseball bat." He was a goalie with the University of Pennsylvania from 1979-1982. He has coached ever since and founded the Newport Beach Surf Dawg program. Also, he was the president and general manager of the L.A. Riptide from 2006-2008.
Mix admires all the L.A. Riptide players. He learned from them about leadership, sacrifice, teamwork and loyalty.
Mix's son Ryan played lacrosse for CdM in 2007 and that's when Mix started volunteering with the team. Later, he agreed to coach. Now his son Casey is a junior on the team.
"I've really enjoyed working with Casey and his friends and teammates," said Mix.
Mix feels like he can have a positive impact on the lives of the young men on his team.
"The kids in our program have a lot of respect for the game and each other," said Mix. "It's a very important time in the lives of these young men. They go through so many difficult and confusing stages during high school."
Mix is grateful to be in a position in which he can help them.
Mix thanked parents, too, for helping the varsity lacrosse team on its successful journey.
"Our parents are helpful," said Mix, "because they support our program in so many ways. It's not just the financial support we receive through the boosters, but more importantly, the hands-off approach they take and the trust they put in our coaching staff that really makes a difference."
Senior midfield Taylor Epp was playing on Tuesday. His father Tim Epp, grandfather Telfer Epp and grandmother Carol Epp were on hand to watch.
Tim Epp said the players have "a lot of heart and they've worked really, really hard this year. They're really focused and they want to win every game."
Senior goalie Michael Ortlieb was taking to the field after the first half of Tuesday's game.
He said, "We're a brotherhood. We're a cohesive unit and our motto this year is, 'All In.' [Each player] puts his best foot forward to compete through that motto."
As for the future of the team, Mix said, "We need to continue to improve as the season continues."
The players, he said, "care about each other, they work hard and they are grateful for the chance to compete."
The next game scheduled is against the Huntington Beach Oilers at Huntington Beach High School at 4 p.m. on April 21.
–  Story and photos by Kathy Ochiai