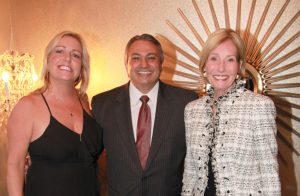 Center Club of Orange County is planning a few surprises for the 11th Annual Charity Classic, "Hops & Vines," on Thursday, September 28.
The Center Club's goal it to break last year's record-setting event in donations and attendance.
Proceeds from ticket sales and sponsorships benefit the Center Club Cares foundation, which has selected Working Wardrobes to be the featured beneficiary.
Center Club's signature event is one of the few times the club is open to the public. Tickets are $95 and on sale now at hopsandvines.org.
Richard Ward, Chairman of the Charity Classic, said that guests can expect more than 20 award-winning wines and world-class craft beers, delicious hors d'oeuvres and entertainment.
"We had an amazing event last year that will be tough to top, but we plan on expanding the venue and entertainment, adding an entertaining emcee, as well as showcasing our 2017 non-profit partner Working Wardrobes, throughout the evening," said Ward. "We are also actively seeking a new Presenting Sponsor to partner with us and make this the most exciting Charity Classic we've ever hosted."
The Presenting Sponsor ($10,000) will receive top billing on all the materials, including a 6-foot valet banner, and be featured at the exclusive VIP dinner prior to the event as well as be showcased during and after the event in related promotional activities.
To become a sponsor, call (714) 662-3414.
In addition to Working Wardrobes, other benefactors from the Hops & Vines event include Augie's Quest to Cure ALS and the ALS Therapy Development Institute, and the Employee Partner Care Foundation.