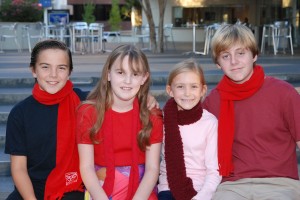 Fun is something good old Ebenezer Scrooge was sadly missing (for much of his life, at least), but the cast of South Coast Repertory's "A Christmas Carol" likes to celebrate the season with all the mirth it deserves.
At least that's the word backstage, where Dickens' growly grouch could learn a thing or two from Newport Beach's Mitchell Huntley and Corona del Mar's Maximos Harris, who are playing Peter Cratchit and Turkey Boy, respectively, in the 35th annual production of "A Christmas Carol" that opens this weekend. They'll tell you exactly why they love what they do: it just doesn't seem like work!
The enthusiastic youths are two of 16 students from SCR's Theatre Conservatory program who have garnered roles in this year's show. (Children's roles are alternated to allow them to enjoy the holidays with their families.)
It's a first time for each, but with seasoned cast members as mentors, including Director John-David Keller and SCR's beloved Scrooge, Hal Landon Jr., both in their 35th season, they're having the time of their lives preparing to tackle the Christmas classic.
"It's been a really wonderful experience," says 14 year-old Huntley, an eighth-grader at OCSA and a seasoned "veteran" already with roles in SCR's Junior Players' shows including "Jack and the Giant Beanstalk" and "The Nightingale" under his belt. "Peter loves his family a lot, like me, so I found it easy to relate to him and get into the character. His world's not going too well, but he's learned to take joy in little things, like hugs from someone you love."
"I've read the book, and you can really get into the story with it, but the play brings that story alive," he explains, sharing that he likes to keep Christmas carols going through his head to help with the feel of Victorian England. "Even after I've seen it so many times, the show just always seems new, always has that Christmas spirit."
That spirit is infectious, and it's one of the reasons eleven-year old Harris kept auditioning for his dream role in "A Christmas Carol." The first year, he says, he was too big to portray Tiny Tim; the second, too small for Turkey Boy. This year the stars aligned and the sixth-grader at St. Mary's got his wish.
"It's become a tradition in our family; I'm the third kid to do the show. I saw how much fun my sister and brother were having, so I just kept trying," he enthuses. "I love working with a professional director and actors; they've all helped me a lot, giving me advice and going over lines. They make learning so much fun that it doesn't seem hard."
"My favorite scene is being under the snow at the end, just me and Scrooge talking together," says Harris, sharing that "It's also my favorite time of year, and this is a really cool present! The story really shows the true meaning of Christmas, which I take to heart in my own life."
"It strikes me how Scrooge isn't really happy at all," adds Huntley. "It's interesting to see how he transforms into someone generous and loving who enjoys life. I think that even today there'll always be that joy, even through hard times."
"A Christmas Carol" runs through Dec. 27 at South Coast Repertory. For more or more information, go to SCR.org.