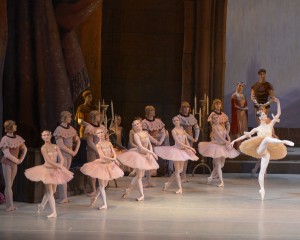 Lavishly layered with tradition, technique, and unsurpassed artistry, Russia's Mariinsky Ballet epitomizes the crème de la crème of the classical dance oeuvre.
Born as the Imperial Russian Ballet in the mid eighteenth century (and known as the Kirov Ballet during the Soviet era), the company continues to flourish, with a reputation for elegant virtuosity and a repertory rich in the masterpieces of master choreographer Marius Petipa.
Among those works is Petipa's rarely performed "Raymonda," which makes its Southern California debut this weekend when Mariinsky Ballet and Orchestra open Segerstrom Center for the Arts' 2015-2016 International Dance Series.
In addition to Mariinsky Ballet, which marks its eighth visit to Costa Mesa this month, the series celebrates the Center's 30th season with a stunning line-up of returning companies such as American Ballet Theatre, Les Ballets de Monte Carlo, Alvin Ailey American Dance Theater, and the Royal Swedish Ballet.
"'Raymonda' is one of the best classical ballets from our repertory but it has never travelled, it's so big, more than 'Swan Lake' or 'Sleeping Beauty,'" explained Ballet Director Yury Fateev, relaxing in the Center Room during a recent visit to Southern California.
The charismatic former Kirov Ballet dancer was in town coaching performers for Festival Ballet Theatre's August Gala.
"It's a beautiful ballet that's not performed a lot in Russia, either …it's still alive now because I produced many casts for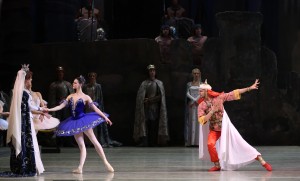 it at home so that we could tour with it when I felt it was ready," he says. "This is a very rich production with absolutely amazing choreography by Petipa; I think it's genius, and I think the audience will like it very much. It's a privilege to me to announce its American premiere here in Orange County."
Created in 1898 and set in medieval Hungary to an evocative score by Alexander Glazunov, the full-length, three-act "Raymonda" presents that oh-so tried and true love triangle of a noblewoman, Raymonda, her betrothed, a crusader knight named Jean de Brienne, and the smitten Saracen warrior who seeks to woo her away, by force if necessary.
It's known primarily for the third act's Grand Pas Classique Hongrois, which is often performed as an excerpt. The Mariinsky's current production of "Raymonda" premiered in 1948; after being lovingly resurrected by Fateev, it received great success last year at Germany's Baden Baden Festival and travels to the Kennedy Center next month.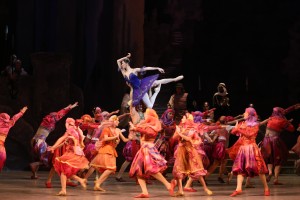 "I feel such a privilege to work in this company for more than thirty years, one of the oldest ballet companies in the world. How is it possible to be working in the theatre where Petipa created 'Sleeping Beauty,' 'Swan Lake,' 'Don Quixote.' All the famous names were created in my company," he said reverently. "I feel so much respect for Mariinsky, for their mission, which is to keep that classical repertory alive forever."
Mariinsky Ballet and Orchestra present "Raymonda" through September 27 at Segerstrom Center for the Arts in Costa Mesa.
For tickets and information visit SCFTA.org, or call (714) 556-2787.