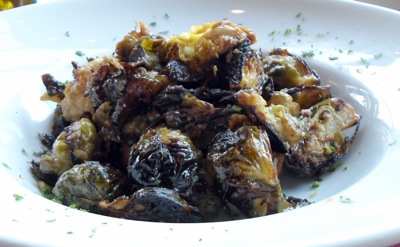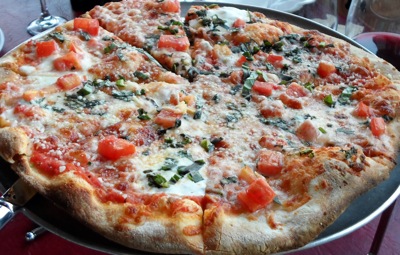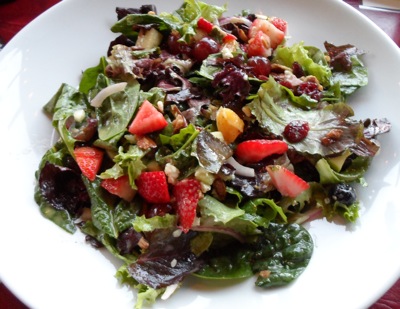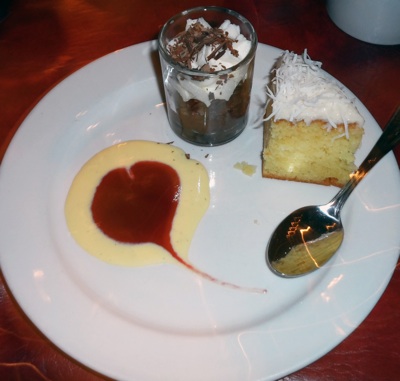 Locals only!
That phrase – used by surfers to denote a secret surfing spot – can also apply to restaurants. Local dining spots are often hidden culinary treasures, which is the case with Champagnes Bistro & Deli. The restaurant has been around for many years, yet it's the local clientele that keeps the restaurant packed.
Having not been to Champagnes Bistro in several years, I was surprised when I went there recently and found they had moved, but just to a larger location in the same shopping center at McArthur and Bison. The restaurant has added a charming patio, which is where my assistant, Catherine, and I sat and sampled some of the new menu items.
The changes between the old location and the new spot is like night and day, which fits because during the day the restaurant is more fast-casual style, while at night it turns into a waiter-served affair.
Our sampling included Jumbo Lump Blue Crab Cakes, Caramelized Brussel Sprouts, Firecracker Shrimp, Thin Crust Pizzas, a Superfood Salad, Chicken Breast Paillard, Braised Short Rib Beef Bourguignon, and a signature Champagnes Burger.
"The Firecracker Shrimp have just the right amount of spicy kick to them–this is some of the best shrimp I've had," noted Catherine. "And I'm pleasantly surprised by the Caramelized Brussel Sprouts. They have so much flavor and don't remind me of the boring brussel sprouts I remember when I was growing up."
"Same here – these are fabulous," I mumbled between bites. "I like brussel sprouts, but these go beyond any I've ever had. and no wonder–they have lemon, garlic, capers, anchovies, and butter–five of my favorite ingredients."
The pizzas arrived and were placed on silver pizza displays, making it easy to serve ourselves without consuming valuable table space.
"I think this is my favorite part of the meal," stated Catherine as she helped herself to the pizza. "The crust is crisp while still being thin,  and has just the right amount of cheese and toppings to not overpower the thinness of the bread. I'm a meat girl, so l I really enjoy the pepperoni, sausage and mushroom pizza."
"I really like the Margherita version," I countered. "Very simple, yet full of flavors that blend wonderfully, and the crust is perfect."
We also dug into the "Farm-acy" Superfood Salad, which Catherine dubbed "a nice change from the normal green salad. I like the addition of strawberries, blueberries, grapes, apple, oranges and cranberries, and the orange champagne vinaigrette is light and fruity."
"And I don't care for blue cheese, but this is not overpowering–I actually like it," I said with surprise.
By now we were getting full, yet managed to take a few bites of the signature burger, and the beef bourguignon. Like the other items we tried, these were full of flavor and cooked to perfection.
And true to form, despite our full stomachs, we still sampled the Callebaut Belgian Chocolate Mousse, and the Sweetheart Coconut Cake.
"This really is a hidden oasis," I told Catherine on our way out. "Of course, once word spreads about the cuisine, and the new patio, it may not stay hidden for long."
"I want to come back for breakfast–I saw they have Brioche French Toast," said Catherine.
"The blueberry pancakes sound good too," I added. "Looks like this may be our new local spot!"