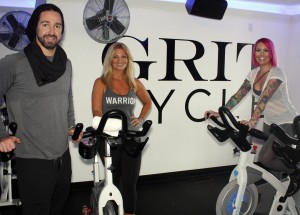 Are you ready to "Gritty Up" for cancer? Marisa Wayne is.
Since co-founding GRIT Cycle two years ago, she has carried on the memory of her father, actor and longtime Newport Beach resident John Wayne (who in his later years battled what he called "the Big C") by raising thousands of dollars for the John Wayne Cancer Foundation.
GRIT Cycle's annual "Gritty Up" event that takes place this year on May 30, is the most significant fundraiser that GRIT holds each year.
"We raised over $200,000 last year between the kickoff event and the Gritty Up," said Wayne, who lives in Newport Beach. "It was my dad's 107th birthday so we wanted to raise $107,000, but we did much better. This year we've already raised over $50,000."
At the Gritty Up, teams of cyclists mount the 52 bikes in the GRIT studio and take turns riding for three hours.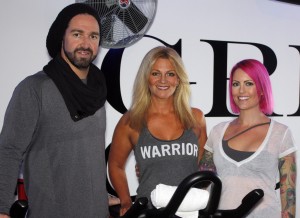 Each team fundraises prior to the event. The Gritty Up is already sold out, but tickets are available for the kickoff party, held May 29 at The Island Hotel's Oak Grill from 5 to 8 p.m.
"Last year's kickoff party was sold out and we still had people coming," recalled Wayne. "This year we moved to Oak Grill, which is a larger venue. We're going to have a silent auction, heavy appetizers, Duke Bourbon, wines and tequilas."
Helping charities has always been at the forefront of GRIT Cycle's mission.
"When we were talking about opening GRIT, we wanted to give a portion of every class fee to the John Wayne Cancer Foundation because we wanted to keep it local, and of course I am connected to the Foundation,: said Wayne. "But there are so many other great causes around here, so we do Karma rides every month for a different charity each month. But we have all been touched by cancer, so we thought it was important to do something on a larger scale."
Tickets to the kickoff party at Oak Grill are $100, and can be purchased at grittyup2015.eventbrite.com.