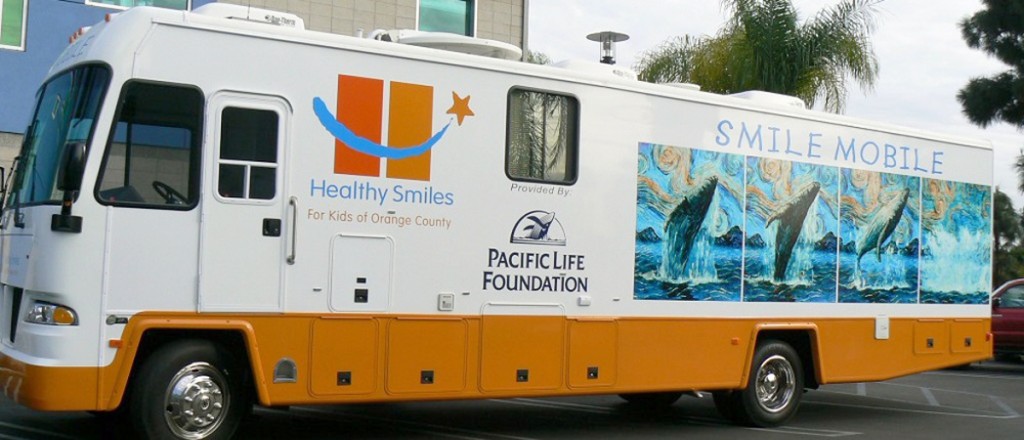 Healthy Smiles for Kids of Orange County welcomed its second new and improved Smile Mobile 2, a dental clinic on wheels, to serve thousands of children in Orange County.
This new dental resource for children was made possible because of a generous donation of $400,000 from Pacific Life Foundation in Newport Beach.
Pacific Life Board of Directors and company staff got a firsthand look, feel and tour of the new dental clinic on wheels as it made a pit stop at Pacific Life Foundation last week.
Smile Mobile 2 will be primarily stationed in South Orange County and service children through age 5 in an often-overlooked section of Orange County that currently faces a surprisingly high rate of tooth decay.
Over a span of eight years, Healthy Smiles has served 63,131 low-income, elementary-aged children in eight school districts and 56 different sites in Central and North Orange County.
"We are extremely grateful to Pacific Life for making the dream of having a second mobile dental clinic a reality," says Healthy Smiles for Kids of Orange County Chief Executive Officer Liz Bear. "With one in three elementary school students in Orange County showing visible decay, we know the need is great and this second Smile Mobile allows us to effectively address this serious issue."
Smile Mobile 2 made its first school visit on November 2 at Los Alisos Intermediate School in Mission Viejo. The new mobile dental clinic is expected to complete 6,000 dental screenings in its first year of service.
Headquartered in Garden Grove, Healthy Smiles for Kids of Orange County has served the community for the past 10 years. As one of the largest oral health providers for children of all ages in Orange County, Healthy Smiles is on a mission to eradicate tooth decay through prevention, treatment, advocacy and education.
For more information on Healthy Smiles and the Smile Mobiles, visit HealthySmilesOC.org.