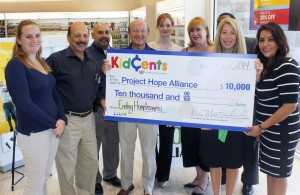 The Rite Aid Foundation presented a $10,000 KidCents grant to Project Hope Alliance, a nonprofit organization based in Costa Mesa whose mission is to bring educational programs and housing stability to homeless youth of Orange County.
The grant is in celebration of an enhancement to The Rite Aid Foundation's KidCents program, an in-store round up program that supports nonprofit organizations dedicated to improving the health and well-being of children.
The presentation took place at the Rite Aid flagship store on San Miguel Drive in Newport Beach.
The Rite Aid Foundation has taken charitable giving to the next level by letting members of the company's wellness+ program have the ability to designate their rounded up change to one of the 205 approved KidCents charities listed on kidcents.com.
Each of the 205 inaugural KidCents charities, which were selected by Rite Aid associates across the country, will receive a $10,000 KidCents grant, totaling over $2 million in donations from The Rite Aid Foundation.
To participate in the KidCents program, Rite Aid customers can sign into their wellness+ account at kidcents.com and review the profiles of approved KidCents charities they can choose to support. Each charity profile features information about the organization and the services it provides as well as stories of those helped by the organization. Once a charity is selected, the next time the customer shops at Rite Aid, their purchase will be rounded up to the nearest dollar and their change will be designated to their selected charity.
Nonprofit organizations interested in participating in The Rite Aid Foundation's KidCents program can visit kidcents.com/apply to submit an application. To be eligible, an organization must be classified as exempt from federal tax under section 501(c)(3) of the Internal Revenue Service Code and meet the KidCents program guidelines.
Once approved, KidCents charities are also eligible to earn a "Step Up" reward; for every $500 a charity raises in contributions through the KidCents program, it will receive a matching donation of $500 from KidCents, up to a maximum of $5,000. For more information, visit kidcents.com.
Since its inception in 2001, The Rite Aid Foundation has awarded more than $17 million to nonprofit organizations, and Rite Aid has partnered with its customers to raise and donate $65 million to Children's Miracle Network Hospitals across the country.