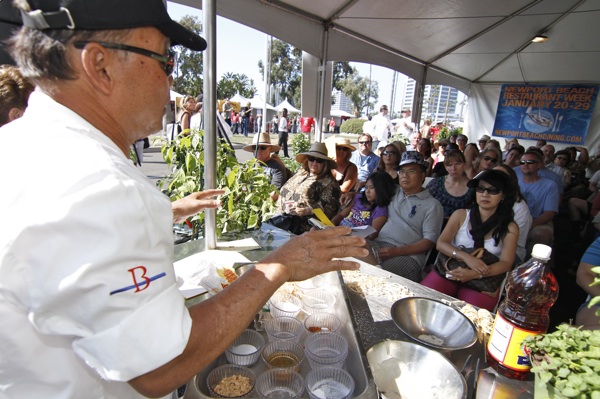 Cooking tops my list as one of the favorite ways in which I relax, express myself creatively and show love to family and friends. When I am preparing meals, whether simple or complex, it gives me a sense of adventure and at the same time deep rooted comfort.
Growing up with a large garden on the side yard of our house complete with a compost pile, as well as parents and grandparents who loved to cook and spend time gathering in the kitchen obviously had a lasting impact. Cooking shows, food demos and hands-on classes are right up there with a day at the spa in my book.
So this weekend, while I am at the Taste of Newport (I'll be there with my clan from OCSocialScene.com as we are sponsoring the VIP/Sponsor tent Saturday and Sunday), I plan to visit the Pavilion often to check out the great programming that the Newport Beach Restaurant Association Business Improvement District has planned for their Chef's Live Cooking Pavilion.
The Pavilion, which is being co-sponsored by Bloomingdale's Home and Sub-Zero & Wolf, will feature some of Newport Beach's hottest chefs who will show off their culinary flair live for the audience. And if you are a foodie like me, this complimentary culinary expo is a great opportunity to personally meet some of our city's most talented chefs. It's always fun to learn about their most sought after dishes and secret recipes!
Demonstrations will include everything from cooking techniques, new technology and a few other surprises the chefs have up their sleeves (or perhaps under their hats).
The Pavilion will feature demos Friday on the hour from 6:30 p.m. to 8:30 p.m.; Saturday on the hour starting at 5 p.m. through 8 p.m.; and Sunday every hour between 2 p.m. and 6 p.m.
Seats are limited, so tasters are encouraged to arrive early in order not to miss out on all the great chefs in action. There will also be giveaways throughout the weekend, complimentary Newport Beach Dining Guides and information about Newport Beach Restaurant Week, Jan. 18-27, 2013.
To view the entire Chef's Pavilion lineup as well as other Taste of Newport highlights, visit TasteofNewport.com.
Come hungry and support one of Newport's great culinary events, and please stop by the VIP/Sponsor tent and say hello to the OCSocialScene.com crew!
Columnist and foodie Lynn Selich will be residing at the Taste of Newport Beach this weekend.  Reach her at [email protected]