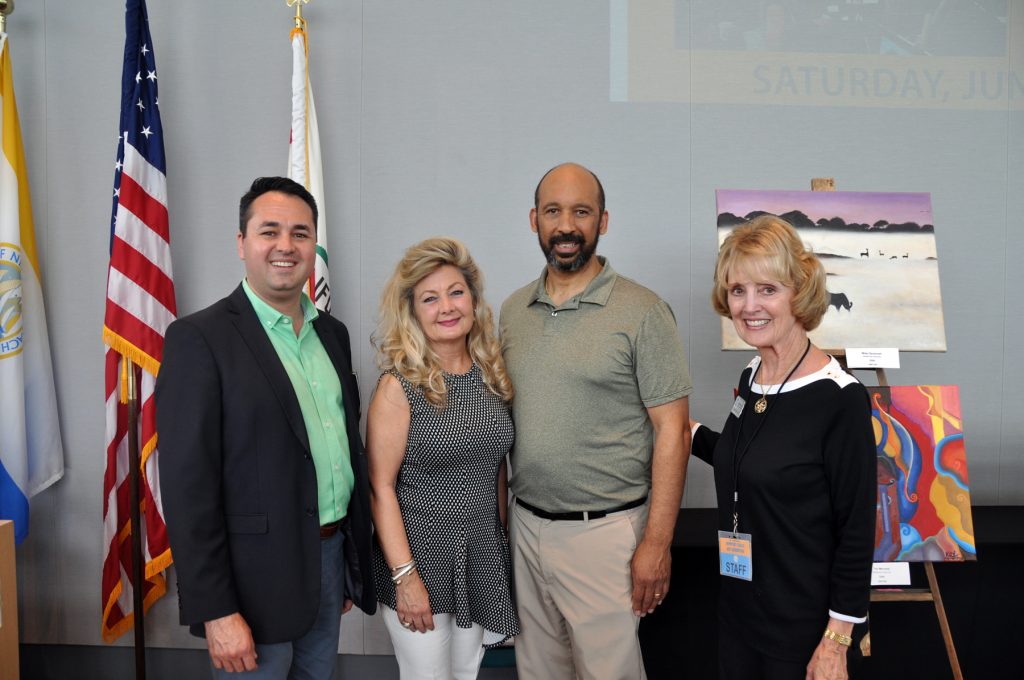 The Newport Beach City Arts Commission recently announced the award winners at the 52nd Annual Newport Beach Art Exhibition held on June 18.  
The one-day juried event, held at the Newport Beach Civic Center, showcased 263 works of art by 147 artists from throughout Southern California.  
Joseph S. Lewis III, former dean of the Claire Trevor School of the Arts at UC Irvine, served as juror for the exhibition. He selected first, second, third place and honorable mention winners in the categories of painting/mixed media, photography and sculpture, as well as his personal favorite, "Moorten's" by John Oleinik, which was presented with the Judge's Choice Award.
Attendees at the exhibition were also given the opportunity to vote for "People's Choice." The attendees selected "Sunday Chat," by artist Reza Safa as their favorite.  The small 5" X 12" oil on plexiglass depicted four senior men on a bench enjoying a Sunday afternoon chat.
Awards were presented by Mayor Pro Tem Kevin Muldoon and Arts Commission Chair Arlene Greer.
Painting/Mixed Media
First Place: Carol Colin for "At the Aquarium"
Second Place: Krista Hartling for "Summer Solstice Symphony"
Third Place: Janet Bludau for "Farmlands 15"
Honorable Mention: Stephanie Godbey for "Dingy at Rest"
Sculpture
First Place: Mark Hackstedde for "Seismic"
Second Place: Megan Knowles for "Laguna Beach"
Third Place: Bob Vale for "Magnolia Marsh"
Honorable Mention: Richard Bohn for "Eye Candy"
Photography
First Place: Viviana Carlos for "Siesta de Martha"
Second Place: Diana Ghoukassian for "Sails #2"
Third Place: Roland Escalona for "Bridges to Heaven"
Honorable Mention: Dante Korda for "Sarah"
Judge's Choice: John Oleinik for "Moorten's"
People's Choice: Reza Safa for "Sunday Chat"
The Newport Beach Art Exhibition is an annual event presented by the Newport Beach City Arts Commission.  
Dates for next year's event and the Call for Artists will be announced on the City's Cultural Arts webpage at newportbeachca.gov/culturalarts.