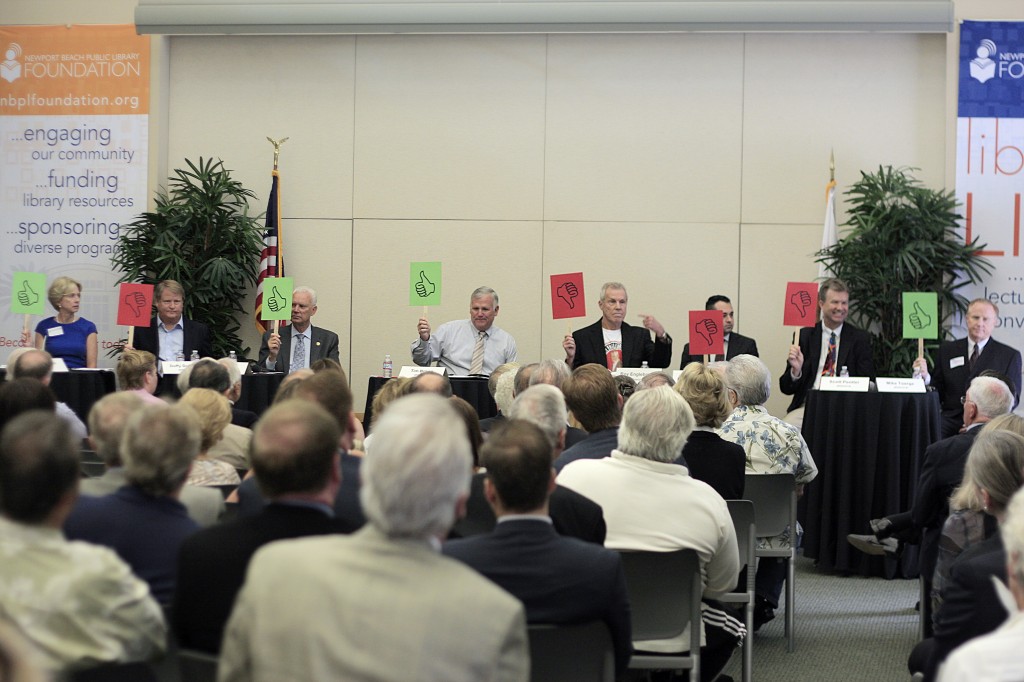 City Council candidates had their first chance of the political season to discuss the issues alongside each other in a Chamber of Commerce sponsored forum on Thursday morning.
The monthly Wake Up! Newport meeting was dedicated to candidates. The event sold out, filling up nearly 200 seats in the Friends Room at the Newport Beach Public Library.
President and CEO of Orange County Business Council Lucy Dunn moderated the event.
All candidates in the running were present for the forum: Diane Dixon for District 1; current Mayor Rush Hill and Marshall "Duffy" Duffield for District 3; Tim Brown, Roy Englebrecht and Kevin Muldoon for District 4; and Scott Peotter and Michael Toerge for District 6.
Each candidate gave a one minute introduction, before they moved onto the lightning round, a series of yes/no questions (with each candidate answering simultaneously with thumbs up/thumbs down paddles). The group finished with a series of questions that each answered with a one minute or less response.
The lightning round consisted of questions concerning several hot topics, including "Are you in favor of the proposed extension of the airport settlement agreement that the city and county negotiated that allows for some increases in the number of passengers on flights through 2030 and an extension of the curfew until 2035?" and "Do you support the city's current fire ring policy, which only allows charcoal to be burned in the existing fire rings on the peninsula and Corona del Mar beaches?"
All were in support of the JWA agreement, but they were split on the fire rings question. Dixon, Hill, Brown and Toerge all agreed with the current charcoal only rule, while Duffield, Englebrecht, Muldoon and Peotter gave it a thumbs down.
Dunn gave a few guidelines before proceeding.
"Each candidate is expected to behave in a civil manner," Dunn said to a small chuckle from the crowd. "You guys are so well behaved, I don't know why I have to say this."
As the political forum proceeded, that rule was not broken by any of the candidates. The event remained tame and each candidate stuck to their own platform rather than taking any jabs at others on the panel. Nobody was interrupted.
Dunn's first question tackled an issue all of the candidates agreed was a problem: Parking
"The city has conducted parking studies over the past several years to understand the parking issues faced on the Balboa Peninsula and Corona del Mar," Dunn said. "Do you perceive a parking problem in these areas and what are your proposals to address this situation?"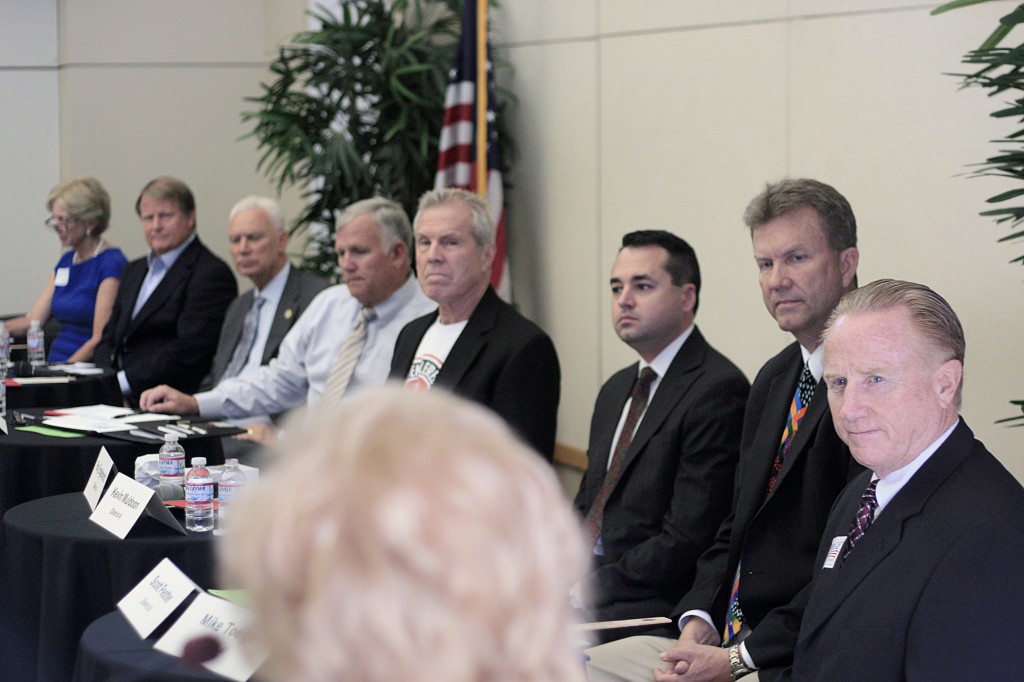 The number one issue for many residents is parking, Dixon noted.
"There simply isn't enough parking and there never will be," Duffield said.
Several candidates noted that more studies need to be done on parking permits, shared parking, better transit, valet services, off street employee parking and other ideas.
Both the residents and businesses need to be involved, Brown said.
"We need to listen to what they are saying," he commented.
The next question was a bit more controversial and the panel was divided.
Dunn asked each candidate if they supported the residential and commercial tidelands permit fees and if not, how they would amend them.
There was some dispute over calling it a "tax" or "fee" among the candidates.
"The current method for charging for all the commercial and private tideland users has become the most complicated and expensive method for obtaining an unequitable, if you will, fees on the bay that you could possibly imagine," Duffield said.
It's a huge subject, that requires much more time for proper discussion than the one minute limit he was allowed,  he added.
Another popular question concerned traffic and the city and possible solutions.
About 40 percent of the traffic on PCH is through traffic, Brown said, and can't be controlled.
The land use amendments will help traffic, added Brown, who had earlier voiced his support of the measure.
It can be frustrating, said Muldoon, who agreed the land use amendments will help.
"We have a city that everybody wants to come to and we have a lot of visitor traffic," said Peotter, who jokingly suggested closing down the beaches to help alleviate the problem.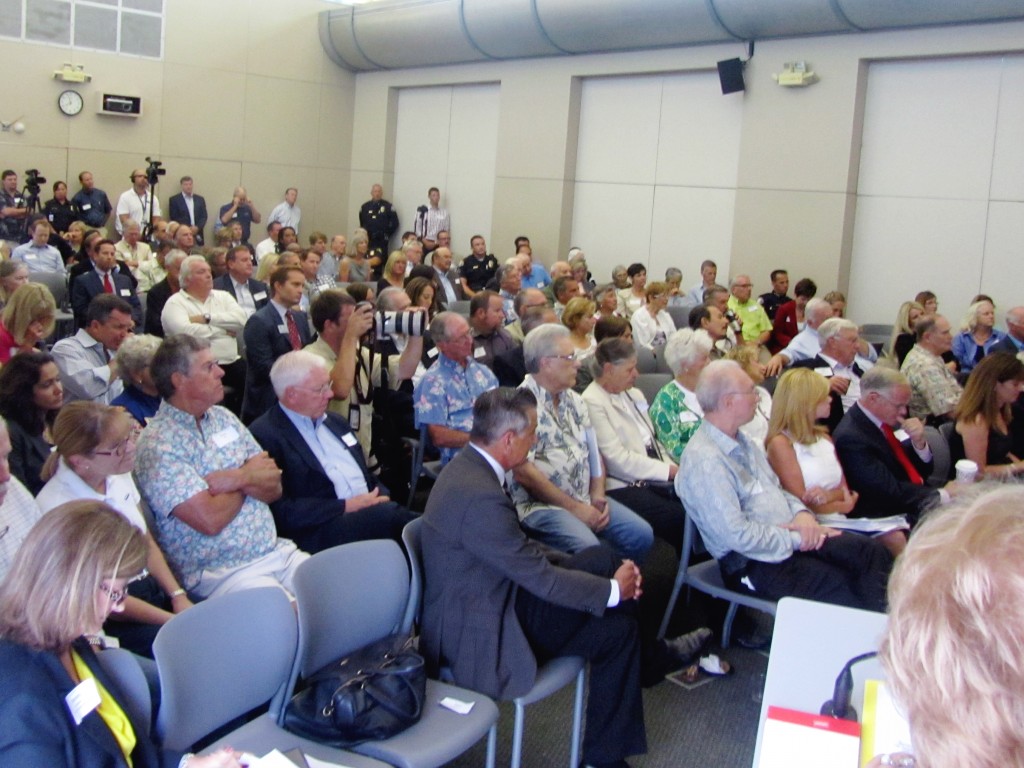 Taking more control over PCH will allow the city to work on the engineering, he suggested.
An effective bypass plan could help alleviate traffic in Corona del Mar and elsewhere in the city, Toerge said.
Several candidates supported an idea for a bypass plan for Corona del Mar.
Other questions also included controlling the number and type of business through zoning regulations, the land use element amendments, water conservation, rising sea level and the sea wall, and more.
Dover Shores resident Sabrina Little enjoyed the forum. They covered several of the big issues, she noted. There was a good balance of serious and lighthearted questions, she added.
"You could get a good idea of their personalities by how they answered the questions," she said.
She particularly liked the lightning round, she added. Their yes/no answers were interesting, Little said.
Little was "wide open" to hearing from all the candidates, she said.
"It was really great," she said. "It was a nice way to get up close and personal with the candidates in a comfortable setting."
The forum provided the opportunity to learn about the candidates various viewpoints and how they would be as a city leader, Little said.
Bungalow owners Jim Walker and Kay Davis were both impressed with the candidates.
"I was most impressed with Rush Hill and Michael Toerge really surprised me," Davis said.
Walker said he was particularly interested in what the candidates said about parking and the need to re-evaluate the parking code.
The Bungalow also got a "shout-out" from Hill during the favorite restaurant question, they added.