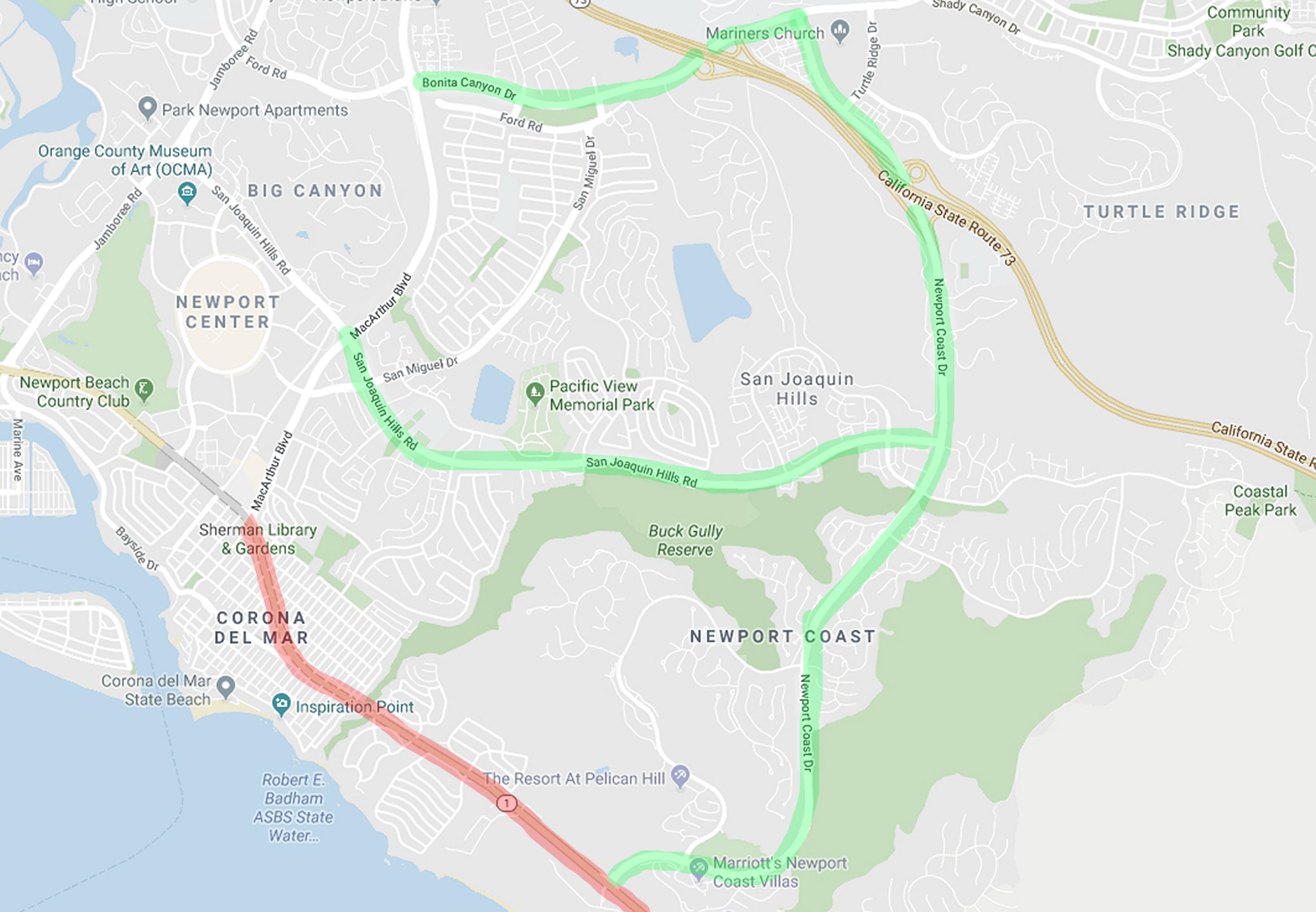 In an effort to help traffic flow around the often congested section of the Pacific Coast Highway in Corona del Mar, the city is working on implementing the long-discussed CdM Bypass Plan.
The plan is a mixture of both permanent, fixed signage and an electronic, real-time, changeable messaging system. The aim is to divert drivers around Corona del Mar, specifically during peak rush hours, by using Newport Coast Drive to San Joaquin Hills Road or Bonita Canyon Drive.
Councilman Scott Peotter, whose district includes Corona del Mar, said the plan is progressing and should help with traffic in the area.
"We're moving ahead, not standing still," Peotter said.
The idea has been around for many years, with former Mayor Ed Selich as a driving proponent. In 2014, the plan got tied to Measure Y, the proposed general plan land use element amendment that voters ultimately shot down.
More recently, a study of the traffic patterns and routes around CdM was conducted.
Travel times were collected in summer and winter. San Joaquin Hills Road and Bonita Canyon Drive were examined as alternative routes. It also reviewed infrastructure and tolling information on State Route 73, City Traffic Engineer Tony Brine explained in an email on Tuesday.
The study, now complete, found that during non-summer times, Coast Highway through CdM is generally a quicker route to travel from Newport Coast to the MacArthur Boulevard and Bonita Canyon Drive intersection, Brine noted.
During summer time, using Newport Coast Drive north to Bonita Canyon is the faster option to that same intersection, he added.
Although Peotter hopes the signage plan will encourage drivers to get in the habit of using Newport Coast Drive year-round. The wide road has a lot of "unused capacity," he explained.
As a result of the study findings, proposed improvements include the installation of directional street signs at the intersection of Newport Coast Drive and PCH, and also along the San Joaquin Hills Road and Bonita Canyon Drive alternative routes, Brine explained.
A fixed sign may inform drivers to "Turn Here" for the airport, Newport Coast, and Irvine, Peotter noted as an example.
Also, a changeable message sign is proposed for the intersection of Newport Coast Drive and PCH.
The changeable sign would alert drivers that they can save, for example, five minutes by taking Newport Coast Drive to the 73, Peotter noted.
It would use anonymous Bluetooth data in order to keep the message updated in real-time.
The signs need to be placed early enough so cars can react and turn, Peotter added.
Although Coast Highway is controlled by California Department of Transportation, the city would install the signage and control the changeable message, Peotter said.
The project is budgeted for $50,000 according to the city's 2017-18 fiscal year Capital Improvement Program document.
The schedule for these signs is dependent on Caltrans review and issuance of construction permits, Brine clarified.
Peotter gave a rough estimate that the fixed signage could be up within three to four months. The changeable sign is more likely a six month project, and "that would be lucky," he added.
Although it needs Caltrans approval, Peotter thinks the plan has a good chance.
"They could deny it, but we think we have pretty good justification for it," Peotter said. "It will help congestion on their (Caltrans') highway."