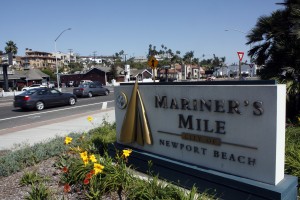 The Orange County Sanitation District and its contractor are determined to wrap up Phase I of the sewer force main project along Coast Highway in Mariner's Mile by May 22, which means in a matter of weeks, drivers will start to see the open trenches closed, K-rail (the white concrete barriers lining the construction area) removed and the roadway returned to near-normal conditions for the summer.
Phase II of the project begins after Labor Day, but should be less intrusive.
This lengthy but necessary project lays a large new sewer pipe down the middle of Coast Highway alongside the old one that's in need of repair, all the while keeping the old one carrying wastewater. Some of the work is being done via a tunneling method and some via open cuts.
Starting this fall, they will transfer the wastewater flow to the new pipe. Once that's done, they will commence abandoning the old pipe. In some cases, the pipe will be filled with sand or other material so that it doesn't cause a collapse.
Phase I has seen a few construction challenges along the way, including a gas line that was nicked, a conduit severed that caused a traffic signal outage for a couple of days, and finding the foundation of a buried bridge from the 1900s. These setbacks, while significant, have fueled the project team's determination to be off the highway, as promised, before summer.
In order to make the deadline, the contractor has crews working Monday through Saturday, day and night for the duration of the project. There will still be times when the highway is down to one lane in either direction to facilitate the construction efforts.
For the most part, there will be two lanes of travel open during peak periods: eastbound lanes in the morning and westbound lanes in the late afternoon and early evening. If you regularly commute through the Mariners' Mile area, you are strongly encouraged to find alternate routes for the next three weeks.
Last week, the contractor experienced another unforeseen problem while boring under the roadway near the Newport Boulevard Bridge. There is yet another obstruction, an active gas line, and the decision has been made to abandon the boring efforts in order to maintain the project schedule. Working with OCSD and the City, the contractor will go to open trenching, something the project team wanted to avoid in this area because it is heavily traveled and has such a limited area to perform the necessary work.
OCSD, the City and the contractor understand that this project and the related traffic delays have been a major inconvenience to residents, visitors, and businesses. The Mariners' Mile businesses are all open, and the parking meters at the City parking lot at Tustin and Avon have been "bagged" to provide free parking.
If you have any questions or concerns, contact OCSD's community liaison at (714) 679-2088 or [email protected]