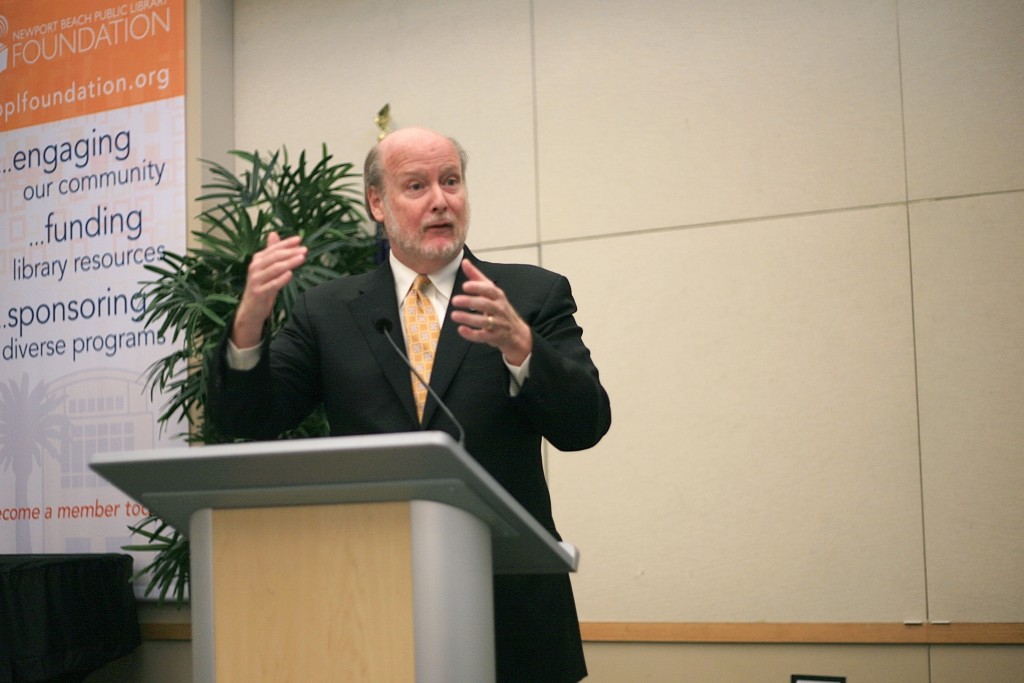 About 60 Newport Beach residents and business owners attended an early morning discussion this week to learn more about a local university and its impact on the community.
The Newport Beach Chamber of Commerce's monthly Wake Up! Newport meeting held Thursday in the Friend's Room at the library.
Speaking to the group was University of California, Irvine's new Chancellor Howard Gillman. Gillman became the university's sixth chancellor in September. He previously served as interim chancellor since July and provost and executive vice chancellor since June 2013.
The topic on Thursday was UCI and the Future of Orange County. Gillman spoke about the students, faculty, research and how the university works with the community.
The students attending UCI are top-notch, Gillman said.
"The quality of the students that come in now is extraordinary," he said.
UCI received 89,000 applications for the fall classes and are rather selective with about a 37 percent admit rate, Gillman explained.
It's a competitive and elite group, he added.
They also provide many opportunities for students who otherwise may not the ability to attend an institution of higher education.
About half of all UCI students are the first generation in their families to attend college, Gillman pointed out.
That's a remarkable figure, he noted.
"It reflects, in part, the changing demographics of California," he said. "This is, really, the future of California."
About 40 percent of UCI students come from low-income families, he added. That's more than all of the ivy league schools combined, Gillman said.
"It's easy to create the elite, world-class institutions that serve very well the elite, privileged  families," Gillman said. "When you want to mix a world-class education with access for the sons and daughters of California, really serve the democracy, there is no university system in the world that does a better job than the University of California."
"That's a great source of pride for us," he added.
"We also have an extraordinary faculty," Gillman added.
Many are making valuable contributions to their field, he said, including a group of eight faculty members that were involved with Higgs boson particle.
They've also worked on the California water crisis, understanding and addressing issues related to epilepsy, stem cell research, the melting of the glaciers in west Antarctica, and more.
Closer to home, UCI researchers have also studied flood risk in Newport Beach
"We have a dedicated group of people helping map out those concerns so that we can do better planning for the future," Gillman said.
Gillman also mentioned the UCI hospital and trauma center, law school, business school, the summer Shakespeare theater program, President Barack Obama speaking at the 2014 commencement, sustainability on campus and green buildings, and last year's sports rankings.
"The list of contributions that we're making with our research mission is endless," Gillman said. "But, of course, our impact is felt even beyond the work we do in education and basic research."
Gillman also spoke about the school's national and world rankings.
The Times Higher Education recently ranked the top schools under 50-years-old, with UCI landing the top spot for schools in the U.S. – for the fourth year in a row – and seventh in the world.
"It provides a glimpse into the future, showcasing not those institutions with centuries of history, but the rising stars which show great potential," the Times explains.
UCI is celebrating it's 50th anniversary this year, aging out of that category, Gillman noted.
"We've had an amazing first 50 years," Gillman said.
They have achieved a lot during those years, he continued, but they're still young.
"That means we have a tremendous ambition to continue to mature," he said. "And as we mature we want to be a global leader and we want to be a global leader because we think that's going to do right by Orange County."
He also mentioned MONEY magazine's best value list, which ranked UCI as second best in the country.
The two rankings demonstrate that UCI provides "world-class quality, outstanding value," Gillman said.
Gillman also briefly noted the history of the university and how it's meant to benefit the area.
It started 50 years ago with the belief that creating a first-class research university would help liven up the region, which was not much more than rolling hills and empty land at the time, Gillman said.
"The assumption was that there was something specially catalytic about high end research universities for the development of a place," he said.
When he came in two years ago as provost, Gillman hoped to operate at an even higher level and try to accomplish that part of the mission in an even more serious and systematic way.
"Over the years, we've tried very hard to be truthful to that mission," Gillman added. "The more preeminent we are, the more our work mattes in the world."
So last year the Institute for Innovation was created. The institute is meant to position the university as a regional catalyst for the development of an innovation economy, he said. Drawing first on exploring the innovation that occurs on the campus, but also serving Orange County innovators, he added.
"We are thinking about developing this institute not just for the campus on behalf of the campus," Gillman said, "but for the region in support of our neighbors and friends."