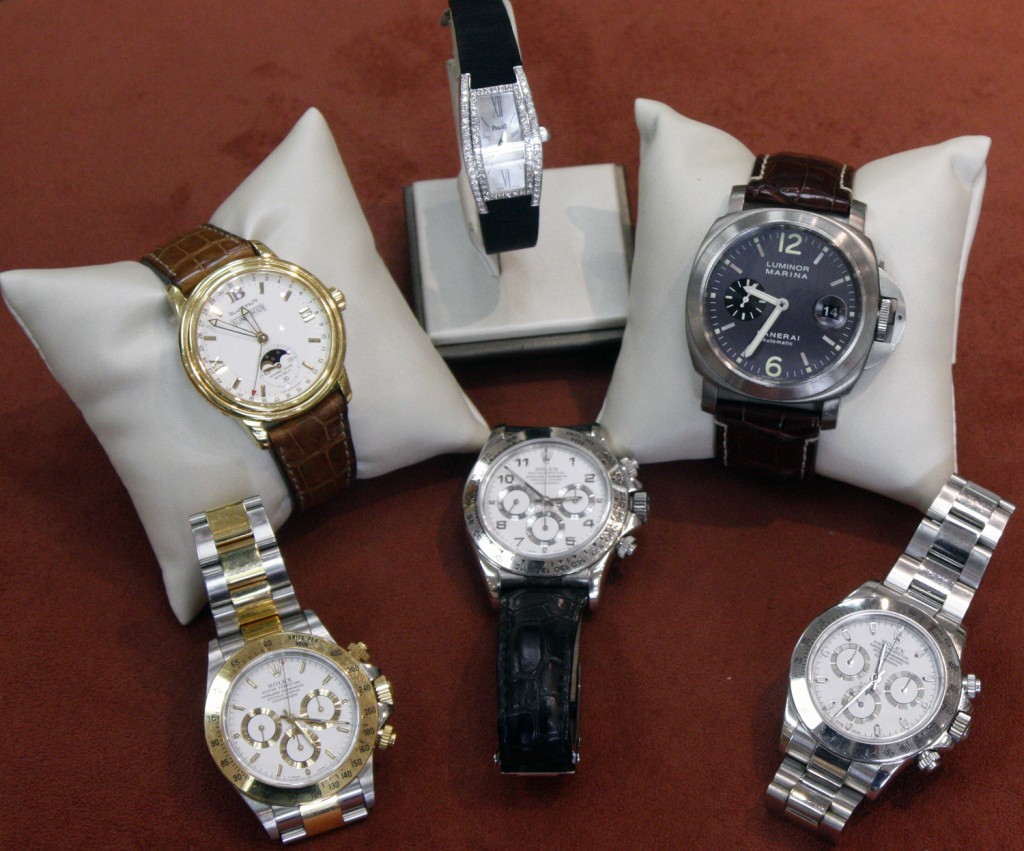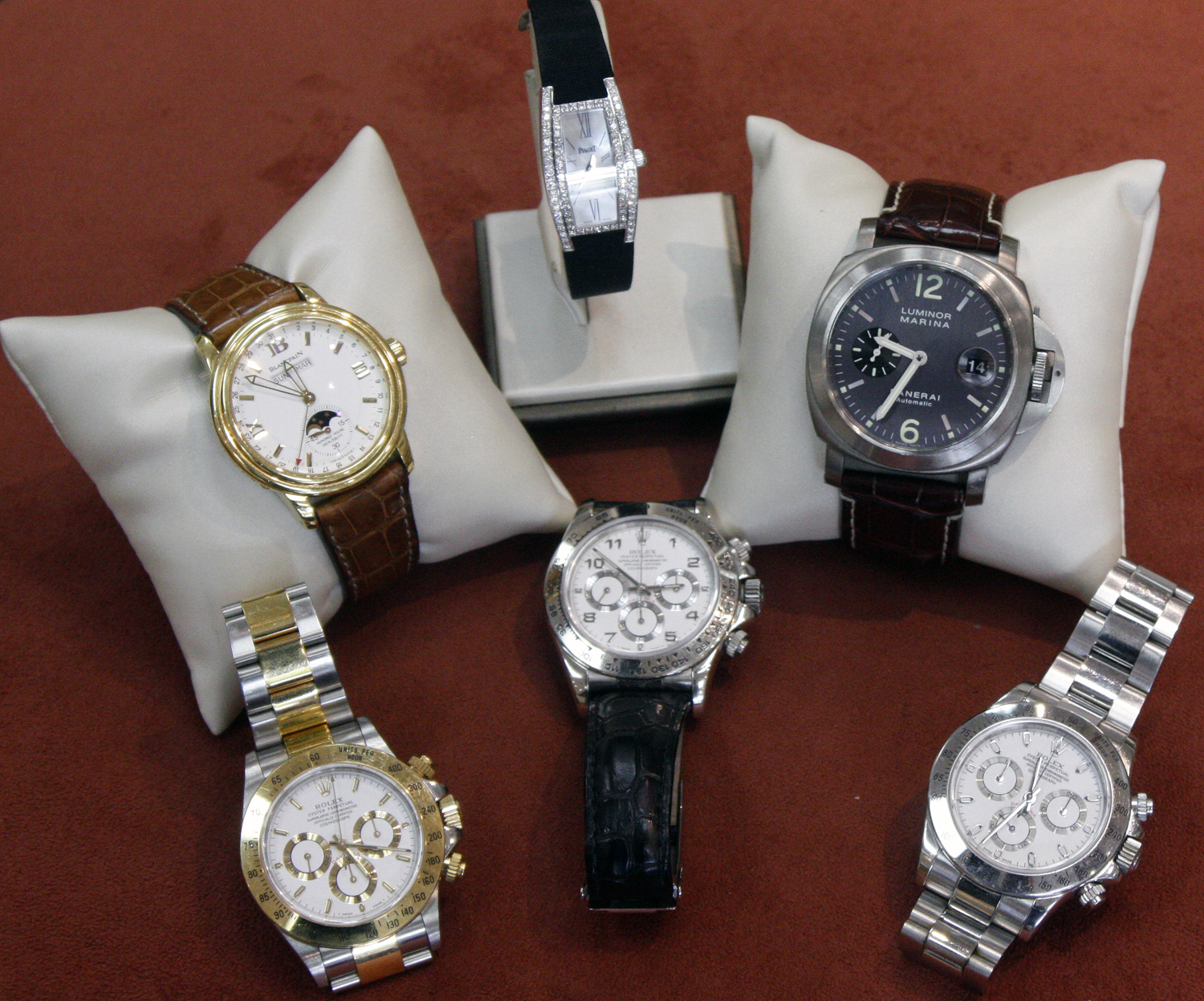 It's time for the holidays, yet there never seems to be enough time to fully enjoy them. Maybe it's time to begin thinking about time—or timepieces, to be precise.
There may be no other consumer product whose price tag spans such a wide dollar range, or which presents such an expansive label list, as a watch.
Not counting hundreds of unrecognizable off-brands that are stamped out by the tens of thousands in various countries, there are more than 250 top-notch labels from which to choose, with many offering dozens of unique iterations that range from basic time keepers to those with extraordinary spring-and-gear complications that feature leap years in their calendars, tide cycles and moon phases, cumulated time, and other exotic functions. Aficionados desiring one-of-a-kind models can spend more than $3 million for their watches.
In several Newport Beach jewelry stores, one will find sales experts who are in love with the fine mechanical sophistication of watch "engines," and are appreciators of watch face designs, as well as the investment realities of fine chronometers.
One such guru is Newport Beach-born Jeff Vaziri, manager of Royal Jewelers in Newport Beach, who's an admitted chrono-aficionado with 320 unique watches in his collection.
Based on his intense study of both the contemporary watch market as well as the history of time, Vaziri places Patek Phillipe watches atop his pedestal of truly great timepieces.   But just an imperceptible tick below this brand are a parade of names that others can and do place at the pinnacle of their lists – such sterling brands as Audemars Piguet, Vacheron Constantin, Breguet, IWC, Jaeger Le Coultre, Blancpain, Girard Perregaux, Rolex, Ulysse Nardine, Corum, Breitling, Omega, Piaget, Cartier, Panerai, Bell & Ross,  and Baume et Mercier.
Basically, there are two types of watches, Vaziri said: mechanical and quartz.
Quartz watches are battery powered, the electricity exciting a quartz crystal to oscillate at nearly 29,000 times an hour, which galvanizes tiny motors to turn the watch hands, or to display numerals and letters in LCD readouts.
The two most prevalent types of mechanical watches, Vaziri explained, are the "manually wound and automatic, in which a weight rotates in response to arm movements of the wearer, thereby winding a mainspring."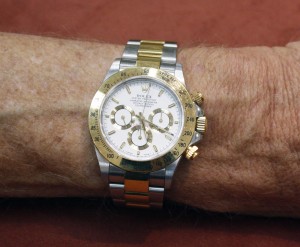 There are offshoots of these, as well, such as the electro-mechanical variety by Seiko—a hybrid watch whose wrist-activated rotor powers a rechargeable capacitor, which sends an electric charge to a tiny motor that advances the hands.
What motivates a person to buy a particular watch?
It might be need, reputation of the watch brand, recommendation by a salesperson, investment, or the emotional and aesthetic tug that a working, living, pulsing, and functional piece of jewelry casts.
Like cars, watches can be purchased both new and used. Aside from which brand to acquire, purchasing a new watch seemingly is less of a challenge than buying a used one. So when it comes to pre-owned timepieces, "It's important to buy a used watch from a trusted source," emphasized Tim Harold of William Harold and Sons, Jewelers since 1969, on Newport Blvd. One has to know what to look for, or what to ask the jeweler, he said.
Harold suggests the following questions: What image do you want? What is the age of the watch? What is the condition of both the inside and outside of the timepiece? Are all parts original, and has the watch been refinished? Does the original box or paperwork exist? What is the store's return policy?  Does the watch fit the wearer's personality? Have you done on-line research and read reviews? If an antique, what is the provenance of the watch?
Occupying the redesigned space on Coast Highway that once housed a motor scooter dealer is one of the most elegant and specialized watch stores in Orange County: Watch Expo, which is dedicated to pre-owned luxury timepieces, particularly Patek Phillippe watches. Owner Paul Busby, a retired businessman, loves these watches. His business is actually his hobby, said Busby.
Sophisticated and successful people know and want these watches, and in their sophistication they know that new watches can lose more than time–they lose at least half their value as soon as they leave the store.
To that end, Busby may advise his clients as to the full financial aspects of a Patek Phillippe watch. If they buy from Busby, he guarantees they'll get back at least 92 per cent of the purchase price if they choose to return them. With some editions, return may garner amounts higher than the purchase prices.
All Patek Phillippe watches are hand crafted to extraordinarily exacting measurements, one reason the factory turns out a mere 50,000 per year. One model is available for a modest $900,000. Called a moon phase perpetual calendar, after the watch is initially set, it needs be re-set only every 120 years thereafter (providing its proud owner keeps it wound). It's such an exclusive model that customers can't buy one until they submit an application to the company. The company president then selects the people he wants to own this complex treasure.
Time is that one gift that all living creatures are blessed with. How you spend your time is up to you. Likewise, how much you spend on telling time is, too.
Watch store information: Royal-Jewelers.com; WilliamHaroldJewelers.com; WatchExpo.com.
Contact Richard Simon at [email protected]