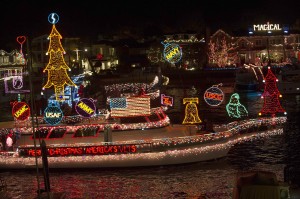 Ever watch the Newport Beach Christmas Boat Parade and think "I want to be in that parade!"
Now's your chance to join more than 80 other boat owners and register your boat to be part of this magical tradition that celebrates its 105th anniversary in 2013.
The Christmas Boat Parade has helped Newport Beach earn its designation as the number two city in the nation for holiday lights" by Yahoo! Travel. It's also been hailed as one of the "top holiday happenings" in the nation by the New York Times.
Every year, several hundred thousand locals and visitors view the parade. Hosted by the Commodores Club of the Newport Beach Chamber of Commerce, the Parade will take place from Wednesday, December 18 through Sunday, December 22 beginning at 6:30 p.m. each evening.
Whether you entertain family, friends and co-workers aboard your vessel and/or compete for awards for your decorating efforts, this parade remains the holiday event for boats of all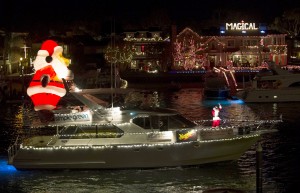 sizes and types.
The theme this year is "Rockin' Around the Christmas Tree!" Fireworks will also be featured on Opening and Closing night.
Registration is just $25. By registering your boat, you will receive entry numbers allowing you to be part of the official procession and to be eligible for awards. Registered boats that win an award will receive two complimentary tickets to the Awards Dinner and Auction, held on Friday, January 24, 2014 at the Island Hotel Newport Beach. This year's categories (including two new ones) include Sweepstakes Winner (The Bill Lusk Award), Best Humor & Originality (1st – 3rd), Best Use of Lights (1st – 3rd), Best Animation/Special Effects (1st – 3rd), Best Music, Best Sail Boat, Best Power Boat, Best Boat under 30 ft., Best New Entry, Best Yacht Club Entry, Sweepstakes Winner – Non Commercial, Most Entries from a Yacht Club.
Deadline to register is December 16, although those who register by December 11 can attend the Skipper's Meeting that evening a6 6 p.m., where parade logistics will be discussed and numbers distributed.
For more information please contact the Chamber at 949-729-4400 or visit ChristmasBoatParade.com.