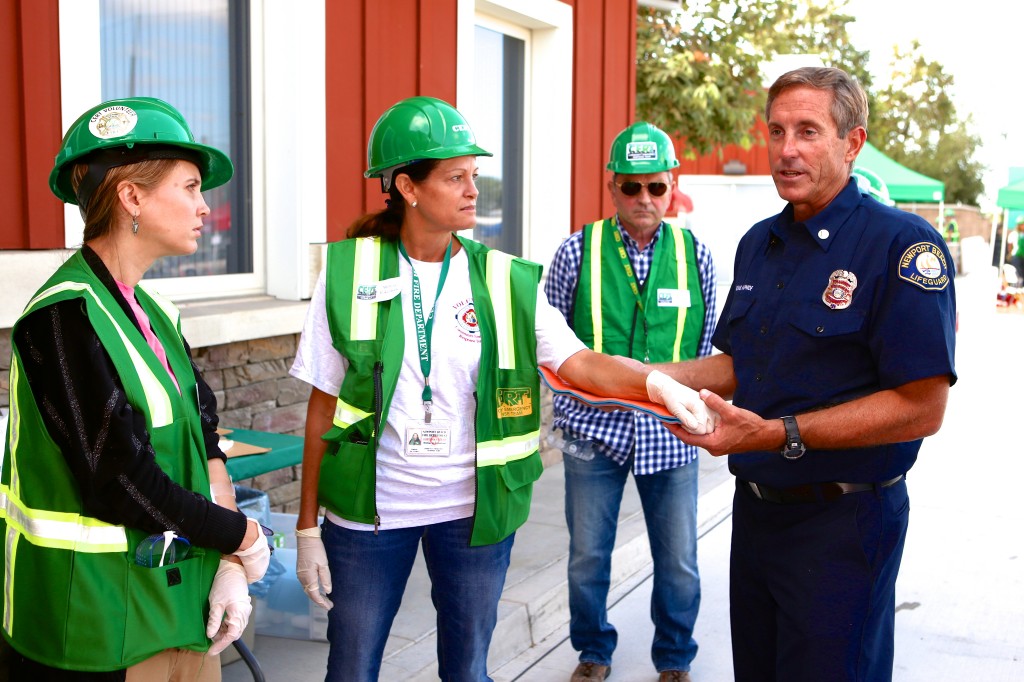 About 120 Community Emergency Response Team volunteers responded to a simulated 7.2 magnitude earthquake centered in Newport Beach over the weekend.
It was all part of the CERT program's bi-annual Drill the Skills event, which doubled as graduation day for 54 of the participating volunteers.
I was one of the new graduates.
After covering various CERT events and other stories, I thought it was about time I joined the team.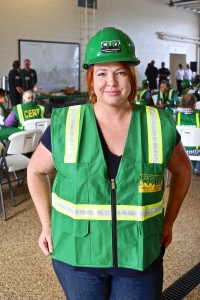 I have spent the past four Saturdays learning about disaster preparedness, disaster kits, disaster psychology, the hazards that face Newport Beach and their potential effect on the city, CPR, fire suppression, search and rescue, first aid, medical operations/triage, and much more.
It culminated into Saturday's event.
The program, ran by the Newport Beach Fire Department and led by Life Safety Specialist Matt Brisbois, is mean to teach residents to take care of themselves, their families, neighbors and community in the event of a disaster. Emergency personnel will not be immediately available and may remain unavailable for several days. CERT volunteers are trained to step in and help out.
"The CERT program is all about empowering residents to feel comfortable with doing things like fire suppression or searching a building or doing shoring and cribbing or talking on the radio or controlling bleeding," Brisbois said. "That's what this is really all about."
Saturday's drill had the volunteers reacting to a significant Newport-based earthquake that interrupted telephone, electricity and water service, damaged hundreds of buildings, and injured or killed many people.
The crowd was divided up into neighborhoods of about 10 to 12 people. I was placed on the Balboa Island team.
Each group went through six stations: Disaster medical operations/triage, CERT volunteer involvement, work and activation, first aid, indoor/outdoor search and rescue, fire suppression, and radio communications.
"The day went really well," Brisbois said.
There was a minor medical incident during the event and NBFD paramedics were on scene and responded within seconds. The person was transported to a medical facility, but was well and able to return later in the day.
Overall, the day was a success, a good amount of people graduated from the program and many alumni refreshed their skills, Brisbois said.
"This (event) gives residents an opportunity to come out and practice (those skills) couple times a year," he said. And "to have 54 new residents come through and have the opportunity to learn some basic skills is really important."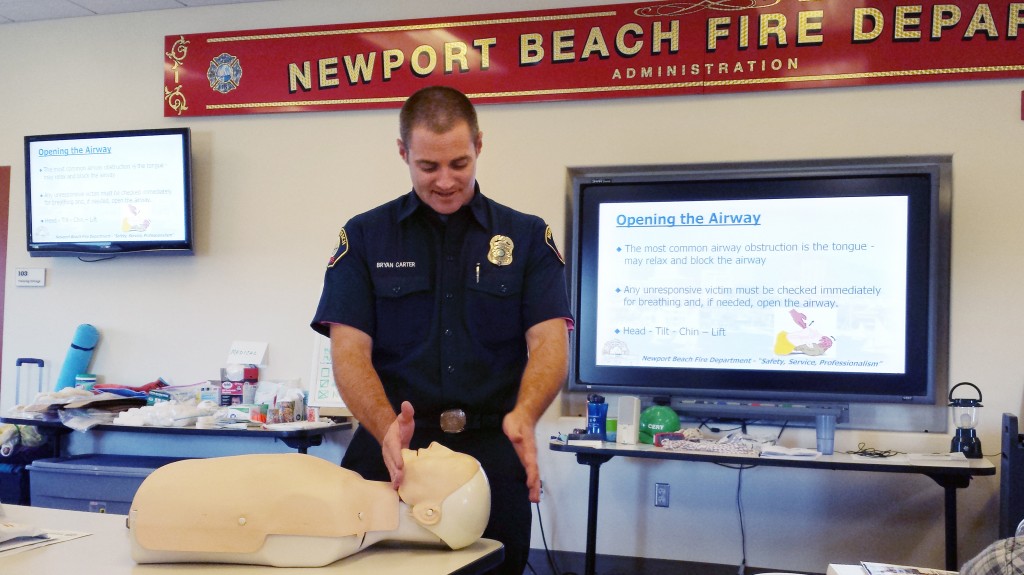 Our group's first stop was triage, where nearly 20 teenage volunteers were in full bloody makeup and wailed in mock pain. Each "victim" had a tag around their neck noting their status and details: Age, gender, injury, respirations, capillary refill, radial pulse and mental status.
"In this scenario, we have a lot of people hurt and not many people to help," said NBFD paramedic Adam Novak. "You have to use your resources very wisely in a situation like this."
During the training classes, volunteers were taught the START method (Simple Triage and Rapid Treatment), which was developed in the early 1980s by NBFD and Hoag Memorial Hospital Presbyterian.
The mnemonic "RPM," meaning respiration, perfusion, and mental status, is used to easily and quickly check the status of victims during disaster medical operations.
Colored tape was available so volunteers could classify the level of severity of injury. Red needs immediate attention, yellow is delayed, green is minor and black is deceased.
Another mnemonic, "30 – 2 – Can Do," helps responders remember what to look for with RPM and determine the severity of injuries for each victim.
If respirations are above 30 per minute, capillary refill takes more than two seconds, or they can't answer simple questions, they are tagged red/immediate. If they pass all the "30-2-Can Do" tests, but are unable to walk away, they are yellow/delayed.
This station also involved Newport lifeguard Travis Pirdy explaining head and neck injuries and how to use a stretcher or backboard.
In the next station, CERT volunteers and board members Jim Gula and Jan Burns, and CERT volunteer Cynthia Siebel spoke about mutual aid throughout the county, how volunteers can get involved with CERT, organizing your neighborhood, documenting hours, and more.
The third station for our group was first aid. Lifeguard Captain Mike Halphide spoke about bleeding, splinting and precautions around blood.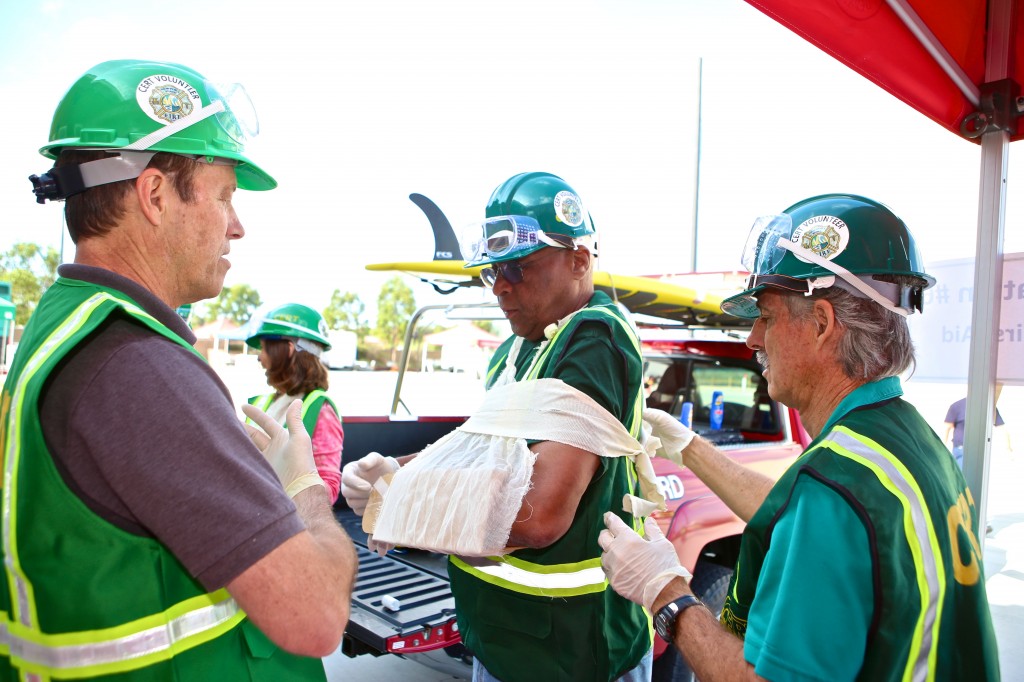 Your first concern is yourself, Halphide emphasized, then your responder "buddy" and then the victim.
All the instructors stressed this point often during class: Your safety is the top priority.
Next, know what to focus on first.
"It's really important to take care of bleeding," Halphide said. "If you don't address it… someone can bleed out in just a couple minutes."
Medical gloves are an important piece of equipment, he added. Keeping the hands clean and the victim's blood off of you is a top priority.
To highlight this piece of advice, volunteers put on a pair of gloves, smeared shaving cream all over their hands and tried to remove them without getting "contaminated." Having gloves too big or too small can make this difficult, as I learned the hard way during the test.
The other area to worry about are the eyes, Halphide noted.
"Eyes are not just the windows to the soul, they're also a great way to transmit diseases," Halphide said.
Goggles are another important piece of equipment.
We then moved on to outdoor search. This section involved cribbing and lifting a large wooden wall off a "fire hose dummy" victim. Fire engineer Alan Baker jumped up and down on the lifted wooden wall to show how stable the stacked wood "crib beds"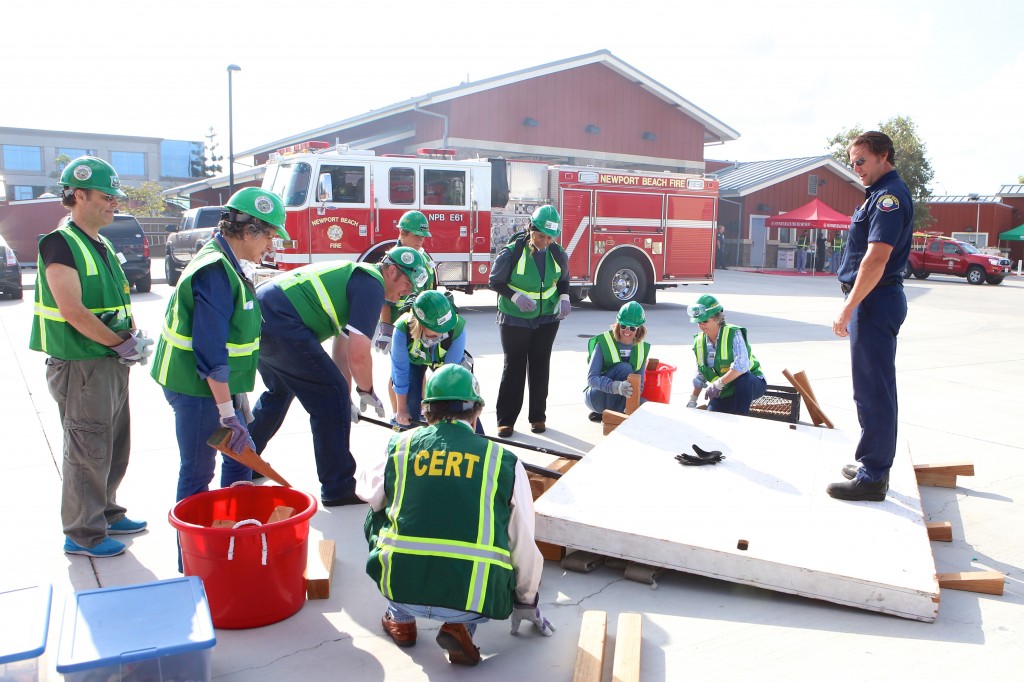 "We're going to lift up as high as need to clear pressure and create an appropriate space to extricate the victim underneath," Baker explained.
The search continued indoors, as groups split up to explore an empty building. As one person hid inside as the "victim" and another took notes and stood watch at the entrance, two or three people donned blacked out goggles and knee pads to crawl along the wall in a simulated pitch black environment.
The hottest station was fire suppression. Each participant used fire extinguisher to put out a small contained blaze.
Technique is important, fire paramedic Ryan Bullock said.
"You want to start at the beginning of the fire and push the fire back as you're walking," Bullock said.
He reviewed the various types of extinguishers and the different classes of fires.
The last station was radio communications.
"You're all ham radio operators," one of the radio instructors joked after roll call.
It's an FCC violation to talk on a ham radio without a license, he added.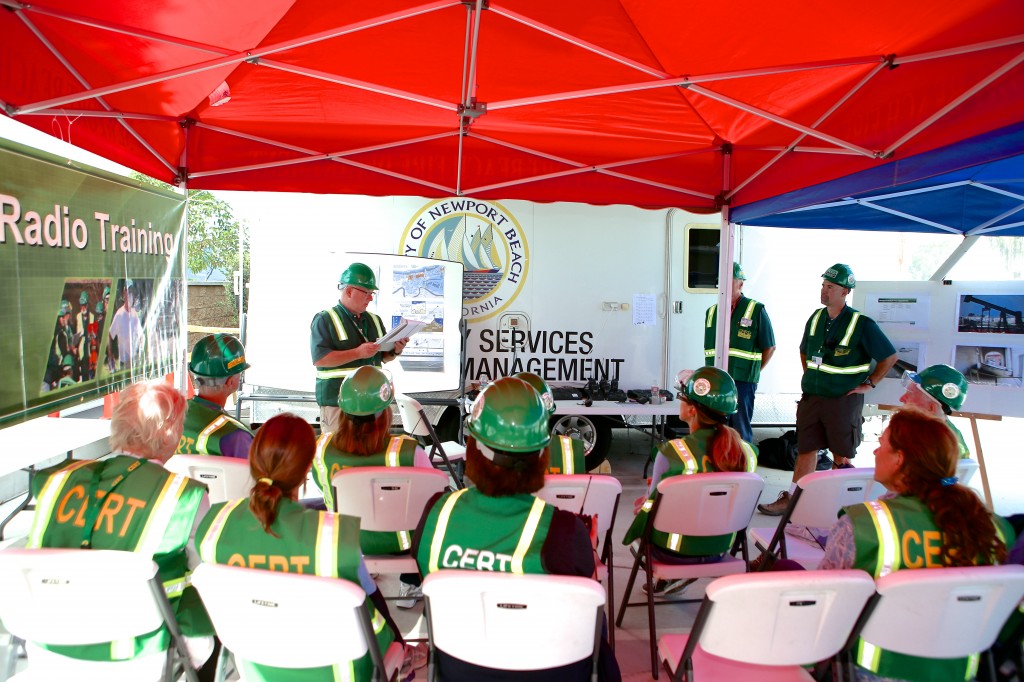 Although we were only in service during the drill under licensed control operators, residents have the opportunity to make that a reality as the Emergency Responder's Ham Radio License Classes start in February.
The group was split into two teams and simulated how they would communicate in the aftermath of Hurricane Katrina.
I was "net control" or the command post for my team, St. Charles Street. My crew had to report situations back to me then had to confirm and/or advise. Scenarios ranged from reporting location, ferrying victims to command post, searching roofs, asking for their next move, supervision for unattended children, requesting medical information and more.
Ham radio may be the only way to communicate during a disaster, they noted.
"Don't think something like that can't happen in Newport Beach," said another radio leader, Albert Gonzalez. "You know it can, that's one of the reasons you went through the CERT program."
The CERT spring schedule is published and classes start in late February. For more information, visit nbcert.org or call (949) 644-3112.
For more information about the Ham Radio classes, call Gordon West at (714) 549-5000.