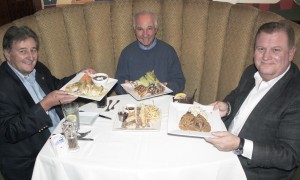 The restaurant business is a major economic force in Newport Beach. An important component of the city's tourism industry, it drives traffic to the city and provides welcome tax dollars.
One of the methods of marketing Newport restaurants comes in the form of Newport Beach Restaurant Week, which starts January 19 and runs through February 1.
Some 60 restaurants throughout the city are offering prix fixe menus designed to lure diners through their doors, give them a good dining experience, and hopefully get those diners back for more.
Earlier this week I had lunch at The Bungalow Restaurant with Mayor Ed Selich, Newport Beach Restaurant Association President Jim Walker (co-owner of The Bungalow), and Newport Beach & Co. President and CEO Gary Sherwin, to talk about the business of Newport Beach Restaurant Week.
"Restaurant Week gives people the chance to go out and experience restaurants they might not otherwise go to," explained Selich. "By having these specials, it's attractive to go out and try them. We have so many great restaurants in town, this is a great way to promote and get more business. Restaurants are important to the city just from a sales tax standpoint, they're one of the largest economic drivers in the city, so to spend the resources necessary to promote it is a terrific idea."
"The whole idea is not to generate profit, but to generate new business," said Walker. "We want to entice people to come into our restaurant. Surprisingly, a lot of people come from Irvine, Costa Mesa, even Laguna. It's almost 50/50 as far as people coming from outside of Newport versus inside Newport. We have more seats than ever in Newport—with 450 restaurants, the available seats to be filled is close to 18,000 a day."
"That's the importance of Newport Beach Restaurant Week," reinforced Sherwin. "Let's face it, January is a slower month, everyone has holiday hangovers, people tend to stay home. This is an opportunity to get them out. It's a great time of year to do it, it helps stimulate business during a traditionally soft period, so it's a win-win for a lot of reasons."
"Restaurants are a critical part of the city's brand, a critical part of the experience. It's why people choose to come to Newport Beach," added Sherwin. "We have such a variety of quality restaurants in great locations. In the last few years a lot of high end restaurants have come into the city, especially in Fashion Island, Crystal Cove, Corona del Mar. If you look at the restaurant experience now versus five years ago, it's much more diversified and brings a greater quality to the community that we previously did not have."
"Newport Beach Restaurant Week really incentivized other restaurant weeks in Laguna, Costa Mesa, Huntington Beach—we're getting competition for the restaurant week dollar," noted Walker. "The problem is not just from a customer base, but from what helps pay for restaurant week: sponsorships. It's increasingly difficult to get sponsorships. The challenge is to raise funds without raising fees for participants of Restaurant Week. Collectively, what we're getting out of restaurant week—we're paying less than $500 to be part of Restaurant Week, and getting $200,000 of advertising value. That is the benefit. As an individual operator, I can never afford that kind of marketing exposure as part of my advertising budget."
"We've expended Restaurant Week to two weeks this year," added Walker. "We want to see if that helps the total amount of people that participate. It is hard for the independent restaurants because they are giving up that weekend business. But if the restaurants put out a good menu and it's perceived as a good value, they will benefit from that."
"Restaurant Week is a more solid promotion than a Groupon," said Sherwin. "With a Groupon, people come in but you never see them again. With restaurant week they tend to come back, with group they look for a deal and then move on. We're trying to build a relationship with a customer, get them in the door, give them a good experience, and a good price. Hopefully they'll be back and bring friends."