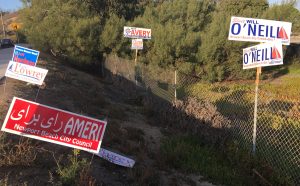 By Daniel Langhorne | NB Indy
City Council Candidate Fred Ameri voiced outrage this week after someone posted a fake campaign signs reading "Vote for Fred" in Farsi, arguing it was a "racist" attempt to drum-up fear about his Middle Eastern heritage.
Ameri, who wants to replace Keith Curry as Councilman for District 7, immigrated from Iran to Orange County as a teenager 55 years ago. After arriving in Newport Beach he attended Orange Coast College. He served as a Newport Beach Planning Commissioner and California Water Quality Control Board Member.
"It was done to basically send a message, 'hey people this guy isn't one of us,'" Ameri said.
Specifically, Ameri believes it was done to play off of Newport Beach voters' fears of the Islamic State and a nuclear weapon-armed Iran.
On Thursday, Candidate Will O'Neil reaffirmed previous statements denying his campaign had any involvement in posting the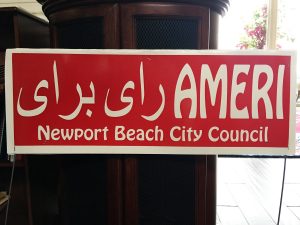 signs.
Council Candidate Phil Greer declined to comment on the issue, as did Rusty Kennedy, CEO of the Orange County Human Relations Commission.
In August, Resident William Stewart filed a lawsuit in Orange County Superior Court against Orange County Registrar of Voters Neal Kelley and Newport Beach City Clerk Leilani Brown to have Ameri's legal first name, Farrokh, appear on the ballot
Stewart's attorney, Bruce Peotter, brother of Newport Councilman Scott Peotter, wrote in court documents that the state election code mandates that a candidate's legal name be used on the ballot and that Kelley and Brown should be required to amend the document to list Ameri's given name.
Stewart agued Farrokh Ameri should appear on the ballot, not a fictitious name that would allegedly mislead voters. The presiding judge ruled that Ameri can use the name Fred.
Ameri said Wednesday that has been known as Fred for more than 55 years. He added that he has complained to the California Fair Political Practices Commission about the Farsi signs.
"This is nothing but a follow-up about a lawsuit," Ameri said.