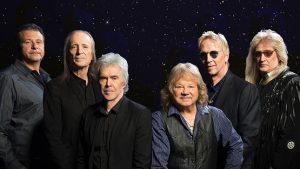 They had 21 consecutive Top 40 hits, 12 gold albums, three #1 hits ("Mama Told Me Not To Come," "Joy To The World," and "Black & White"), and launched numerous careers for songwriters like Randy Newman and Harry Nilsson (and one wine-loving bullfrog named Jeremiah).
Between the absurdly prolific and creative years of 1969 and 1974, no other group had more top 10 hits, or was selling out bigger crowds, than Three Dog Night.
The group, which has managed to keep rocking and touring all these years, comes to the Coach House in San Juan Capistrano November 5.
Founding member and lead singer Danny Hutton, 74, still has a passion for performing. He does around 80 shows each year with original guitarist Michael Allsup and a tight band of veterans. His fellow lead singer and band co-founder, Cory Wells, passed away unexpectedly last year at 74. The group also lost original keyboard player Jimmy Greenspoon, who died in March of 2015.
Wells has been replaced by David Morgan, a choice Hutton attributes to fate.
"It was so serendipitous. Cory was having back problems, so he said, 'Do the gigs, let the promotors know I won't be there, and get a substitute. I recommend this guy, David Morgan. The cat's fabulous, he can do it.' And Cory was gone within two weeks. So that's how he came in, through Cory. He's incredible as a person, his work ethic, his voice, he just fits right in.'
It was Hutton who fit right in when he moved to LA's Laurel Canyon neighborhood in the 60s as a songwriter for Hanna Barbera Records. He had a minor hit there with "Roses and Rainbows," and ingratiated himself in the canyon scene, a non-stop party wilder than anything in "Mama Told Me Not To Come."
Hutton even hung out with John Lennon and Harry Nilsson during their infamous "Lost Weekend," and shared a street with the era's biggest stars.
It was during this time that Hutton met Chuck Negron and Cory Wells, and the "three" of Three Dog Night was born. Releasing their first album in 1968, the band found their niche as expert interpreters of other songwriters' work. "One" by Harry Nilsson became a signature song, "The Loner" was given to Hutton by Neil Young, "Bet No One Ever Hurt This Bad," helped draw some attention to a young Randy Newman, and "It's For You" breathed new life into a cast-off by a little duo called Lennon-McCartney.
The group's significant skill with creative arranging, expert song choice, incredible genre versatility, plus their transcendent live performances won them legions of fans, and the hits kept rolling in.
Negron left the band more than three decades ago—he was barred from touring with the group due to his drug addiction. He has since recovered, and Hutton bears him no ill will, just don't expect to see them onstage together anytime soon.
As for Hutton, he keeps things fresh year after year by switching up the set list. What can fans expect? Nothing but the hits.
"The set takes off like a rocket and just keeps going. It's like Bam! Bam! Hit! Hit! Hit!" said Hutton.
Unlike some other groups, Hutton is happy to rest on his laurels. He's got 21 hits, a beloved catalogue, sold-out shows with one of the best bands around, and couldn't care less that he has to play "Shambala" night after night.
"You're not there to please yourself. You're there to please your audience. There's nothing better than happy faces walking out the door going, 'Wow!' We're there to suspend time for an hour and a half. I don't want to talk about politics, I want people to be transported to a whole different time and place, be uplifted, and say, 'Oh my God it's over already? That was so short!' That's what we want to do."
For tickets, visit TheCoachHouse.com.
Other upcoming shows at The Coach House: America (November 11-12), John Mayall (November 19), The English Beat (November 26).