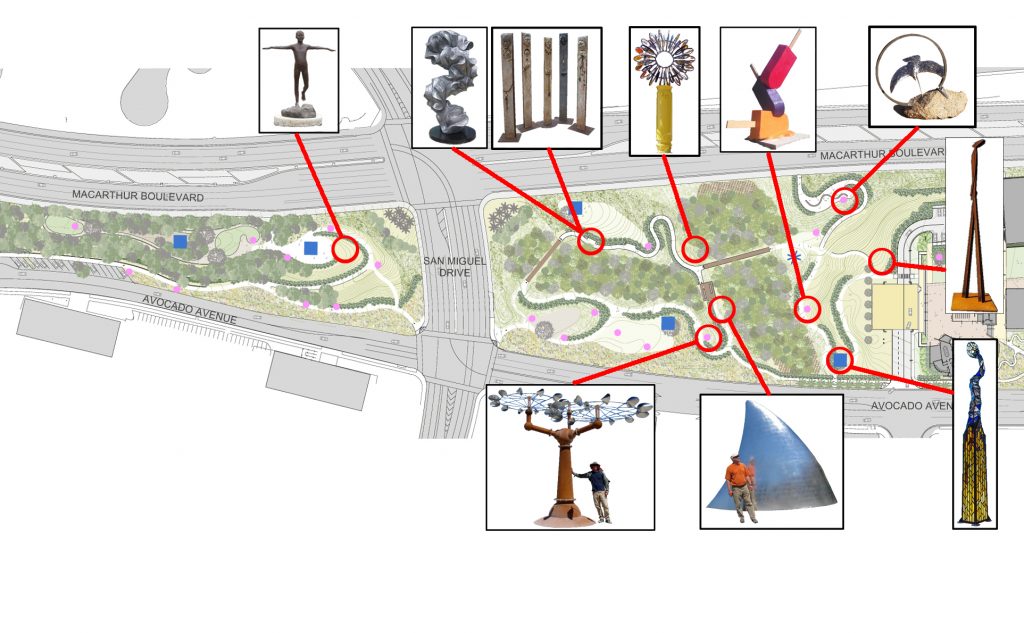 Civic Center Park looks a little barren these days — all nine artworks from Phase 2 of the Sculpture in Civic Center Park Exhibition, which have been on display in the park for the past two years, were removed this week.
Fortunately, the City Arts Commission officially voted to accept nine new sculptures for Phase 3 of the exhibition, and recommended specific placements in the park, during its monthly meeting on Sept. 14. The final vote was 6 to 0; Commissioner Miriam Baker was absent.
Arts Orange County President and CEO Richard Stein and University of California Irvine art professor Joe Lewis presented the nine sculptures before the commission last week.
All locations were selected based on existing plots for installation by architect Walker and Associates, said Stein. Each site was identified by the architect and has been used in prior phases of the city's sculpture exhibition.
Stein and Lewis also informed the commission that two previously accepted sculptures had been withdrawn from the original selection.
Contender II, a tall, long-legged figure originally accepted by the panel of judges by John Merigian, was purchased by another party. The artist offered Be Still and Know as a replacement. The work resembles Contender II closely, but isn't quite identical.
"'Each figure I make is unique and a statement by and of itself,'" Lewis quoted the artist as saying.
An alternate selection, Kinetic Beam 4, was withdrawn by artist Rollin Karg after his wife passed away.
One additional sculpture, In Affioramento by Brunivo Buttarelli, had been scheduled to be shipped from Italy, but Stein said it was withdrawn this week by the artist due to the costs of crating and shipping the artwork. One of the alternate sculptures, Cultural Pedestrians by Sue Quinlan, is being recommended as the replacement, said Stein. Depth of Form by Jacob Burmood was also approved as an alternate by the commission if needed, and would be placed in the same spot as Cultural Pedestrians.
The panel of judges made their decision last month. Commissioner Arlene Greer said that they, as well as consultant Arts Orange County, worked hard to incorporate the opinion of the public and those who live near Civic Center Park.
"This is the very first time that the committee for Phase 3 has had so much input from the public and an opportunity for the public to weigh in on everything, and we really have enjoyed that. It's been heavily influential in our choices," Greer said.
In addition to working with consultants, Greer reported, the panel received input from city staff and facilities management to make the best placement decisions, both for appreciation and safety.
One illuminated work called Burnt Matchstick by Karl Unnasch, which placed second in the online public voting, is 40 feet tall and required extra consideration.
"I think we worked arduously to find the location that is most pleasant for all citizens in the community," commissioner Grace Divine said, referring to Burnt Matchstick. She added that the panel had to compromise to make a final decision on its location.
The proposed sculptures and locations will be presented to Newport Beach City Council during their meeting Tuesday.
If Council votes to approve the sculptures and their placement, Stein said that the installations are targeted for the third week of October. He noted that some works may be installed later, depending on when they are delivered.
For more information, visit newportbeachca.gov/trending/cultural-arts/sculpture-exhibition.