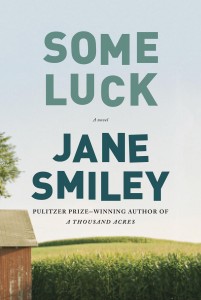 It's book club time again!
I recently stumbled across a book that instantly caught my attention, and thought right away that it would be my next purchase. While my excitement for the book was sincere, I was a little hesitant to add it to the list of book club reads, as it is the first book in a planned trilogy.
So far, I have gotten excellent feedback about all the book club selections, but would Under Cover readers want to commit to three books, two of which aren't even written yet?
After briefly switching my selection to another book, I decided to go with my gut, and changed it right back. I'm hoping that you'll all take the plunge with me, and that, of course, the journey proves worth it.
So, with that, allow me to introduce you to the Under Cover Book Club pick for November: "Some Luck," by Jane Smiley.
Smiley is an accomplished writer, best known for "A Thousand Acres." This tale of an Iowa farm family based on Shakespeare's "King Lear" won her the 1992 Pulitzer Prize for Fiction, and was later adapted into a movie.
I figure that any author who already has a Pulitzer under her belt is worth talking a three-book risk on.
"Some Luck," released this month, takes readers back to Denby, Iowa, the same town depicted in "A Thousand Acres." This story, however, couldn't be more different than the tragic tale of the Cook family Smiley previously told.
In "Some Luck," a book already long-listed for the 2014 National Book Award, readers are introduced to the Langdon family. As the novel opens, it is 1920, and family heads Walter and Rosanna welcome their first child,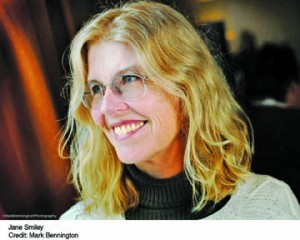 Frank.
As the story unfolds, we travel life's pathways along with the Langdons, sharing both the universal American experiences of things such as WWI, the Great Depression, and the McCarthy Era, as well as those milestones more unique to the family.
With each chapter representing one year, this first volume of the eventual trilogy takes the Langdon family from 1920 to 1953.
Readers see the big picture events, such as the family's struggle to keep their farm afloat during the Great Depression, and their pride and sorrow at sending oldest son, Frank, off to fight the Nazis during WWII.
We are also able to glimpse, however, the smaller things that make the Langdons who they are. We see Rosanna's devotion to her family in the meals she prepares by hand, we recognize her struggle with depression after the birth of one of her five children, and we see her resilience as she perseveres in the tough role of farm wife.
Each of the five Langdon children faces the decision of whether to continue the farm life into their adulthood, or leave home to follow other dreams in the city. As they each follow their own paths, we are taken with them across the United States and back.
A very real tale of an American family as they grow along with a changing nation, "Some Luck" will draw readers in and make them want to know the Langdons as they navigate new challenges, while always trying to keep the family intact.
While this novel closes in 1953, the two expected sequels will follow the family through the turn of the new century, into the world in which we now live.
Smiley plans to close the final book in the year 2020, having followed the Langdons for a full century.
Signing on to a series of books that will conclude six years from now does seem a little daunting, as the books will no doubt not be finished before we get there.
By all accounts, however, this is a sweeping tale of an American family that takes us not only through their history, but our own as a nation.
I can't wait to pull up a chair to the Langdons' table and dig in.