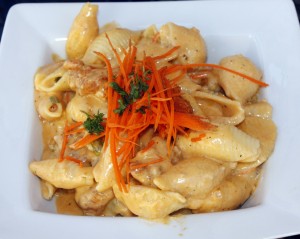 By Christopher Trela & Catherine Del Casale | NB Indy
Balboa Village has had a long and colorful history dating back more than 100 years. Known for the iconic Balboa Pavilion and the nostalgic Fun Zone, the area has never been viewed as a culinary destination (unless you count the myriad pizza-by-the-slice and hot dog purveyors in the Fun Zone).
That has changed over the past year as a handful of new restaurant have opened with the goal of offering unique cuisine in a quaint seaside setting.
Now, the question is not whether to go to Balboa Village to dine, it's which restaurant to choose. Naturally, we have our favorites.
Patty Macs
One of the new kids in town is Patty Macs, adjacent to Class of 47 and around the corner from the Balboa Ferry. They specialize in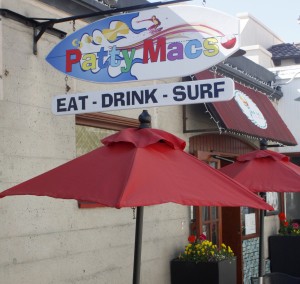 macaroni and cheese dishes as well as flatbreads and other items.
We've sampled several of their mac and cheese concoctions. Christopher loves the buffalo chicken mac ($12.95) which includes lightly breaded chicken tossed in spicy buffalo and ranch sauce with a blend of three cheeses, and the carbonara mac ($11.95) with pancetta, peas, garlic, onions, thyme, mozzarella, mascarpone, and parmesan.
"I was impressed by their flatbread, which strayed from the common thin crisp crust and instead had a slightly thicker moist and flakey crust," said Catherine. "Their bread pudding was very well done, it had soft bread and ice cream in the center with some crisped bread on top, giving the dish some texture. It also had large Jamaican rum infused raisins and a rum sauce, so I was able to taste the rum, raisins and bread all in one bite."
PattyMacsrestaurant.com.
Sliding Door
We first visited Sliding Door shortly after they opened in the fall of 2013, and have been fans ever since. We love Chef-Owner Kevin Cahalan's cuisine, which he calls good food that people like to eat but we call amazing and delicious.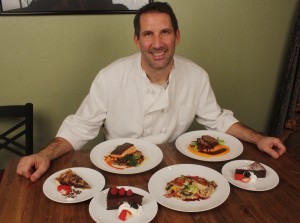 His dinner menu, which changes seasonally, includes brick grilled chicken with truffle mashed potatoes, pan seared diver sea scallops with toasted cous cous and butternut squash, handmade ricotta gnocchi with asparagus and sweet potato, and crispy seared Scottish salmon.
Christopher's favorite is the short rib, which Chef Kevin promised to put back on the fall menu, while Catherine swoons over the gnocchi. And we both are quick to gobble up Chef Kevin's sinfully good desserts (it's rare to find a chef who also knows desserts!).
ThesSidingDoorCafe.com.
Mavericks
It would take a maverick to open a gastropub in Balboa Village, but one did open in the historic Bubbles building on Balboa Blvd.: Maverick's Gastropub.
We popped in for a beer and a snack, and were impressed with the beverage selections.
"Maverick's has over 30 beers on tap as well as a great selection of craft beer bottles," noted Catherine. "If you are looking for a place to stop in and watch a game on one of the large screen TVs with a good craft beer and a side of crispy fries, this is your place."
In addition to a menu that lists everything from gourmet burgers to chorizo and shrimp, we learned that Maverick's also has a killer happy hour Monday through Thursday from 3 to 7 p.m. with well drinks, beers and appetizers only $5.
We've also vowed to return to try the Sunday brunch: choice of three items plus bottomless mimosas for only $7.50.
Mavericksgastropub.com.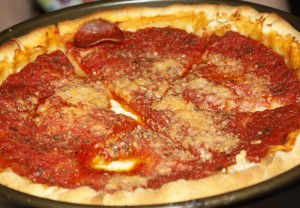 Cruisers Pizza
Cruisers opened earlier this summer and has been a hit with locals. In addition to a London-trained chef, they have more big screen TVs for sports viewing than any place in town, and they're open until 2 a.m. every night. They specialize in Chicago style deep-dish pizza, which has a flaky crust filled with cheese and the toppings of your choice.
801 Balboa Blvd.
Cruiserspizzabargrill.com.
Il Barone
We're fans of Il Barone Ristorante in Newport Beach near John Wayne Airport, so were naturally when chef Franco Barone and his son, Jonathan, opened Il Barone Pizza, a small eatery with a handful of tables located between the Balboa Theater building and Great Mex.
"Cooking is definitely something that has been passed down from father to son," noted Catherine when we sampled his cuisine last month. "Not only are his pizzas delicious but he has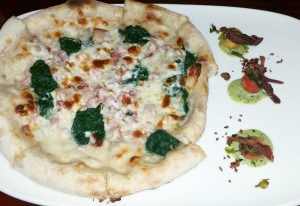 fresh made pastas and desserts too (including his dad's famous Limoncello Tiramisu)."
Facebook.com/ilbaronepastaepizza.
 Great Mex
Christopher has been dining at Great Mex for many years and swears by their shrimp tacos. He's not the only Great Mex fan in town—there's often a line out the door, which means the restaurant is doing something right. They've opened several other locations recently, including two in Costa Mesa, but this original location is ground zero for, as the restaurant's name implies, great Mexican food.
Greatmexgrillnewportbeach.com.
 Barbie Q
From the outside it doesn't look like much, but Balboa Barbie Q in the Fun zone adjacent to ExplorOcean serves up authentic and tasty southern-style barbecue. They specialize in smoked brisket, pulled pork and hot links.
We've had the Texas fries topped with pulled pork ($6.95 for a large size), beef brisket sandwich and mac and cheese, and have enjoyed every bite.
Balboabarbieq.com.