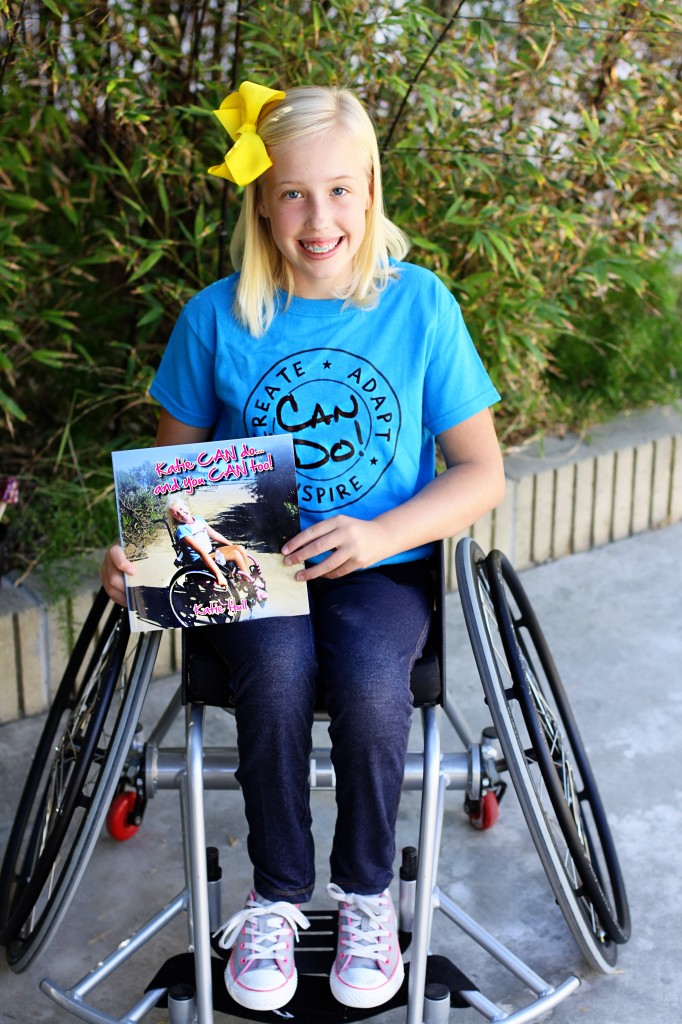 Oftentimes life's greatest lessons come from the most humble of places. Such is the case with local ten-year-old author Katie Hull.
As a result of being born with Spina Bifida, a neurological defect that can cause myriad physical and cognitive disabilities, Katie has partial paralysis of her legs, and complete paralysis of her feet.
If you think she lets this slow her down, however, you have clearly never met Katie!
Despite the fact that she gets around with the help of various types of adaptive equipment (most commonly her wheelchair), Katie is an accomplished athlete. She enjoys surfing, skiing, swimming, playing basketball and tennis, and participating in wheelchair races. With all of these accomplishments under her belt, you might think she'd be ready to sit back and enjoy a break, but you'd be wrong.
Always an advocate for the underdog, Katie wants everyone to know that anything is possible. While we all suffer from our own "disabilities," with a positive attitude and determination, we can accomplish anything.
This is the message she shares in her new book, "Katie CAN Do, and You CAN Too!"
In the book, Katie teaches the reader about Spina Bifida, and shares what it is like to have to learn to do things differently than everyone else. With an informative glossary included in the back, it is a great tool to help others understand what it means to live with a disability. The educational aspect, while great, however, is not what makes this book shine.
It's Katie herself.
Chock-full of pictures of the young author in action, shot by her mother, Sarah Hull, the book practically oozes Katie's positive, can-do spirit. In one of my favorite passages from the book, she says, "Some kids stare at me because they think I can't do very many things since I use adaptive equipment, but they should really get to know me before they decide what I can't do. I am able to do much more than they might think."
With a two-fold mission, the book sets out to both teach able-bodied people about what our friends with challenges are capable of, as well as inspire those who may be struggling, to reach high, and realize their potential.
I asked Katie what inspired her to write her book at such a young age, and she shared the following:
"I heard about a little girl who was paralyzed and has to use a wheelchair like me, but she was so sad and angry all the time because she could not walk. It made me sad to hear this story because I wondered if she realized that there are so many things out there that she CAN do. She just has to learn about them and be willing to try new things. Last spring I had to have surgery on my hip. I had a six-week recovery and during that time, I decided to write a book in hopes that people who read it will think about their potential and all the things they CAN DO!"
Together with her family, Katie will be hosting a book-launch party on Tuesday, October 15, from 6:30-8:30 p.m. at El Dorado Golf Course in Long Beach. In addition to signing copies of her book, she will also be donating a portion of her proceeds to SoCal Trykers, a non-profit service organization committed to providing mobility and independence for people with disabilities.
Katie's good nature and optimistic outlook is positively contagious. In a recent email, she shared this advice with me: "Never give up and don't be afraid to try new things. Also, sometimes things are hard, but if you can have a "CAN DO" attitude, it makes going through hard things a little easier."
I couldn't have said it better myself.
To learn more about Katie and her book, visit katiecandoandyoucantoo.com.
To watch a video of Katie in action, visit vimeo.com/75730107
Edie Crabtree is an avid reader and the mother of three active boys.  She can be reached at [email protected].