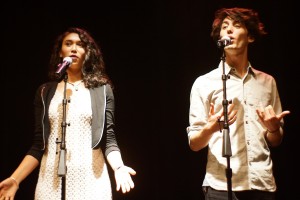 Two self-proclaimed "Japa-Jews" walk into the library… Sounds like the start of an off-color joke, but it is, in fact, what could be a very apt description of the Newport Beach Public Library Foundation's latest installment of the Witte Lecture Series.
On Friday, January 23, the Foundation will present "Project Voice: An Evening of Spoken Word Poetry," featuring renowned poets and performers Sarah Kay and Phil Kaye.
Both of mixed Japanese and Jewish-American heritage, the two met during a college talent show. Graduates of Brown University, Kay and Kaye also share (in addition to an almost identical last name) siblings who bear the other's name. This means that of all the people in the world, the offspring of two sets of Japanese-Jewish parents, each with two children named Phil and Sarah Kay(e) found each other. It seems their collaboration was nothing short of foreordained.
And, for all the writing in the stars, the two have not disappointed.
Sarah, while perhaps most recognized for her well-received TED talk, has also competed in Russell Simmons' Def Poetry Jam, authored two best-selling volumes of poetry, "B" and "No Matter the Wreckage," holds a Master's degree and an honorary Doctorate, and has performed in locations across the globe, including such humble venues as the Tribeca Film Festival and the United Nations.
Phil, likewise, has also experienced his share of success. He has published his own book, "A Light Bulb Symphony," appeared on NPR and at Lincoln Center, been the head coordinator of SPACE (Space in Prisons for the Arts and Creative Expression) while teaching weekly poetry classes in maximum security prisons, and is the two-time winner of the National College Poetry Slam Award, once as a performer, and once as a coach. He remains the only person to have won the award twice.
Together, Kay and Kaye formed Project VOICE, where they do perhaps their most important work, bringing poetry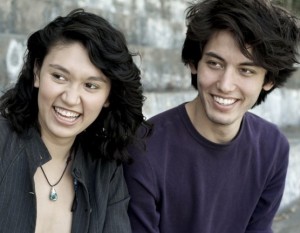 into the classroom. According to their website, Project VOICE is intent on "promoting empowerment, improving literacy, and encouraging empathy and creative collaboration in classrooms and communities around the world. Project VOICE has a lasting impact; students come away from a Project VOICE visit with a higher motivation to create, a belief in their own voice, and a desire to share and listen to each other's stories."
It is through this endeavor that I first became aware of Kay and Kaye, as my son has been fortunate enough to attend their program twice: once in middle school, and once in high school.
While he likely won't be performing in any coffee houses in the near future, their presentation left a lasting impression. He found it to be both funny and thought provoking – the perfect balance of seriousness and levity. It made him feel like poetry was something worth exploring, a notion he wouldn't have previously entertained.
Truly, a program that can have any kind of lasting impression on a teenage boy is a success — but one that he can still quote two years after the fact? I'd say they hit the ball out of the park.
Now, library patrons will be treated to our own dose of Project VOICE. The evening's events will begin at 7:00 p.m., with the performance. At 8:15, attendees can enjoy an after party, complete with craft beer donated by Cismontane Brewing Company, and food from the Lime Truck. There will even be a DJ on site to round out the party vibe.
Tickets are $50, or $45 for NBPL Foundation members. Additionally, there will be special discounted tickets available to students and teachers for just $20. Event tickets may be purchased at nbplfoundation.org, or by calling 949-717-3890.
It promises to be a fun and lively evening, and a chance to experience the unique performance style of Project VOICE. Tickets are likely to sell out, so make sure to get yours before they're gone!
For more information on Project VOICE, Phil Kay, or Sarah Kaye, please visit projectvoice.com.
Edie Crabtree is an avid reader and the mother of three active boys. She can be reached at [email protected]