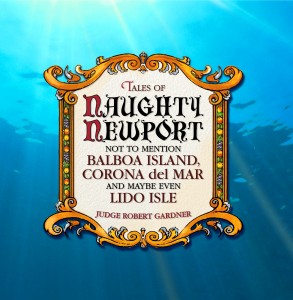 We have all heard the expression "if these walls could talk." Well, what if our town could talk?  If our beaches, back alleys, and boulevards could share their stories, what would they have to say?
You need look no further that the late Judge Robert Gardner's new book, "Naughty Newport – Not to Mention Balboa Island, Corona Del Mar, and maybe even Lido Isle," to hear the stories that chronicle the evolution of good ole Newport Beach, as well as the lively characters that have made up her population over the years.
This sequel to Gardner's previous book, "Bawdy Balboa" was published by the Newport Beach Historical Society Press with the goal of interesting the public in the importance of collecting oral histories. As the older generation wraps up their jaunt through history, their stories will be lost if no one chronicles them.
Gordy Grundy, President of the Newport Beach Historical Society, says, "We need to collect and preserve our history. 'Naughty Newport' is designed to inspire."
Gardner's daughter, Councilwoman Nancy Gardner would agree. In the forward for "Naughty Newport," she says:
"All families have stories, but not every family has a storyteller. My father was certainly one. Like so many girls of my age, I grew up with Dorothy Gale and the Wizard of Oz, with Heidi in her Alps, and Alice and her looking glass, but I also had all the stories that didn't some out of books, but from my father. Because of his stories, Green River, Wyoming, was just as vivid as the Emerald City, as he told of a railroad strike there…and how at the age of nine, he was placed, by himself in the middle of the night, on a train that took him from Green River to Balboa. When I was older, the vixens of the cinema paled before his stories of my aunt who smuggled diamonds. Everybody else's family seemed so boring in comparison. They weren't, of course. They just didn't have the proper narrative."
"Naughty Newport" has the narrative down for sure. Peppered throughout with vintage photos and ads from the era, Gardner's book makes the reader feel as if they are sitting around a dinner table listening to an old-timer share tales of old Newport. Recounting stories from the time before Newport Beach became synonymous with SUVs, Botox, and reality TV shows, he manages to share not only the stories themselves, but also the feeling of living in a time gone by.
As Greg Escalante, co-founder of Juxtapoz Art Magazine says, it is "a back-in-the-day history told in a charming, casual way. If there were more books like this, I'd be reading all the time."
Gardner shares stories of his time as an ice-chipper at the Green Dragon Café in Balboa, in the days "during society's climb up the ladder of civilization, when there were no ice cubes" (and also, no child-labor laws, apparently, since he was only ten at the time.)
He reminds us that once upon a time, Corona del Mar seemed like the wild west, when compared to sedate Balboa: "Huge waves crashed on the shore. Mountain lions lurked in the canyons. Cattle grazed on the hills, and people with shotguns hiked back in those hills and returned with dove and quail and pheasants.  It was like living on the frontier."
And, most importantly, he puts to paper the names of all the sometimes crazy and cantankerous characters whose contributions made our town the great place it has been through the decades.
In short, it is exactly what Gardner himself proclaimed it would be, when he first began writing the book in 1999:  "It will be an effort to portray the town, warts, wrinkles, and all."
May Judge Gardner rest well, knowing his effort was a resounding success.
Both "Naughty Newport" and "Bawdy Balboa" are available at Martha's Bookstore on Balboa Island.
Edie Crabtree is an avid reader and the mother of three active boys.  She can be reached at [email protected].