By Christopher Trela and Catherine Del Casale | NB Indy
We love dining out–it's always an adventure to visit new restaurants and try new dishes, but it's also fun to return to local favorites to see what they're up to and to remind us of why we enjoy dining in Newport Beach.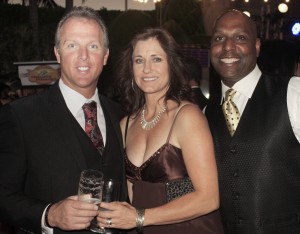 New restaurants and old favorites were both out in full force at the second annual Golden Foodie Awards, which we attended last Sunday at the Fairmont Newport Beach.
After a gold carpet arrival, we encountered multiple food stations from some of our favorite restaurants (many of which took home awards that night), including tacos from SOL Cocina, sliders from Lucca (their Provenance restaurant opens in Eastbluff later this year), and our favorite of the night, duck confit with truffle risotto from The Winery Restaurant (their Newport location opens in a few months in the old Villa Nova spot).
Then it was on to the awards program, accompanied by prosecco and desserts. The show featured a number of celebrity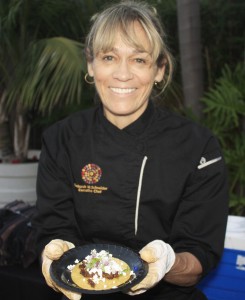 presenters, including several "Real Housewives" along with the show's creator, Scott Dunlop. Wing Lam of Wahoo's Fish Taco also made an appearance.
Among the winners: SOL nabbed a Golden Foodie statuette for Best Taco, True Food Kitchen won for Best Vegetarian, Lucca won for Best Mediterranean, Arc won for Best New Restaurant (owner/chef Noah Blom of Newport Beach looked dashing as he accepted the award), Wildfish nabbed Best Happy Hour, and The Winery Restaurant won Best Wine List for the second straight year.
Since Catherine had never been to Wildfish, we decided to check out their happy hour on Tuesday to learn what made theirs the best.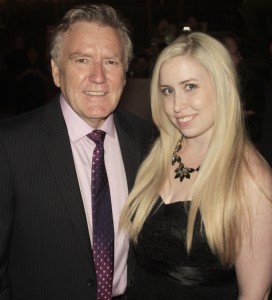 We arrived at 6:45 (their happy hour goes until 7 p.m. weekdays and all day on weekends), and we pleased to see a handful of appetizers and cocktails at greatly reduced prices. As Catherine noted, "the place was already pretty full and was putting off a good vibe. I had their Original Barcardi Mojito, which was light and refreshing. I also have to mention that their warm flakey French bread that they served with soft herbed butter was delicious and at the top of my list for best bread served in Orange County restaurants."
And, since The Winery won for Best Wine List (and Chef Yvon Goetz was nominated for Best Chef, which he won last year but lost this time to Alan Greeley of Golden Truffle), we decided to go there for dinner.
Chef Goetz was in the kitchen, and told us the Newport location was coming along nicely–they were getting ready to complete the final demolition and start the remodel. He also recommended we order the bacon-wrapped venison, his special dish for the evening.
Winery sommelier William Lewis, the man responsible for The Winery's wine list, came to our table and discussed his wine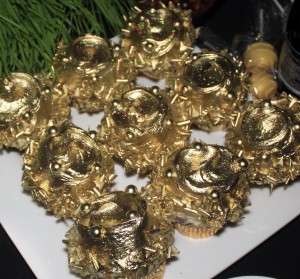 selections. The list as it stands now is more than 30 pages, and offers wine lovers a terrific trip through California and other wine regions. He said his list at the Newport location will be a bit different and probably focus more on big names and cult favorites (our waiter told us the Winery already has a Screaming Eagle vertical available).
 The venison arrived, and it was everything we hoped for and more–tender and full of flavor. The accompanying garlic mashed potatoes and charred Brussels sprouts were also delicious. We had a terrific syrah that perfectly matched the venison.        
For those who are curious, here's the complete list of Golden Foodie award winners:
 Best Mixologist: Dave Castillo, 320 Main
Best Happy Hour:  Wildfish Seafood Grille
Best Cocktails: Hopscotch Tavern
Best Wine List:  The Winery Restaurant & Wine Bar
Best Steak:  The Ranch Restaurant
Best Beer List: Provisions Market
Best Burger:  Mick's Karma Bar
Best Pizza: Pizzeria Ortica
Best Italian Food: Antonello's Ristorante
Best Tacos: Sol Cocina
Best Mexican Food: Matador Cantina
Best Sushi: Sushi Noguchi
Best Asian Cuisine: AnQi by Crustacean
Best American Food: The Ranch Restaurant
Best California Cuisine: SeaLegs Wine Bar
Best Vegetarian Cuisine: True Food Kitchen
Best Indian Cuisine: Clay Oven
Best French Food: Pinot Provence
Best Mediterranean: LUCCA
Superior Service: Villa Roma
Best Seafood: Slapfish
Most Delicious Dessert: Maro Wood Grill
Best Food Writer: Cathy Thomas, Cathy Thomas Cooks
Best New Restaurant: Arc Food & Libations
Golden Pastry Chef Award: Chef Rachel Klemek, Blackmarket Bakery
Golden Chef Award: Chef Alan Greeley, Golden Truffle