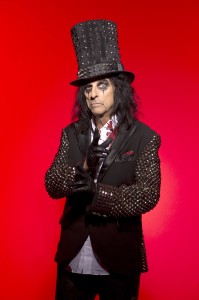 Alice Cooper is coming to Segerstrom Center for the Arts.
That's a sentence I never expected to write, but it's true: the rock and roll icon, master of the macabre, prince of shock-rock, brings his Raise the Dead tour to Segerstrom Hall November 26.
I first saw Cooper in concert in San Diego in the mid 70s, when his then-outrageous stage show was making headlines for having live snakes, guillotines, fake blood, and all the accouterments that went with creating a larger-than-life persona.
By the time of his Dodger Stadium performance in the early 80s, Cooper had morphed into a villainous vaudeville act with giant dancing teeth and other eye-popping props and sets.
The last time I saw Cooper (five years ago in Las Vegas), he had honed his show as a veritable "Best of Alice Cooper" that highlighted his showman talents and classic songs.
Through it all, he appeared to be having the time of his life.
"I'm on the road six months of the year, and it's fun for me every night," confided Cooper during a phone interview before a show in Virginia. "Sometimes I think I'm having more fun than the audience."
"I'm 65 and in so much better shape now than I ever was," he added. "I never smoked and have not had a drink in years. I've been married 37 years and I have two great kids. All my ducks are in a row. Stress is what kills you, but I have no stress and I do 28 songs a night."
So what can audiences expect from his Raise the Dead concert?
"There are three parts to the show," explained Cooper. "The opening is pure glam Alice. It starts with fireworks and "Hello Hurray," and then "No More Mister Nice guy." Then it goes to Nightmare Alice, with "Welcome to my Nightmare," "Ballad of Dwight Fry," the songs Alice is known for–glam rock, shock rock, who knows what to call it. Alice has his head cut off, they wheel him out on a gurney, he comes back to life."
Cooper said he has a section of the show he dubbed "graveyard of Hollywood vampires—it's my tribute to John Lennon, Jimi Hendricks, Harry Nilsson. I consider them my big brothers, so it's appropriate for me to do that and tip my hat to them."
Then it's on to the finale, with "School's Out" and of course, "I'm Eighteen."
"Every song has a theatrical thing to it," he noted. "There is not one song that sits on its own that does not have staging, although some are more elaborate than others. I never let the audience catch their breath. I'm like Roberto Durant—I just keep hitting."
Cooper said his band for the tour is hand-picked and includes young female guitar sensation Orianthi.
"She adds another element to the show," said Cooper. "And my daughter is usually in the show but for this tour my wife took over the part of the insane nurse."
Although Cooper has been recording and performing for nearly four decades, he said audiences who come to his shows span several generations.
"In a lot of cases, we have a very young audience. Kids are so into classic rock, if you take a 15 or 16 year old kid and play Jimi Hendricks for him, it still speaks to him. Same with "School's Out" or "I'm Eighteen."
In addition to performing, Cooper owns a barbecue restaurant in Phoenix, Arizona, called Alice Cooperstown ("It's really good, I could eat there every day, we have things no one else has like tuna casserole, and the best hot dog ever"), and he's a respected golfer who plays five to six rounds every week. When in Southern California, he said that one of his favorite courses to play is at Pelican Hill Resort in Newport Coast.
He also has a syndicated radio program, but it's his live show that he's most excited about.
"By the end, I have confetti and stage blood dripping from my hair," he laughed. "After the show, you're going to walk out and say 'that was really fun.'"
Tickets to Alice Cooper start at $45. Call (714) 556-2787, or visit SCFTA.org.