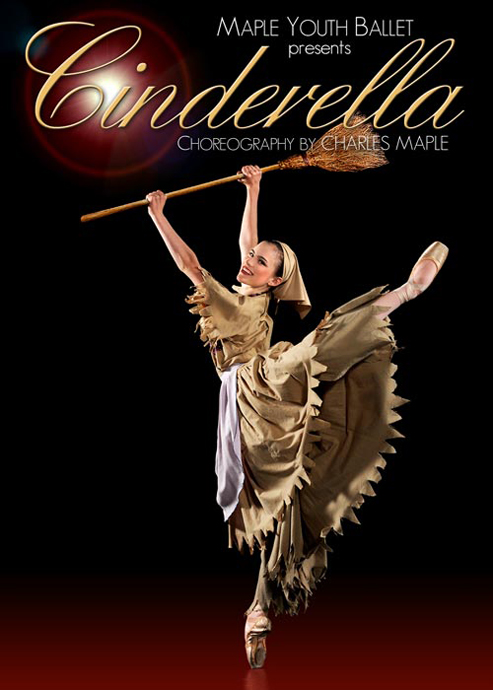 Spring break this year means ballet, ballet, and more ballet for dedicated Corona del Mar High School junior Camille Kellems.
Last seen on stage as the Sugar Plum Fairy in "The Nutcracker," the talented Maple Youth Ballet dancer is spending her vacation honing her technique before pirouetting into another big role this weekend: "Cinderella."
Leaving the Land of the Sweets behind for kitchen chores, mean stepsisters and some magical ballroom bliss is "exciting, and a chance to really push myself," says the bubbly Kellems, who brings an engaging insightfulness to her characters.
As Cinderella, the Newport Beach native will be paired with New York guest dancer Larkin Miller as The Prince when the company presents Artistic Director Charles Maple's vision of the beloved fairytale on Saturday, April 19 at 1:30 and 6:30 p.m. at Irvine Barclay Theatre.
"It's challenging, because she is such an iconic role" Kellems explained, describing Cinderella as both "courageous" and "confident" during a recent phone interview. "She lets nothing stand in her way, which is why she is able to dream so big. If she was timid, she wouldn't be able to put herself out there."
While preparing for her turn as the Sugar Plum Fairy, the 16 year-old worked on developing a regal air; for Cinderella, it's that previously mentioned confidence she strives for, searching within to bring her own unique qualities to the demanding role.
"Because of her scoliosis, Camille has had to work very hard to gain the strength and alignment she needs to follow her dream to dance," commented Maple via email of his choice for leading lady. "This obstacle is not unlike Cinderella's battle to find the truth of herself, love, and a dream come true. Cinderella and Camille's personalities are filled with kindness, innocence and grace."
"Camille is beautiful and charming in every way as well as being technically proficient," he continues. "I am confident that she will amaze the audience with her portrayal of Cinderella."
"I remember falling in love with her as a little girl, and so that's what I want the audience to do with me, falling in love with her story and her determination," reflects Kellem. "Cinderella's message is that no matter how hard life can be- and we all know it has its bumps in the road- you can make the best of a rough situation. If you get a chance, you can run with it and continue to dream."
For tickets and information call (949) 854-4646 or go to thebarclay.org.