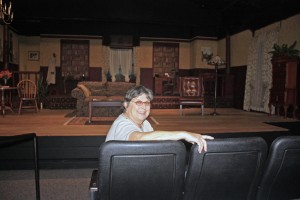 Whether empty and dark or packed to the brim with anticipatory patrons, theaters always seem filled with voices, and the emotions played out upon the storied stages linger long after the lights dim or the curtain falls. The sense that they are rife with presences unseen is palpable, engendering both a peaceful and enlivening atmosphere charged with humanity and history. One wonders which will be the next words to stir the air- and the hearts and imaginations of its audiences- as the calm before the show blankets the room.  
This month, one of Orange County's most intimate and welcoming of community theaters –  Newport Theatre Arts Center – embarks upon its 35th season. To celebrate the milestone, NTAC has created a tantalizing season filled with drama, comedy and music from the pens of playwrights such as classicists Lillian Hellman and Horton Foote to the tunes of ever-popular lyricist Stephen Sondheim.
First up is "An Act of the Imagination," a sophisticated mystery from Bernard Slade, which runs through October 20.
"This show is really different for him (Slade) because before, he's written more of what I would call romantic comedies, and now it's a mystery, but about a writer of romantic comedy. Maybe he did it on purpose," laughed NTAC Board of Directors President Rae Cohen, relaxing in one of the theater's front row seats recently on a sultry Monday afternoon. The set evokes the quintessential comfy library of cozy mystery fame, and immediately draws one in.
"I found it fascinating from the beginning, so I kind of got hooked," she said of her first exposure to behind- the- scenes theater operations when the long-time Newport Beach resident was asked to volunteer on the newly formed NTAC Board when the nonprofit first opened its doors in 1979.
"I thought it would be fun, but it was really rough the first few years. We had no money, and nobody knew what they were doing," Cohen recalled. "So we just kept plugging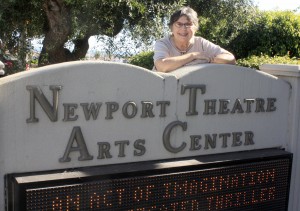 along…and I think that many theaters start out like that. What's made it good is that we have been successful. We get good people here- there's even a waiting list of directors who want to work with us. And we have a good audience. We are small and comfortable, and the set up of the theater is such that you are right in the action; people really like that."
The 2013-2014 season continues in November with Marc Camoletti's multi-national comedic farce "Boeing Boeing." Winner of a Drama Desk Award for Outstanding Revival of a Play, the show runs November 15 through December 15.  The season strikes a serious note when the New Year rings in with Lillian Hellman's first professional play, the 1934 drama "The Children's Hour," which will run from January 24 through February 23, 2014. After that it's another comedy, this one by quintessential Americana writer Horton Foote, called "Dividing the Estate," performed from March 28 through April 27, 2014. The season concludes with the quirky wit of Stephen Sondheim's musical "Company" from May 30 through June 29, 2014.
Much research, planning, and hoping- against- hope goes into the choosing of shows for a new season explains Cohen.
"There are about four of us who read plays throughout the year," she said. "We also go to plays, and remember ones that we've seen in the past. It's all about plays! We try to have a variety, and once we have our list of shows we apply for the rights, then we get turned down- we never get all five shows right away- and so we go back to the list and apply again, and we keep doing that until we have what we think is a good season."
"But that's part of the fun of it," she affirms. "Reading the scripts, applying for rights, grumbling when you don't get them…it's all part of the whole package. And along the way I have met so many wonderful people, from all walks of life- from doctors to waitresses- that I never would have met otherwise. It's great, and we all have this in common: we want to be in the theater."
For tickets and more information, call the NTAC Box Office at (949) 631-0288 or visit NTAConline.com.