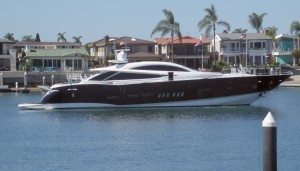 Yesterday was the beginning of the Lido Boat Show, the West Coast's largest in the water boat show, being held at Lido Village.  
As an avid boater it is always fascinating to see the latest new yacht models and the state of the art accessories and marine related support businesses.
In addition to the new boats there are an abundance of used boats of all shapes and sizes. Following the last show, I wrote about the very impressive 120-foot "Shogun" mega yacht. The seller had made extensive alterations and improvements to enhance the comfort and uses of the multi-deck yacht. "Shogun" was built out of lightweight aluminum that allows her to use smaller engines and the economical fuel consumption of a much smaller yacht. The seller enjoyed summer cruises in Alaska and someone in the know passed along to me that she was sold and will return from Alaska to Newport Harbor for the pleasure of the new owner.
My choice for the "Queen of the Show" will be the 108-foot "Argo." This Sunseeker Predator model would be special anywhere. Sunseekers are built in Great Britain and feature a lightweight Kevlar superstructure which allows this vessel with three 2400 horsepower engines to achieve almost 50-miles-an-hour. That is an extremely fast speed for a large yacht.
All Sunseekers have exotic wood finishes that remind one of the Rolls Royce car wood finishes. This yacht features four staterooms and accommodations for four crew members. Included are state of the art electronics to ensure safe and comfortable voyages. With an asking fee of $5.9 million, the cost of cruising to Avalon in a half hour on a large yacht with the living space of a mansion should not be a factor. There are very few of these exclusive models anywhere in the world and once again Newport Harbor is part of the yachting elites. I have included a photo I took months ago as I immediately knew when this vessel arrived in our harbor she was very special.
I also wrote of an impressive 87-foot Johnson I toured at the last show featured by Ardell Yachts. This vessel sold recently and is being altered to the buyer's requirements and in the next week will leave for Florida. Cruising in comfort in the Bahamas in such a "little ship" will be quite an adventure.
I recommend the Lido Boat Show–visitors can see what yachting is all about in Newport Harbor. Off-site parking with shuttles for the show will be at the Hoag satellite parking structure on Superior Avenue. The show runs through Sunday, September 29. Hours are: Friday, 10 a.m. – 7 p.m.; Saturday, 10 a.m. – 7 p.m.; and Sunday, 10 a.m. – 5 p.m. Admission is $15 for adults, Children 12 and under are free.
Sea Ya at the show!
Skipper Steve