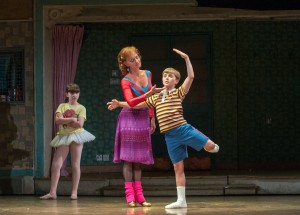 Be forewarned: you just may be inspired to uncover your own inner dancer when the exuberance that is "Billy Elliot the Musical" pirouettes into Segerstrom Center for the Arts through April 28.  
The spirited story of a young boy from a coal-mining town in Northern England who makes the leap from boxing ring to ballet barre has been lifting audiences up, up, and away on waves of joyous energy since the show's genesis.
Billy's fervor and enthusiasm as he discovers a talent he didn't know he had and follows his dream changes lives – his own and others – along the way.
Based upon the surprisingly popular movie from 2000, the Tony Award-winning musical (which features a score by none other than Sir Elton John, a book and lyrics by Lee Hall and choreography by Peter Darling) offers up a candid look at the 1984 strike by the British National Union of Mineworkers and its impact on the miners' families.  
By stepping outside the conventional box for a youth at that time and pursuing his burgeoning interest in ballet, Billy engenders hope for his family and his community. 
Dance, as it so often does, encourages personal growth and unleashes an inner fire that fuels transformation.
Intrigued?
Orange County audiences get to experience a bit of Billy's balletomania for themselves by arriving early to Segerstrom Hall, where various dance-themed activities will be taking place an hour before show time.
Dancers from Anaheim Ballet will be on hand, demonstrating barre exercises and answering questions, and a documentary that follows the casting journey of the original three Billys on Broadway will be playing on video screens.
The Center has also amped up the fun quotient to include a photo opportunity in the orchestra level lobby where a ballet barre and props will be set up for guests, who can post photos on their social media site of choice and use hashtag #BillyElliotOC.
We hope they'll toss in a tutu or two, like the ones that have been appearing around Orange County in the weeks leading up to opening night. Dozens of spots as diverse as Rogers Gardens in Newport Beach and The District in Tustin have been suddenly sprouting the tulle confections – hand made by Segerstrom Center staff members – in effervescent homage to the show.
Having earned accolades such as "extraordinary," "passionate," and "intoxicating," Billy Elliot the Musical certainly promises to bring you to your feet. Tutus optional.
"Billy Elliot the Musical" is at Segerstrom Center for the Arts, 600 Town Center Drive, Costa Mesa, through April 28. Tickets start at $20. For more information call (714) 556-2787 or go to scfta.org .