Luscious Lunches at Sage School
Chef Azmin Ghahreman cares about kids, and what they eat for lunch.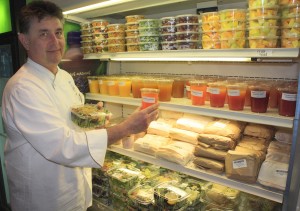 An advocate of healthy dining, Chef Azmin – whose restaurant Sapphire Laguna has become a respected culinary treasure – has carried his passion for food over into schools by creating Sapphire at School, a thriving program that brings healthy breakfast, lunch and snack foods into local schools.
One of those schools is Sage Hill in Newport Coast, where Chaf Azmin and his staff have been feeding students for the past three years.
"It's my passion, it's what I believe has to happen," said Chef Azmin about his school dining program during a recent interview in the kitchen at Sage Hill. "I have a saying: every child is my child. That means I will not serve anything to any other children that I would not serve to my own children. I have another one: every child deserves a healthy start. From breakfast to snack to lunch. You have to give them good food and nutritious food. No fake calories, fake sugar. I'm anti-corn syrup, I wish it was never discovered. You won't find anything with corn syrup here. I won't allow it."
What he does allow is fresh ingredients that are both nutritious and tasty, not an easy task when you're feeding upwards of 400 Sage Hill students and 80 to 90 school staff.
The menus are simple, yet creative. Recently, students at Sage Hill enjoyed roast chicken breast with dried fruit stuffing, grilled vegetable gyro wrap, Persian chicken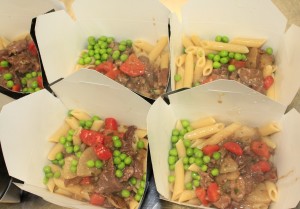 kabobs, baked catch of the day with brown rice, and other delicious creations, all prepared on site in the Sage Hill kitchen.
"Our cooks and chefs get here at 5 a.m. and are here until at least 3:30 or 4 p.m.," said Chef Azmin. "If there is a function later, like a catering function, we are here until 10 or 11 p.m. We are the main provider of the food and beverage needs at school and in-between."
Chef Azmin's dining program has other benefits, including teaching students portion control, the importance of making smarter snacking choices, and the impact of eating locally sourced produce. It also offers lessons on going green.
"We are all about recycling," he said. "We are all about earth. You can see some of our "silverware," which is disposable and all earth friendly. Napkins are all earth friendly. That's what we believe in. You can see the health department award of excellence."
Chef Azmin's food also deserves an award, based on the reaction that Sage Hill students gave when he asked them how they liked the food.
"Mmmm," was the typical reaction, along with nods affirming the students' palate-pleasing lunch.
For more information, visit sapphireatschool.com.
 Newport Teen Trains for Culinary Career
Newport Beach resident Elisabeth Mulroy comes from an artistic family–her mother is a choreographer and dancer, and her father is a pianist/guitarist and composer (his musical "Born to Ride the Waves" was produced at Huntington Beach Playhouse several years ago).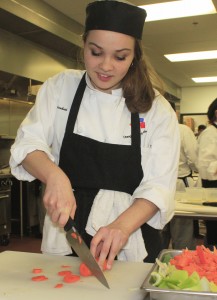 So it's no surprise that Mulroy, a senior at Orange County School of the Arts, embarked on a musical theatre path. However, she soon heard another passion calling her name.
Food.
"I've always been interested in cooking, and both my uncles are super into cuisine, and they're always dropping facts about different foods, so from a young age I grew up learning a lot about different kinds of exotic foods," explained Mulroy during a break from one of her cooking classes at OCSA.
"Since my sophomore year, I've wished there was a cooking program here, or maybe just a cooking class so I can do both theater and cooking. During my junior year I realized I was gravitating more towards food, and yet I didn't really know a lot about cooking basic meals, so I really wanted to learn and get a strong foundation."
To Mulroy's delight, OCSA added a Culinary Arts & Hospitality Conservatory (one of the first high school culinary arts programs in the country) to its education arsenal last fall, so she promptly applied and was accepted. She's the only senior in the program.
"It's intense, it's rigorous," stated Mulroy. "You're on your feet for five hours, walking around, carrying heavy pots, and everything's hot. You need to know what recipes you're doing, you've got to have every portion correct, you have to memorize so that when you get here you can really not have to worry about the little details and really just enjoy the cooking process."
In addition to the basics of cooking, Mulroy said her training includes creating recipes, food safety and sanitation, and kitchen math, which Mulroy said focuses on conversions from tablespoons to teaspoons and cups to ounces.
"You've got to know these things off the top of your head," she reasoned. "We also have a lot of sales stuff. One thing that's great about this conservatory is that it really preps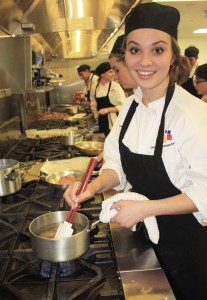 you for the business side of the culinary world. We've learned about sales revenue and gross profits, and that's really going to help us in the business later."
Mulroy knows that if she's serious about having a career in the restaurant world, she needs to continue her education at The Culinary Institute of America or a similar school. She'd also like to travel to France and perhaps work in cafes and pastry shops.
"Actually, another passion that I've always had is photography," confides Mulroy. "I see myself traveling a lot and doing photography, and then working in those little shops, and then maybe singing in a jazz club or something, and kind of incorporating all my different artistic passions into one big artistic life."
For now, though, she's happy to have learned how to make beef burgeon.
"That's always been one of my favorite recipes," she said with a smile. "Julia Child had this intricate recipe for beef burgeon, and when we learned it here, I was so excited. I made it, and…I'm not going to brag, but it was really good. I went home that weekend and I made it for my parents."
And her least favorite part of the culinary world?
"The cleanup. It takes a lot of time. I wash so many dishes. But at least I'm used to it now. So when my mom asks me to do the dishes, I'm done in thirty seconds."
For more information on OCSA, visit OCSARTS.net