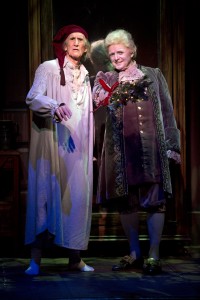 The holidays are a time for tradition, which means it's time for a traditional holiday show.
This year, holiday offerings range from SCR's annual production of "A Christmas Carol" to ABT's "The Nutcracker" at Segerstrom Center to a new holiday-themed show at Laguna Playhouse.
"A Christmas Carol" at SCR
Hard to believe, but 36 years ago actor Hal Landon Jr. donned his Ebenezer Scrooge garments for South Coast Repertory's inaugural production of A Christmas Carol, adapted from the Charles Dickens novel by Jerry Patch and directed by John-David Keller.
Now, 36 years later, Landon is back again as Scrooge. So what's changed over the year?
"I need less makeup every year," laughed Landon, who was in his late 30s when he first played Scrooge. "I had to work hard when we first started to make him believable. Now, I don't have to work at it, although it's a very physical role. I do weight lifting, go for runs, and take steps to be in physical condition and have energy to do the part."
"Also, the play has evolved," added Landon. "If you read the original story, the commentary and social elements of it, the things that were important to Dickens like the treatment of the poor and child labor—our emphasis was on the lighter side, hut we now include emphasis on those more serious parts of the play."
And how does he keep his performance fresh every year?
"I am motivated to do it year after year because it means so much to a lot of people," said Landon, who noted that countless families make their annual holiday tradition.
You still have time to make it your holiday tradition by calling (714) 708-5555 or visiting SCR.org.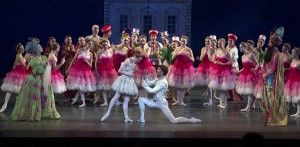 "The Nutcracker" at Segerstrom Center
American Ballet Theatre returns to Segerstrom Center with the west coast premiere of a new production of "The Nutcracker" running Dec. 10-20 in Segerstrom Hall.
Segerstrom Center for the Arts and American Ballet Theatre have been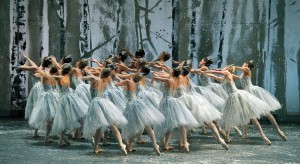 partners in creating and presenting dance events since The Center's inaugural dance season in 1986. That first production was "The Nutcracker," so it's fitting that ABT returns for the Center's 30th season with a new production of "The Nutcracker," created by Artist in Residence Alexei Ratmansky and featuring students from the American Ballet Theatre William J. Gillespie School at the Center that opened in September.
For tickets and more information, call (714) 556-2121 or visit SCFTA.org.
"A Snow White Christmas" at Laguna Playhouse
Looking for something a little different in then way of holiday entertainment? How about an updated version of the classic tale "Snow White" done in the style of a traditional British family Panto, featuring family-friendly magic with a comedic twist, dancing (with "So You Think You Can Dance" alumni), a live miniature pony and contemporary music from Katy Perry's "Firework" to Lady Gaga's "Born This Way" to Michael Jackson's "Thriller."
That's what you get in "A Snow White Christmas" that runs through Dec. 27 at Laguna Playhouse.
The show stars Lindsay Pearce ("Glee") as Snow White, Marina Sirtis ("Star Trek: The Next Generation") as the Wicked Queen, and an on-screen appearance by Tony award-winner Neil Patrick Harris as the Magic Mirror. The show was created by Lythgoe Family Panto Productions.
For more information and tickets, call (949) 497-ARTS (2787) or visit LagunaPlayhouse.com.